The third part of Twilight, the saga about attractive young vampires which has enchanted so many teenagers, has just been released. The series is well made and acted, beautiful to look at, and even entertaining. But somehow it is bland and lacks the vitality, vigour and sheer terror of the classic vampire films produced by the American Universal Studios and British Hammer Productions.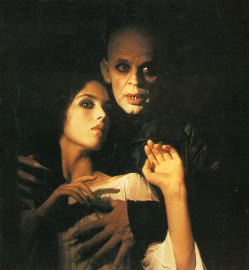 Herzog´s Nosferatu
The inspiration behind all these films was a real person known as Vlad the Impaler (1428-1476), a native of Transylvania, a region of Hungary. This controversial character was seen by some as a great warrior, but most considered him to be a diabolical creature who impaled, tortured and even drank the blood of his victims.
F.W. Murnau was born in 1888. After fighting in the First World War as a pilot he became a stage actor, and very soon went on to make films. In 1922 he made Nosferatu, an unauthorised version of Bram Stoker?s ?Dracula?, which had already toured the world?s theatres as a play. This was a true horror masterpiece which paved the way for a genre which, in time, would become one of the most popular and compelling film styles. Nosferatu, the name which F.W. Murnau gave to Stoker?s ?Dracula?, is an imaginative, even brilliant film, with stunning black and white photography and settings. Against the artistic beauty and the perfect, chilling narration Max Schreck?s Nosferatu emerges ? a diminutive, bald creature with long claw-like fingernails and an unearthly expression. People said that this creature who seemed to belong to another world was a real vampire, which Murnau had found during his nocturnal wanderings in Berlin.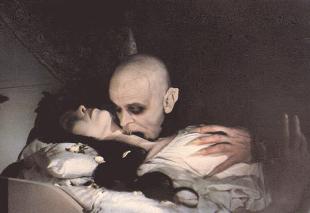 Murnau´s Nosferatu

Then, in the year 2000, Shadow of the Vampire was made in Hollywood. This film tells the story of how Murnau met the creature who was to play Nosferatu. The director persuaded him to accept the part by promising him that if he followed all his instructions he would satisfy his thirst for blood by delivering him the actress playing the heroine of the film. Willem Dafoe, with his distinctive features and fantastic makeup emulates the ?real? Nosferatu perfectly, giving a memorable performance.
In 1979, Werner Herzog, the renowned German filmmaker, made a new, very faithful version of F.W. Murnau?s Nosferatu. He signed up peculiar, neurotic Klaus Kinski, who is brilliant as the bloodthirsty Count, and the exquisitely vulnerable Isabelle Adjani as the vampire?s object of desire.
The Dracula incarnation which emerged from Universal Studios in the thirties and forties was Bela Lugosi, a Hungarian actor with a gaunt, haunting countenance, perfect to portray this particular mythical figure on the silver screen. Appropriately enough, Bela Lugosi was born in Transylvania in 1882. He started his career as an actor in his native country, and then got parts in several projects in the United States before becoming a striking, bone-chilling Dracula in 1930, which brought him worldwide fame. Bela Lugosi became so involved in his character that he used to wear his black cape off stage as well. He fell into drug addiction and finally specified in his will that he wished to be buried in costume, dressed as the wicked Count.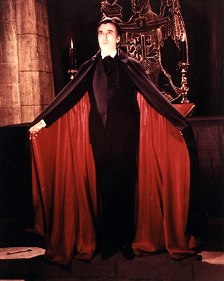 However, the Dracula everyone remembers best is that played by distinguished British actor Christopher Lee, well over six foot tall and with a deep, resounding voice. Lee played the role for the first time in 1966 and for many years continued to be the screen incarnation of this sinister character. He even worked under Spaniard Jesús Franco, a cultured, intelligent director ? extremely interesting and individual ? who tried his hand at many genres in dozens of films, even X-rated cinema. Jesús Franco?s Dracula is an unusual take on the bloodthirsty legend.
The Dracula films starring Christopher Lee, were produced by Hammer, a small British company which became very wealthy thanks to these and other horror films, almost always starring Peter Cushing, another prestigious British actor.
Paul Naschy (AKA Jacinto Molina) is another Spanish filmmaker who has devoted himself to fantasy-horror films. He started out as a director?s assistant and, in 1970, found himself playing a werewolf, which marked the beginning of his dedication to the horror genre. In 1972, directed by an anxious Javier Aguirre, he made Count Dracula?s Great Love, with good results. Since then, until his death in 2009, Naschy remained faithful to his favourite genre, as producer, actor and director.
An outstanding film within the horror genre is of course Night of the Living Dead, by George A. Romero, who was born in New York in 1940. With just $114,000 and using black and white film, Romero made a movie in 1968 which horror fans consider to be one of the most interesting and terrifying movie about the undead coming back to life and practising extreme violence and cannibalism. Night of the Living Deadmade millions of dollars at the box office and, as said before, those in the know think it one of the best horror films in cinema history.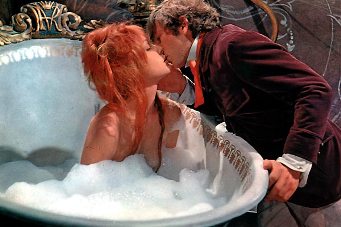 The fearless vampire killers
Even highly-respected filmmaker Roman Polanski, has flirted with vampires. In 1967 he madeThe Fearless Vampire Killers in England, expertly blending horror with comedy. The film is about the adventures of a serious professor and his naive, accident-prone assistant, played by Polanski himself, in a mansion inhabited by blood-suckers. Tragically, the leading actress, Sharon Tate, then Polanski?s real-life wife, was brutally murdered by a satanic sect shortly afterwards.
Vampire films are much loved all over the world. Terror, lust, blood, passion and evil make the genre a rich breeding ground for inventing stories, almost always exciting. However, some can end up as lifeless and feeble as the trendy Twilight series.