Premiering this week is the most refreshing Spanish film of the summer. The Diary of Carlota is a delightful teen comedy and the feature film debut for director of hit short films José Manuel Carrasco. filmotech.com invites you to get to know him.
Originally from the Spanish Region of Murcia, José Manuel Carrasco always knew that he loved the acting world. He has an acting degree from Murcia Dramatic Acting School ?ESAD?, and continued his training as an actor at the Odín Theatre, the International Studio of actor Juan Carlos Corazza and with Antón Valen (Cirque du Soleil). In the stage theatre realm, Carrasco has worked as an actor, assistant director, and director in various theatre companies and on stages in Spain, the USA, Mexico and Italy. To develop his career on the other side of the camera, he studied directing at the Region of Madrid School of Cinematography and Audiovisual Arts (?ECAM?) and since then has directed the short films El fabuloso destino de Rita (2004), Hotel Casanova (2005), Comedia Anónima (2006), Padam (2007), Pulsiones (2009) and Consulta 16 (2008). These works have earned Carrasco numerous Spanish and international awards, including a nomination for the Goya for Best Short Film in 2008 for Padam.
FILMOTECH.COM: Now that you?ve made a feature film, what is the major difference between it and short films?
J.M. CARRASCO: Well, the filming takes longer and? (amid laughter)? the story is longer, too. The short film is much more personal ? something that?s yours. You set it up, you look for the financing, you shoot it with your friends, you edit it, and then you finish it. However, when you make a feature film, there are many more people involved, who also make decisions. They called me from Tornasol [a Spanish film production company] to do this project, I worked with two script-writers (Roberto Santiago and Ángela Armero), and the crew was also totally new for me. I would have liked to work with the crew I?ve made my short films with, but it wasn?t possible. To sum it up, the difference was working with a crew I hadn?t worked with before and with a longer story.
F: What were you most worried about in making your first feature film?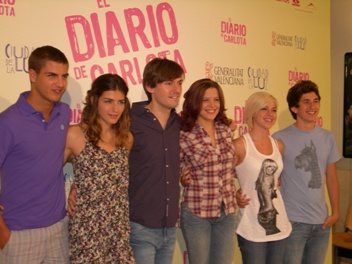 JMC: The pace. To have to tell a story in 100 minutes, the transitions? issues with the narrative. In reality, I didn?t think about the style. There?s an anecdote from shooting with the script that when we were going to do something a little more artistic, they would tell me ?Here?s the writer?s instructions,? and that?s precisely what I was hoping to avoid. I was more concerned about everything being understood, the characters, the many sub-plots in the film, and holding the audience?s attention for 100 minutes.
F: Did the responsibility of making your first film affect you a lot?
JMC: Something strange happened to me? At times during the filming, someone would tell me, ?José, you?re directing your first film.? I was so focused on what I was doing that I wasn?t thinking about that. I was so calm I surprised myself. I think I was able to solve many problems that came up while filming because there was so little time and we were working on a very limited budget. I thought I was going to be much more anxious, as I was making my first feature film, but I wasn?t afraid to change things with the script or even to try new things while shooting.
F: Are you going to continue making short films?
JMC: Of course. I think you can always learn from making short films. I wouldn?t have thought of making this film without making short films before-hand, especially Consulta 16.
F: You have studied acting. How has that helped you with directing such a large cast and scenes with so many characters in them?
JMC: I love the actors. That?s the part of my work I like most. To work with them, find ways of doing things, and, naturally, that?s what I enjoyed most about the shooting. My way of working with them is to think of the different issues the characters are confronting myself. I imagined myself playing the roles, and when writing the script or starting rehearsals, I could see the difficulties I would have when playing these characters. And, I would try to get ahead of problems, providing solutions. I looked for a deeper connection that wasn?t limited by the gestures provided in the script. It was a matter of seeing if the actor was finding something difficult, what the reasons were for the difficulty, and providing solutions.
F: And, how did the actors respond to this way of working?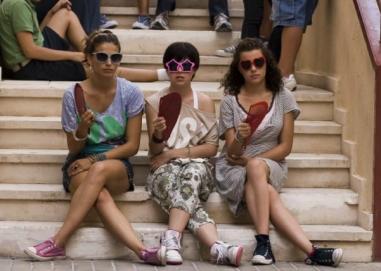 A funny scene of the film
JMC: The truth is that the filming with the actors was a blast. I had a great time with all of them, all of them. And, on top of that, I had in the cast Luis Callejo and Ana Rayo, who I had worked with before on Consulta 16, and having them around was wonderful. And, on the other hand, with the ?girls? Andrea, Lydia and Lorena, everything was a blast. And, this came from not being afraid to work with teenagers.
F: Do you have any other projects on at the moment?
JMC: Yes, I?m going go back to shooting a short film at the end of the year. But, I?m going to take a break from everything for a while and make short films ?off the cuff? ? without showing them in cinemas and shooting cheap videos. The time has come for me to goof off a bit. I?ve tried telling stories where you suffer because you want everything to come out perfect. But, now, I just want to have some fun.
F: Is there anything more you can tell us about this new short film?
JMC: I don?t know how to describe it. It?s something very weird. But, Maxi Iglesias, Andrea Ros, Luis Callejo and Ana Rayo will be in it again.
F: Are you then creating a group of favourite actors for your films like many directors do?
JMC: For me, Rayo and Callejo are without doubt my ?alter egos?. But, when finishing filming, I realized that I wanted to go on making things with the cast from The Diary of Carlota ? with the three actresses, with Maxi Iglesias? with David Castillo, who joked about whether we would be going to Alicante again to shoot a part two. But, yes, I?d be happy to make a thousand films with them, above all my three girls, the Carrasco girls? and I hope none of them tells you anything different.