Spanish film personalities, although they may deny it, harbour a secret ambition: to work and become famous in Hollywood. From the days of silent films to our times, dozens of Hispanic artists have trodden the paths of the so-called Dream Factory. Some made it to the top and reached stardom, but the great majority couldn?t stand the pace, the difficulties, and the hectic life of the hostile town and came back home.
Fortunio Bonanova
(1895-1969), a Mallorcan opera singer with a certain degree of fame, landed in Hollywood and very soon joined the film industry. His first appearance on screen was in Don Juan (1924) and he went on to make almost sixty more films, the best of which were: Citizen Kane, Blood and Sand, The Black Swan, Five Graves to Cairo, For Whom the Bell Tolls and Double Indemnity. He was directed by
Orson Welles
, Billy Wilder and Sam Wood and shared billing with all of the big stars of his time.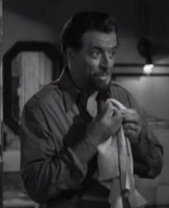 Antonio Moreno
(1887-1967), from Madrid, moved to the United States while very young and made his first feature film in 1913. Highly photogenic, he became a big star, winning the admiration and support of women all over the world. He was the first actor to be referred to as a Latin Lover. Actresses like Greta Garbo, Gloria Swanson, Pola Negri, Clara Bow and Marion Davies played opposite him.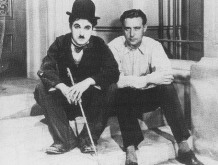 Edgar Neville (1899-1967), a member of the Spanish diplomatic corps, was also a director, scriptwriter and playwright. While pursuing his diplomatic career in the United States he became friendly with Charles Chaplin and Douglas Fairbanks. He right the world of diplomacy and, hired by MGM, worked as a dialogue advisor for a long time before finally returning to Spain to devote himself completely to cinema.

Catalina Bárcena (1891-1978), was an eminent stage actress who worked for the Fox studios in the thirties.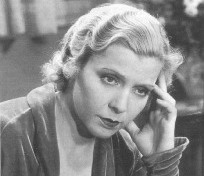 Rosita Díaz Jimeno
(1911-1986), well known in Europe and South America as a great actress. She was invited to Hollywood by Paramount, and spent many productive years in L.A.
Conchita Montenegro (1911-2007), very beautiful and a highly capable actress, was trained in Paris and it was there that she began her acting career. She was the first Concha Pérez in The Woman and the Puppet, a character later played by Marlene Dietrich in The Devil Is a Woman (1935) by Josef von Sternberg and by Ángela Molina in Luis Buñuel?s That Obscure Object of Desire (1977). MGM brought her to Hollywood in 1930 and the actress from San Sebastian duly triumphed thanks to her splendid versatility and photogenic quality. Her brilliant career came to an end when she married diplomat Ramón Jiménez Arnau.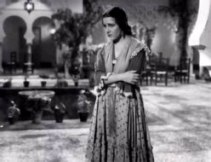 Imperio Argentina (1906-2003), was the greatest and most international Spanish star in the thirties and forties. She never made a film in Hollywood, but worked with the American production company Paramount in Paris. Melodía de arrabal (Suburban Melody) (1935), by Louis Gasnier, with Carlos Gardel, made her famous internationally.
Rafael Rivelles (1898-1971), one of the most eminent Spanish actors, wasn?t long in Hollywood, but working under MGM provided ample evidence of his acting talent.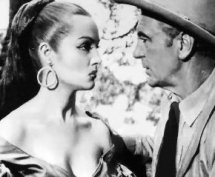 Sara Montiel and Gary Cooper
After Imperio Argentina, the most famous and successful Spanish film star is
Sara Montiel
. Her debut in American cinema came about by chance. They were looking for a strong, beautiful actress to appear with
Gary Cooper
and Burt Lancaster in Vera Cruz (1954) by Robert Aldrich. Gary Cooper?s daughter was leafing through the pages of Life magazine and saw a photo of Montiel in an article on Latin women. She showed it to her father, who immediately proposed her for the role of the indomitable Mexican woman. The film was a box-office hit and made Sara famous in the Anglo-Saxon world. Later on, she made Serenade (1956) together with Mario Lanza, directed by Anthony Mann, whom she married. Samuel Fuller called her up in 1957 to play the part of Indian woman Yellow Moccasin in the Western Run of the Arrow, together with Rod Steiger. However, the success of
El último cuplé
(The Last Torch Song) (1957) by
Juan de Orduña
, cut short her American career, and launched her as a popular idol in Spain, Europe and South America.
Fernando Rey
(1917-1994), already an important figure in Hispanic cinema, began a successful international career. His knowledge of English opened a lot of doors. He worked with
Welles
, Minelli, Altman and
Buñuel
, but his real Hollywood break was given him by William Friedkin in 1971 when he offered him the role of the wise, refined and elusive narcotics magnate in French Connection (1971). The success of the film and Rey?s magnetism led to a sequel being made, French Connection II, (1975) by John Frankenheimer, in which the Galician actor undertook to play his best-known character once again.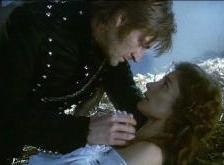 Assumpta Serna with Sean Bean
Assumpta Serna
, an attractive, admirable and ambitious actress from Catalonia, went to live in Hollywood, determined to make a career for herself there. Thanks to her command of English, she obtained a part in Wild Orchid (1989) by mediocre director Zalman King and in several episodes of the famous series ?Falcon Crest?. Finally she moved back to Europe where she has made, almost always in
English, many films of rather average quality.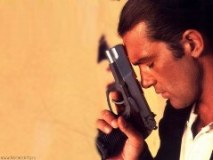 When
Antonio Banderas
filmed Arne Glimcher?s The Mambo Kings for the Americans in 1991, he was already a well-known and successful actor in Spain. On a promotional visit to Los Angeles, the actor said to himself, ?This is where I want to live and work,? and that?s what happened. The shooting of The Mambo Kings was very difficult; Banderas hardly knew any English and had to learn his lines phonetically. The film worked very well, the actor from Malaga settled down in Hollywood, married Melanie Griffith and immersed himself totally in American cinema, becoming the most international Spanish actor we?ve ever had.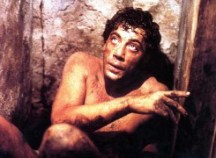 Penélope Cruz
had made some 18 films in Europe, some in Italy and France, and had worked with directors like
Bigas Luna
,
Fernando Trueba
,
Pedro Almodóvar
and
Alejandro Amenábar
when Hollywood knocked on her door. Since shooting The Hi-Lo Country in 1998 with Stephen Frears, she has almost exclusively devoted herself to appearing in American films, some of good quality and others less so. Her controversial relationship with Tom Cruise began when they coincided on the sets of Cameron Crowe?s Vanilla Sky (2001), the inferior American remake of
Abre los ojos
(Open Your Eyes) (1997) by Alejandro Amenábar, which boosted her career in the United States. The Oscar for Best Supporting Actress which she won for her impetuous role in
Vicky, Cristina, Barcelona
(2008) by
Woody Allen
, has placed her in an enviable position.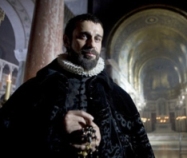 Another artiste who, little by little, is making his way in the American film industry is Catalan actor
Jordi Mollá
. His command of English, physical presence and acting talent have given him good roles in far from contemptible films since he appeared in Blow, by Ted Demme.
Painter and filmmaker Julian Schnabel offered Javier Bardem his first American job in Before Night Falls (2000), in which he played the complicated role of Reinaldo Arenas, a homosexual Cuban poet and dissident. This part gave Bardem an Oscar nomination, and later he actually won one in 2007 in the supporting actor category for his impassive assassin in No Country for Old Men, a film by the Cohen brothers. It is rumoured that he is to star in a new project by the excellent filmmaker Terrence Malik in 2012.
Pedro Almodóvar,
while he has never made any American movies, is famous not only for his films, many of which have been nominated for or won major awards. Almodóvar is very well known for his personal appearances and for how well he promotes his works. A reporter once remarked that he was the best ?public relations officer? he had ever met.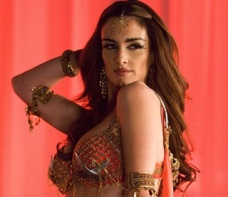 Another Spanish director appreciated in the States is
Alejandro Amenábar
.
The Others
(2001) was co-produced by Tom Cruise?s company. The film caught on in America and Amenábar promoted it exhaustively with the star,
Nicole Kidman
. It was very strange to see Amenábar, elegantly dressed in black, holding the tall actress?s hand and posing and smiling for the cameras. Afterwards, the director said that he didn?t feel too comfortable making these appearances, as he felt like an altar boy devotedly following the star around.
Other Spaniards are now trying to make it in Hollywood, facing the difficult task not of achieving fame exactly but rather a certain stability; actresses like Ivana Vaquero,
Elena Anaya
,
Paz Vega
or
Pilar López de Ayala
. Let?s hope they achieve their goals.