Some film directors have never received the appreciation they deserve, and here in Spain, the case of Bigas Luna is an obvious example of such injustice. While all his films may not be exemplary, they are invariably interesting, aesthetically impeccable, and tell unusual, provocative stories, always having a touch of the erotic ? sometimes morbid or twisted and sometimes simply stimulating.
Juan José Bigas Luna
, now 54 years old, is originally from Barcelona. As a young man, he worked in interior decorating and industrial design. He used to make short films in 16 mm and, in 1976, he embarked on his first feature film: Tatuaje, an adaptation of the thriller by Manuel Vázquez Montalbán, featuring the Galician detective Pepe Carvalho, who on that occasion was trying to uncover the mystery surrounding a body found on a Barcelona beach. This represented a strong debut for this unusual filmmaker which was consolidated by his next project,
Bilbao
(1978), which fully displays his nature as a creator of great originality. A psychopath kidnaps a prostitute and uses her to play out all his erotic obsessions. This delirious, hypnotic work was presented at the Cannes Festival the same year and shocked many viewers with its daring, explicit sex scenes.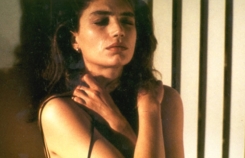 Renacer (Reborn) (1981) was entirely filmed in Houston and the surrounding area. This Spanish-American co-production is set in the milieu of religious sects and the deceptions practised by its preachers to maintain their hegemony and power over people. A worthwhile film, though somewhat slow, with creditable photography by Juan Antonio Ruiz Anchía, a Spaniard based in Hollywood, and great performances from Dennis Hopper, Michael Moriarty and also
Francisco Rabal
, in a small role.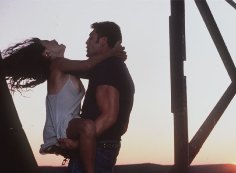 Another project,
Lola
(1986), was dreamt up as a vehicle for
Ángela Molina
, who plays a happily married woman ? until a former lover turns up and makes her life impossible. Not one of Bigas Luna?s best works, despite the stylised filmmaking and beautiful photography, as the script is noticeably flawed.
Angustia (Anguish) (1996), was the first film for which
Bigas Luna
, as well as directing, was wholly responsible for the script. A brilliant, if complicated thriller in which cinema and its influence on spectators can be traumatic. A film to remember, which was not fully understood when it was released.

Las edades de Lulú (The Ages of Lulu) (1990), was originally a bestselling, highly erotic novel by Almudena Grandes, with an ideal theme for Bigas Luna to undertake. It portrays the career of a woman obsessed with a friend of the family with whom she had a relationship aged fifteen; much later she meets him again and her desires are realised, but the affair is cut short when Lulú discovers other illicit pleasures. The film has a considerable amount of eroticism and fair performances from Italian actress Frencesca Neri, Óscar Ladoire and María Barranco, playing an unmistakably ambiguous character. Curiously, Javier Bardem appears in a short, provocative role. The public liked the film, but the critics were not particularly appreciative.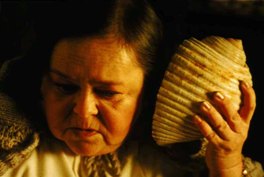 Jamón, Jamón, (A Tale of Ham and Passion) (1992) was very carefully designed to be a success. The mixture of eroticism, unrequited love and a love triangle composed of a rich kid entangled with a female worker in his parents? factory plus an aspiring bullfighter from the wrong side of the tracks worked perfectly. And it must be added that the cast was also perfect, and turned
Penélope Cruz
, Javier Bardem and
Jordi Mollá
into stars in the making. Bigas Luna hit just the right note with his particular style, although some critics thought the film coarse, presumptuous and irrelevant.
After that, Bigas Luna made two fairly unusual works: Huevos de oro (Golden Balls) (1993), a humorous portrayal of the typical Spanish male, and La teta y la luna (Teté & the Moon) (1994).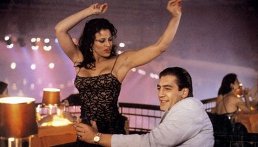 Bámbola (1996), was a seriously flawed project, designed to immortalise the physical attributes of the female lead Valeria Marini.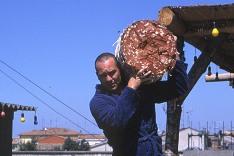 Luna?s next efforts took the form of two blockbusters starring
Aitana Sánchez Gijón
, a good, thought-inspiring actress who has had little luck in cinema. Firstly, La camarera del Titanic (The Chambermaid on the Titanic) (1997), a romantic drama based on the famous novel by Didier Decoin, is an expensive film with exquisite sets and atmosphere, in which dashing French actor
Olivier Martínez
shares the billing with Sánchez Gijón. Volaverunt (1999), co-produced with France, was inspired by Antonio Larreta?s novel of the same name which won the 1980 Planeta Award, which investigates the mysterious death of the Duchess of Alba, Goya?s lover, who wielded immense power at that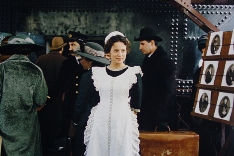 The Chambermaid on the Titanic
time. A top-class cast with
Aitana Sánchez Gijón
appearing shoulder to shoulder with
Penélope Cruz
,
Jordi Mollá
and
Jorge Perugorría
, playing the painter Francisco de Goya. Bigas Luna made Son de mar (Sound of the Sea) in 2001; a stylised romantic film about a teacher, played by
Jordi Mollá
, who on arriving in a small town falls hopelessly in love with a young woman who lives there, played by
Leonor Watling
.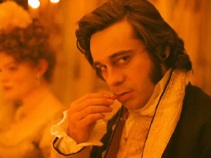 With Yo soy la Juani (My Name is Juani) (2006), the Catalan director went back to his roots as a daring, maverick filmmaker. This is the portrayal of a young woman from a small town who wants to break free from her dull daily life and become an actress. So she dumps her boyfriend and goes off to Madrid to try her luck. Verónica Echagui, Luna?s latest discovery, is so convincing as Juani she almost leaps out of the screen: an ambitious, stubborn, amoral character, determined to succeed at all costs. The film was very popular, earned a considerable amount at the box-office and placed its creator in the limelight once again.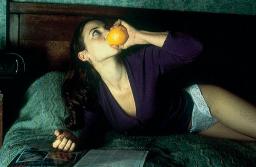 DiDi Hollywood
(2010), following on from Yo soy la Juani, is the second part of the trilogy about success which the controversial director intends to make.
This time, Elsa Pataky plays a Spanish actress avid for fame and glory, who tries to break into the difficult world of American cinema, where everything has its price. It was released on 15 October and this is his latest work for the big screen. Bigas Luna also designed an audiovisual montage, entitled ?Origen?, for the Spanish pavilion at the Shanghai Universal Exhibition.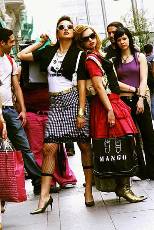 Currently, he is preparing the third part of his trilogy about success, which will be about a mature, famous Spanish actress.