The first feature film by director Juana Macías is now showing in cinemas in Spain and Icíar Bollaín's También la Lluvia (Even the Rain) recently became the first film directed by a woman to represent Spain at the Oscars. We find films made by women on our big screens more and more common these days, so we're going to take a look at the female filmmakers who paved the way for generations to come.
While not so long ago you could count the women behind the cameras in Spain on the fingers of one hand, since the nineties Spain has become one of the leading countries in terms of numbers of female filmmakers worldwide. What's more, these days, films directed by women are not merely isolated cases with little media impact and a tendency towards the sweet or romantic. Instead, they enjoy great success at national and international festivals and are praised by both audiences and critics. So, let's get to know this group of Spanish filmmakers who have carved a niche for themselves in a traditionally masculine industry.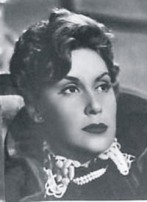 Ana Mariscal
In reviewing film history, it's hard to find female names among those Lumière brothers, Edisons, Eisensteins, D.W. Griffiths... or Benito Perojos and Segundo de Chomóns in Spain. However, what many film buffs don't know is that the first fiction film in the history of cinema was called La Fée aux Choux (The Cabbage Fairy) and was directed by Alice Guy, a former secretary at the French studios Gaumont.
Guy's contribution made an impact in Spain and a few years later Rosario Pi became the first Spanish woman to sit in the director's chair. This lady, known for her strong personality, started out as a producer in Barcelona and in 1935 directed El Gato Montés, and three years later, Molinos de Viento (Windmills), both film adaptations of well-known Spanish light operas (zarzuelas).

After Pi came Ana Mariscal, who like some other great names in Spanish cinema, combined a successful career in acting with scriptwriting and directing. Among her better-known films are the urban adventures of Segundo López, and El Camino, a film adaptation of the novel by Miguel Delibes.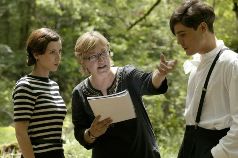 Helena Taberna with
Unax Ugalde and Bárbara Goenaga
Not until the seventies did a significant change in the Spanish film industry occur, when the first national film school opened. From this early EOC (?Official Film School?) would emerge
Josefina Molina
, the first woman to graduate as a director, and
Pilar Miró
, a key figure in terms of earning recognition for female directors among their male colleagues. Curiously, the careers of both were closely linked to the national television corporation's drama programmes and adaptations of classic Spanish literature. However, Miró's real aim was always cinema. Among her greatest successes in 35 mm are the controversial El Crimen de Cuenca (The Cuenca Crime) (released in 1979), for which she faced court martial under Franco; the autobiographical, intimate Gary Cooper que Estás en los Cielos (Gary Cooper, Who Art in Heaven) (1980), and the disconcerting Beltenebros (Prince of Shadows) (1990). However, it was her later projects, Tu Nombre Envenena mis Sueños (Your Name Poisons My Dreams) (1996), and
El Perro del Hortelano
(The Dog in the Manger) (1995), which brought her the greatest recognition, namely Goya awards for Best Film and Best Director.
In the nineties there would be many more women managing to get behind the cameras, although their careers and ways of gaining access to the profession are as diverse as their films and the subjects of them.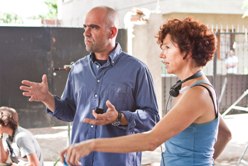 Icíar Bollaín with Luis Tosar
Some women directors have cinema in their blood, like
Gracia Querejeta
, daughter of prolific producer Elías Querejeta, who after working in positions such as director's assistant, made her debut in 1992 with the promising film
Una Estación de Paso
(A Passing Season). With a socially engaged filmography bearing the hallmark of her father and producer, she has developed her career with films like Héctor, Cuando Vuelvas a mi Lado (By My Side Again) and Siete Mesas de Billar Francés (Seven Billiard Tables), winner of the Silver Shell award at the San Sebastian Festival.
From northern Spain, in particular the Basque Country and Navarre, another two women directors have emerged, whose work is equally engaging but pays special attention to politics and ETA-related terrorism. Ana Díez received Best New Director Goya Award for Ander Eta Yul and Helena Taberna adapted the story of a former ETA member for cinema in her film Yoyes in 1999. The latest works by both directors are, respectively, Paisito (Small Country), a story set in the Uruguayan dictatorship, and La Buena Nueva (The Good News), which examines the role of the Catholic Church during the Spanish Civil War.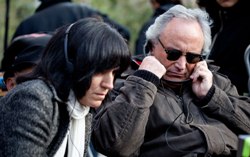 Judith Colell with Jordi Cadena
Catalonia has also produced many female filmmakers, like
Marta Balletbó Coll
,
Rosa Vergés
,
Dolors Payás
and
Judith Colell
, who recently won an award at the San Sebastian Festival for her intimate story Elisa K, co-directed with Jordi Cadena. In fact, one of the most internationally-recognised Spanish directors, Isabel Coixet, is from Catalonia. Trained in the world of advertising, in 1988 she embarked on a successful film career, with movies shot in English, closely related to American independent cinema in their subject matter and aesthetics. In 2005 she won the Goya for Best Screenplay and Best Director for La Vida Secreta de las Palabras (The Secret Life of Words).
Experience and training abroad is another common denominator shared by many of these filmmakers. Chus Gutiérrez studied in the United States and came to Spain bringing her film Sublet, starring Icíar Bollaín. Her subsequent filmography includes such diverse pieces as Sexo Oral (1994), a pseudo-documentary about Spanish sexual behaviour, Alma Gitana (1996), an inter-racial romance, and her two latest films El Calentito (2005), a portrayal of the ?Movida Madrileña? (the Madrid post-Franco cultural movement) and Retorno a Hansala (Return to Hansala) (2008), a drama about illegal immigration over the Strait of Gibraltar.
Apart from Isabel Coixet, the female director who has received most media attention in the last few years is Icíar Bollaín. She was spotted as an actress in El Sur (The South) by Víctor Erice, and subsequently worked with great directors like Manuel Gutiérrez Aragón, Ken Loach and Felipe Vega, among others. But in 1995 she decided to trade an interesting career as an actress for the chance to direct the entertaining movie Hola, Estás Sola? (Hi, Are You Alone?). 2003 was definitely the year she made a name for herself as a director, with Te Doy mis Ojos (Take My Eyes), a moving tale about domestic violence which won seven Goya awards including Best Film and Best Director, and the Silver Shell at the San Sebastian Festival. Now her most recent work, También la Lluvia (Even the Rain) (2010), starring Luis Tosar and Gael García Bernal, has become the first film directed by a woman to represent Spain at the Oscars.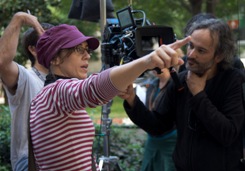 Juana Macías
The short film continues to be another way for these directors to get a foot in the door. When a very young Mar Coll surprised everyone with her short La Última Polaroid and won an award at the Ibero-American Short Film Festival ? Spanish Version, enough doors were opened for her to make a feature film,
Tres Dies amb Família
(Three Days With the Family), a bitter portrayal of family relationships, which not only received audience acclaim at the 2010 Malaga Festival but also won the Goya award for Best New Director.
Juana Macías has had a similar career. Originally a documentary maker and advertising executive, she won a Goya for her short film Siete Cafés por Semana (Seven Coffees on a Week) (1999). Her film Planes para Mañana (2010), which also won the Best Director award at the Malaga festival, is now out in cinemas.