In these times of botox, cellulite reduction and silicon implants, growing old with dignity is almost impossible, and even more so in places like Hollywood, shrines to youth and beauty. Despite this, a chosen few march on, playing octogenarians with integrity, talent and determination. These are the true old timers of cinema.
A few months ago, at the presentation of his latest film, You Will Meet a Tall Dark Stranger at the Cannes Festival, Woody Allen remarked: ?There's no advantage in getting older. You don't get wiser; you don't get more kindly... It?s a bad business, getting older, and I would advise you not to do it.? If only it were that easy.
In the world of cinema, many have tried to follow Allen?s advice, without much success. Others, surrendering to the inevitable, have decided to make the most of their older selves and give performances which, on occasion, have surpassed those of their youth.
The Old Man and the Sea (1958)
The Old Man and the Sea

Although here his hoary appearance was actually thanks to makeup, Spencer Tracy was personally chosen by Nobel-winner Ernest Hemingway to play the fisherman Santiago from his famous work in The Old Man and the Sea (1958). It's a brilliant adaptation, in which Spencer Tracy spends almost the whole film alone in front of the cameras with only the sea as a backdrop.
Chencho?s Grandad

And talking of patriarchs, we mustn't forget the great José Isbert, our own Spanish grandfather par excellence (save, of course, Paco Martínez Soria), the unforgettable grandfather of fifteen in La Gran Familia (The Big Family) (1962). Every Christmas we listen to him shouting, looking for Chencho among the stalls in the Plaza Mayor.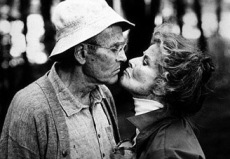 It?s me, you old poop!

Who could forget this line, which an elderly Katherine Hepburn addresses tersely to her absent-minded screen husband, Henry Fonda? It's from On Golden Pond (1981) and the immortal Fonda and Hepburn portray here two of the most memorable grandparents in film history ? he as a grumpy octogenarian and she as his long-suffering wife. Hepburn, already suffering from Parkinson's at the time, used her real illness to enrich her fictional character. Both won an Oscar that year (her fourth and final award, his first) although Fonda was unable to receive his in person he was then very ill with heart disease and, sadly, passed away a few months later.


Terms of Endearment

Shirley MacLaine failed to win an Oscar for her lift operator in The Apartment, her prostitutes in Some Came Running and Irma La Douce, and even her retired dancer in The Turning Point. However, the marvellous role of Aurora in the famous tear jerker Terms of Endearment finally gave her a well-deserved award. Here MacLaine plays a mature woman, a grandmother, who falls in love with an astronaut, played by Jack Nicholson. Curiously, neither of these parts which they performed so beautifully were originally written for them.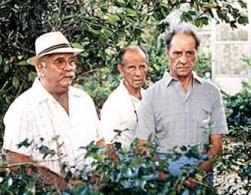 The pool of eternal youth

In Cocoon (1985), directed by Ron Howard, Don Ameche, an American film veteran, comes into his own along with a group of Florida pensioners who find the solution to all their troubles in a nearby swimming pool. This dramatic comedy full of tenderness and fantasy also brought Ameche the Oscar which eluded him in his youth.
Towanda!

Also in the cast of Cocoon was a renowned stage, film and television actress called Jessica Tandy. Although born in Britain, she shone on the Broadway stage and was the first actress to play Blanche in the Broadway production of Tennessee Williams' ?A Streetcar named Desire?, opposite a young newcomer named Marlon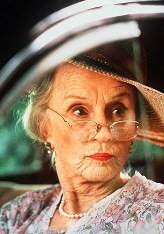 Brando. In films, she generally played supporting roles and screen success arrived towards the end of her career, with two films in particular: Driving Miss Daisy (1989) and Fried Green Tomatoes (1991). In the former she plays an elderly Southern widow, wealthy and set in her ways, who is driven around by a black chauffeur (
Morgan Freeman
), who eventually becomes her friend and confidant. Once again, the Oscar went to the senior leading lady. In the latter film, she plays an old lady in a nursing home who makes friends with repressed housewife Kathy Bates, and helps her become more optimistic and assertive with her stories about her youth. Tandy received her second Oscar nomination for this performance.
A Grandpa on a mission

Fernando Fernán-Gómez plays a senior citizen on a quest in El Abuelo (The Grandfather) by José Luis Garci (1996), the third film adaptation of Benito Pérez Galdós? famous novel about an aristocratic grandfather desperate to find out which of his two supposed grandsons is the legitimate one. It's Fernán Gómez in an unforgettable performance.



Love has no age

As shown by Norma Aleandro and Héctor Alterio in El Hijo de la Novia (Son of the Bride) (2001), an Argentinian film in which Ricardo Darín tries to make his mother?s dream come true, even though she is now suffering from Alzheimer's: Norma wants a church wedding, and normally gets what she wants.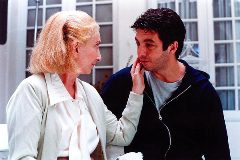 In Elsa & Fred (2005), Manuel Alexandre ? who died recently - moves to Madrid and meets his next-door-neighbour, an Argentinian lady in her autumn years. Gradually the two become involved in a profound love affair.
Dirty Harry turns grumpy old man

In 2008, with Gran Torino, Clint Eastwood took his final bow and retired from film acting. He did so playing the role of Kowalski, an embittered Korean War veteran, surly and racist, who ends up making friends with his oriental neighbours. The legendary sixties cowboy and seventies cop offers us one of his best performances just before his eightieth birthday. Fortunately, he hasn't retired from directing yet.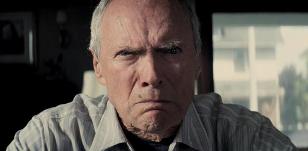 Lee Chang-Dong's Poetry

And as the last on the list of famous old folks of the Seventh Art, just come out in cinemas, is the South Korean film Poetry, directed by South Korea's former Minister for Culture Lee Chang-Dong (2010), in which an old woman living with her teenage grandson discovers a passion for poetry.