Bad Boys II
Recently Jordi Mollà has been much talked about in the media due to his presence in Seville for the world première of Knight and Day, in which he stars with Tom Cruise and Cameron Diaz. Now he is also getting ready to direct his next film, entitled 88.
Jordi Mollà was born forty-two years ago in Hospitalet de Llobregat, where he grew up. Later he moved to Barcelona and began to gain experience as an actor. He trained at the Instituto de Teatro there, made some Catalonian television programmes and acted at the Teatre Lliure. His first break into cinema was under director Bigas Luna, alongside Javier Bardem and Penélope Cruz in Jamón Jamón (1992). In this film he plays the son of a rich family, in love with Silvia, a girl who works in their factory, and who becomes pregnant. The young man decides to marry her but his ambitious mother employs the services of a would-be bullfighter to disrupt her son?s plans. This story about a love triangle was hugely successful.

Javier and Penélope became household names, but Jordi, whose role was less eye-catching, though his performance was highly professional, would have to wait a little longer to strike gold. His career continued, however, with a part in Tales of the Stinking Military Service (1993) set in military circles, about the amusing, moving adventures of a group of soldiers. Other notable actors in the cast are Juan Echanove, Achero Mañas and José Sazatornil. Stories from the Kronen, (1994) based on the successful novel by young writer José Ángel Mañas and directed by renowned filmmaker Montxo Armendáriz was the film which really launched Jordi Mollà. This is the story of a group of nonconformist students who meet up every day in a bar: the Kronen. The gang drink, take drugs and try to pick up girls during one summer, which turns out to be less amusing than they expected. Stories from the Kronen won the Goya for best adaptation (Armendáriz and Mañas), while Juan Diego
Botto was nominated for best male newcomer.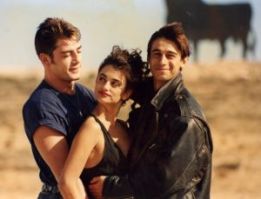 Over the next few years, Jordi Mollà worked with directors like
Pedro Almodóvar
, in
The Flower of My Secret
(1995). He was in
La Celestina
(1996) and
Second Skin
(2000), both by Gerardo Vera, and also The Stolen Years (1998), by Fernando Colomo, an exciting travel movie based on a true story. Two young men, enemies of Franco?s regime, escape from the Valley of the Fallen where they were held prisoner and meet two American girls who help them as much as they can. Volavérunt, (1999) by Bigas Luna, and The
El Escorial Conspiracy
, (2008) by Antonio del Real are both historical productions. In the former Mollà plays the minister Godoy, lover of the woman who posed for la Maja Desnuda, played by Penélope Cruz. His relationships with painter Francisco de Goya (Jorge Perugorría) and the Duchess of Alba (Aitana Sánchez Gijón) form the main focus of the film.
The El Escorial Conspiracy
is inspired by events involving Philip II, the Princess of Éboli, and John of Austria.
Outside Spain, Jordi Mollà has worked in France, making Le fusil de bois (1994); in Italy, on Sultans of the South (2007); in Great Britain, on Elizabeth: The Golden Age (2007), and in Hollywood: Blow (2001), with Johnny Depp, Che: Part Two (2008), The Alamo (2004) and The Tulse Luper Suitcases (2003), amongst others.
And finally, let?s look at his two best Spanish films: Lucky Star, also starring Antonio Resines and Maribel Verdú, directed by Ricardo Franco, a director who sadly died before he could fulfil his potential. About an unhappy love affair between an impotent butcher and a girl on the streets whose boyfriend mistreats her, this excellent film won five Goyas: best film, best director, best actor (Antonio Resines), best screenplay (Ricardo Franco, Ángeles González Sinde) and best original score (Eva González). El cónsul de Sodoma (2009), by Sigfried Monleón, is based on the life of controversial homosexual poet Jaime Gil de Biedma. Set in the sixties in Barcelona and the Philippines, the film portrays the poet?s struggle to find harmony in his complex, turbulent life. Jordi Mollà is unforgettable in this role; his movements and voice imitate the tone and manner of Gil de Biedma perfectly, and this, together with his appearance, allow him to capture the poet?s soul and give an outstanding performance for which he was nominated for the best actor Goya in 2009.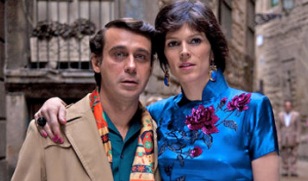 His previous nominations were in 1996, (La Celestina), 1997 (Lucky Star) and 1999 (Second Skin).
With regard to his incursions into the realm of directing, his best film to date is God Is on Air (2002), a comedy with a style and character all of its own.
This Catalonian actor and director, whose acting preferences tend towards evil characters and villains, also paints, and his work has been exhibited with positive results. Multifaceted Jordi Mollà, with his dashing appearance and sterling work, is destined to hold a prominent place in the tenuous, turbulent world of cinema.