Coronado
Most actors decide to devote themselves to the acting profession when very young. However, others do different jobs and pursue other occupations before being drawn into this odd vocation when they are more mature. Such is the case of José Coronado.
José Coronado
, from Madrid, was born in 1957. He studied law for a while before switching to medicine, but this bored him, too, and he tried his luck in other arenas. He appeared in a few commercials, working as a TV model, and did this job for a while. He also got involved with a travel agency and set up a restaurant. Encouraged by friends and acquaintances, he decided to become an actor and took some acting courses. In 1987, at age 30, he got his first part on stage in García Lorca?s play ?El público? (?The Public?) and a year later
Antonio Jiménez Rico
called him up to take part in Jarrapellejos (1988). His dashing appearance and presence opened doors for him in the world of show business. At that time there weren?t many attractive young men who could move naturally in front of the camera in Spain, and the Madrid actor impressed everyone with his good looks and self-confidence.
In Yo soy esa (I?m the One), (1990), produced and directed by Luis Sanz, he shone with a dual role part; his leading lady was singer Isabel Pantoja, making her film debut, and with whom, apparently he had a brief real-life romance. Coronado?s career was launched, he was appearing in comedies adventure films and melodramas non-stop.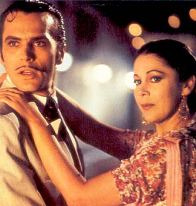 Goya in Bordeaux
, (1999), by
Carlos Saura
, is a rather stylised tribute to the Aragonese genius in the last years of his life. Coronado gives a fluid performance up to the standard of Francisco Rabal, who plays the painter as a frail old man.
Enrique Urbizu
, an intelligent but underrated filmmaker, directed La caja 507 (Box 507), a dark, exciting thriller, in 2002, starring
Antonio Resines
and José Coronado as a dangerous killer.
La vida mancha
(Life Marks) (2002) was the first work to be directed by Eduardo Cortés, and is a complex film well worth watching in which a mysterious Coronado plays opposite
Adriana Ozores
. Miguel Courtois used our star on two occasions: in El lobo (Wolf) (2004) and GAL (2006), two interesting films with plots concerning ETA, in both of which Coronado played the same character.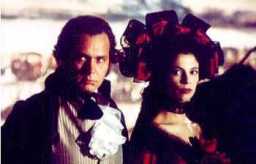 La distancia
(The Distance) (2006) by Iñaki Dorronsoro, set in the world of boxing, represented the stimulating debut of a promising new filmmaker, who, inspired by film noir, built a well structured story starring
Miguel Ángel Silvestre
and José Coronado.
Todos estamos invitados (2008), by Manuel Gutiérrez Aragón, is one of Coronado?s latest films. Like all Gutiérrez Aragón?s works, this is a controversial, quality film.As well as cinema, José Coronado has worked in television as the protagonist of some very popular series: ?Brigada central?, ?Hermanos de leche? and ?Periodistas?. He has also demonstrated that he is a versatile professional on the stage, in quality theatre productions. ?Hécuba?, ?La señorita Julia? and ?Hamlet? are a few of these.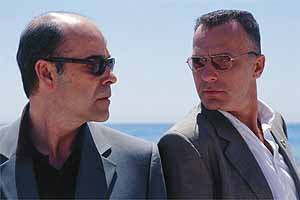 In his private life, he has had relationships with Paola Dominguín, with whom he had a son who, it appears, is going to follow in his footsteps in show business; and with Mónica Molina, who gave him a daughter. He has been nominated twice for the Goya Award, as a supporting actor, for his performances in Goya in Bordeaux and Box 507. He has yet to actually win a Goya but the Spanish Academy is bound to award him one in the end, as José Coronado, like good wine, improves with age.







Films in filmotech.com