Malamadre in Cell 211
Sometimes an actor's physical appearance gets in the way of success at first. At the beginning of his career, Luis Tosar had no problems with his acting style, but he had an imposing, noticeable appearance: broad, heavy eyebrows, a prominent jaw and a deep voice with a hint of a Galician accent. These attributes were a stumbling block in his early days. However, he learned to make the most of these characteristics and turn them into his trademark as an actor.
Luis Tosar, just turned 39, has already become a household name in Spanish cinema. He was the class clown at school and actually worked as a clown at birthday parties to earn some extra money while studying the dramatic arts in Santiago de Compostela. Although he never passed more than three subjects in the history degree he took, he became a judge. How did this miracle come about? A famous Galician television production, Mareas Vivas, turned this underachieving student, son of a tailor (and incurable cinema-lover) into the hero of one of the most popular regional TV series in Galicia. At that time, Tosar was already a member of the Centro Dramático Gallego, having joined at just 23, making him the youngest in the company.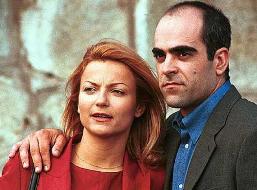 Although he had already taken part in several short films directed by his friend and former classmate Jorge Coira (with whom he made the recent experimental film
18 Comidas
) he made his film debut in 1998 with a small part in
Atilano Presidente
(Atilano for President). Well known in his region thanks to the great popularity of his TV series, he then received a call which would change his career. The actress and director
Icíar Bollaín
, who would offer him some of the best roles in his career, wanted him to play a tough Castilian bachelor in her film Flores de Otro Mundo (Flowers from Another World). Despite his doubts about his ability, her faith in him prevailed, and the result was a brilliant performance and his first Goya nomination ? in the Best New Actor category.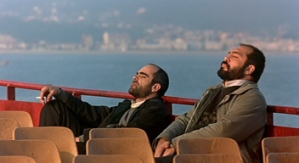 Los lunes al sol (Mondays in the Sun)
Very soon he was offered parts in other films by well-known directors, for example La Comunidad (Common Wealth) by Alex de la Iglesia.
Leo
, by
José Luis Borau
and Sin Noticias de Dios (Don't Tempt Me), by Agustín Díaz Yanes. In 2002,
Fernando León de Aranoa
gave him another great role: José, one of the unemployed protagonists of Los Lunes al Sol (Mondays in the Sun), which won him his first Goya, for Best Supporting Actor, plus the admiration and recognition of film lovers across the country.

During the filming of Trece Campanadas (13 Curses), a supernatural thriller in which he plays Juan Diego Botto's cruel father, he met his current girlfriend: Basque actress Marta Etura. These were good times for him, both professionally and personally. His name was beginning to be seen and heard everywhere... And, then Icíar Bollaín called him up again with a complex, challenging role: the abusive husband in Te Doy Mis Ojos (Take My Eyes). Although his earlier films had revealed something of the insuperable quality of his work, Te Doy Mis Ojos represents a milestone in Tosar?s career. His performance literally makes your hair stand on end. Without even raising his hand, just with one look, one gesture, he managed to portray the entire perspective of the abuser. Naturally he received his second Goya for his performance, this time the Best Actor award, as well as the Silver Shell at the San Sebastian Festival and general recognition as one of Spain's best actors.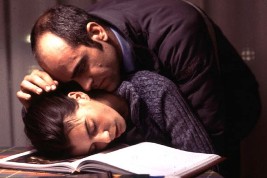 Te doy mis ojos (Take My Eyes)
When
Antón Reixa
, the producer of Mareas Vivas, decided to adapt Manuel Rivas' popular novel
El Lápiz del Carpintero
for cinema in 2002, he went straight to Tosar. This time he was to play a jailer under Franco, while Tristán Ulloa was a republican doctor and María Adánez played his lover. They were reunited in 2005 for
Hotel Tívoli
, a multiple cast film also directed by Reixa, following the ?career? of a cigarette lighter as it passes from owner to owner and the strange events which happen to its possessors in different countries in the world.
In 2006, British director Clive Gordon made the film Cargo in an abandoned ship in Barcelona port. This was a psychological thriller with a script by Paul Laverty (Icíar Bolláin's husband and Ken Loach's usual scriptwriter) and Tosar plays a priest who has lost his faith, working as cook on a ship concealing an illegal cargo, dark secrets and a pair of stowaways, played by German-Catalonian actor Daniel Brühl and British actor Peter Mullan.
That same year, following the advice of his friend Javier Bardem, he tackled his first international part, an evil Columbian drugs dealer in the film Miami Vice by Michael Mann, a role which Tosar told the press he obtained by doing an audition via videoconferencing.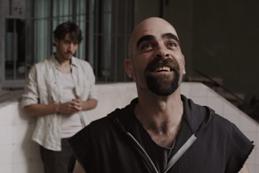 Next came a servile, two-faced womanizer in Casual Day, the surreal Spleen in
La Noche que Dejó de Llover
, and the violin player in The Limits of Control, a film made by Jim Jarmush in Spain. And then it was time for Malamadre: a fearsome, gravel-voiced killer ? sinister, savage, and brutal. It was the role of a lifetime.
Cell 211
, the hit movie by
Daniel Monzón
, is now a legend in Spanish film history. Few Spanish actors have received such positive and well-deserved reviews from the top film writers. Luis Tosar, with his talent, deep voice, and expressive gestures gave the best performance of his career and so won his third Goya award so far.
Last summer, Lope came out ? a competent, highly acceptable biopic in the comic vein about playwright Lope de Vega, in which Tosar plays Fray Bernardo, loyal friend to the writer. Now we can see him in Tambien la lluvia (Even the Rain) (2010), his third film under director Icíar Bollaín and the Spanish contender competing for an Oscar in the foreign section this year. It is said to be a landmark film in Icíar Bollaín's rising career as a director and Tosar?s performance (he co-stars with Gael García Bernal) though in a role completely different from Malamadre, is apparently equally memorable.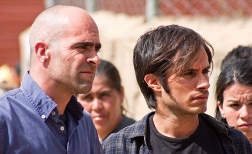 También la lluvia (Even the Rain)
Filming of Mientras Duermes, a thriller he stars in with his girlfriend, Marta Etura, and
Alberto San Juan
, directed by
Jaume Balagueró
(
Los sin Nombre
[The Nameless],
Darkness
, Rec and Frágiles [Fragile]), has just finished. Here, he plays a sinister caretaker who enjoys playing nasty tricks on the neighbours living in the building. Now he is thinking of having a year off film to make a record with his group The Ellas, which specializes in doing cover versions of songs by female artistes like Suzanne Vega, Cindy Lauper, The Bangles or Gloria Gaynor. It's quite an experience to hear him sing My Name is Luca, Walk like an Egyptian or I Will Survive.
Luis Tosar is a consistently credible actor, with great physical strength and tremendous versatility, able to go from one character to another with perfect naturalness, whether it is a provincial bachelor, a tortured wife-beater, an anxious jobless man, a hilarious psychiatrist in love with his sister-in-law, a Columbian drug baron or the incarnation of evil in the form of a prison inmate. He invariably gives his all, with excellent results. This is Luis Tosar, one of the best, yet most modest actors in the world.