La Daga de Rasputín
Traditional, stubborn, natural, spontaneous... all true, but the adjective which best describes Resines is Iberian. Few Spanish actors can boast such a wide, varied filmography as his or of being a Spanish film icon of the stature of masters Alfredo Landa or López Vázquez. He's back on our cinema screens with his latest brothers in arms, Jesús Bonilla and Antonio Molero, in La Daga de Rasputín, the crazy sequel to Moscow Gold. While many imagine that
Antonio Resines
is most at home with the purest Madrid-style comedy, in fact he is a native of Cantabria, and left his home town of Torrelavega over 30 years ago, in order to follow in his father?s footsteps, studying Law in Madrid and playing rugby. However, due to an attack of youthful rebellion on his arrival in the capital, he ended up abandoning both the lawmakers and the Boy Scouts to study Audiovisual Sciences at the Information Science Faculty of the Complutense University of Madrid. There he made a number of friends who would have a profound affect on his career: directors
Fernando Trueba
,
Fernando Colomo
, and Julio Sánchez Valdés, actor
Óscar Ladoire
, and film critic
Carlos Boyero
.


This group of film fanatics would meet up in the Yucatán café on Madrid's Bilbao Square, and called themselves ?Students of the Yutacán School?, making fun of the Official School of Cinematography. At that time, Resines undertook the functions of producer within the little group, a post which mainly consisted of buying the sandwiches. However, in spite of all their talk and passion for cinema (and for girls in films), they never imagined that almost four decades later they would all still be devoted to the same profession.
Together they decided to start work on Ópera Prima (1980). Fernado Trueba would direct it and the lead roles would be taken by Ladoire and Resines, plus beginner Paula Molina. At that point the critics agreed with them: three potential stars of Spanish cinema were born.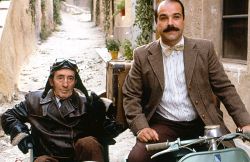 In these first steps in his career, Resines also teamed up very profitably with Fernando Colomo, in La Línea del Cielo (Skyline). He also joined the cast of La Colmena (The Beehive) by
Mario Camus
, and could hardly refuse the invitation to work with his friend Trueba again in Sal Gorda (Rock Salt). But the next project by this successful pair was Sé Infiel y No Mires con Quién (?Be Wanton and Tread No Shame?) (1985), a hilarious vaudeville comedy starring
Carmen Maura
,
Ana Belén
, and
Verónica Forqué
, which became one of the biggest box-office hits ever in Spain and turned Resines into the most famous Spanish screen husband or rather ex-husband. His particular chemistry with Carmen Maura, Verónica Forqué, and later on
Maribel Verdú
, was a sure formula for success which he used on various occasions during his career.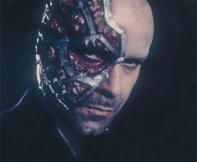 After other collaborations with well-known directors like
Berlanga
, Martínez Lázaro and Colomo once again, another of his most memorable characters came along. In Amenace que no es poco (Isn't Dawn Enough?), by
José Luis Cuerda
(1989), a surrealist film replete with innovative humour, Resines plays Teodoro, a young teacher from the Oklahoma University who comes to Spain and meets his father, with
Luís Ciges
,
Cassen
,
José Sazatornil
,
Aurora Bautista
, and
Gabino Diego
. The result was a cult classic of Spanish cinema.
Antonio Resines has a tragi-comic view of life, and perhaps this explains his predilection for light comedy and black humour. However, this doesn't disqualify him from other genres such as the thriller, which he tackled for the first time in 1990. This was also his first film with another director who would become a firm favourite: Enrique Urbizu. In Todo por la Pasta (1990) he reveals his most bitter, even ?detestable? side in some unforgettable scenes, along with María Barranco and Kiti Manver.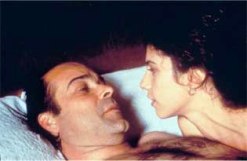 From then on, Resines continued to mix comedies into his repertoire, with films like Cómo Ser Mujer y no Morir en el Intento (?How to Be a Woman and Not Die in the Attempt?) (1991), directed by Ana Belén, or Todos los hombres sois iguales (All Men Are the Same) by
Manuel Gómez Pereira
, along with other big-name actors of his generation, such as
Imanol Arias
and
Juanjo Puigcorbé
.
1997 was a decisive year for his acceptance as a member of a select group of ?serious? actors. He was an opportunistic father driving a SEAT 600 car in Carreteras Secundarias (?Backroads?), the head of a hippy family in El Tiempo de la Felicidad, and the enamoured, impotent butcher in La Buena Estrella (Lucky Star), the penultimate and perhaps best film by Ricardo Franco, for which he received a Goya, and the Film Writers' Circle medallion for Best Actor. He was evidently still following his lucky star.
The following year, he returned to his great friend Trueba to make one of the biggest recent hits in Spanish cinema, La Niña de tus Ojos, (The Girl of Your Dreams) and then proceeded to demonstrate his talent in social drama once again in Pídele Cuentas al Rey (1999), about the journey of an unemployed Asturian miner who takes to the road with his whole family in order to plead his case before the King in Madrid.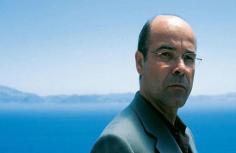 He still boasts that he doesn't have an agent, because not one would put up with him, and yet he is always working and now has over 50 films under his belt. During the last decade, he combined his speciality, typical Spanish comedies, like El Robo Más Grande jamás Contado (The Biggest Robbery Never Told), Dos Tipos Duros (?Two Tough Guys?), and
El Oro de Moscú
(Moscow Gold), with other, more intense characters like the ones he played in Otros Días Vendrán and El Embrujo de Shaghai (The Shanghai Spell), and other parts in thrillers like Urbizu's
Box 507
with
José Coronado
and the last Goya winner
Celda 211
(Cell 211) by
Daniel Monzón
, in which his brutal prison administrator is well up to the standard of
Luis Tosar
and Alberto Ammann. This film brought him his third Goya nomination.
A motorbike accident in which he broke a leg obliged him to rest for a season and he was obliged to turn down a role he wanted in Alatriste, accepting one in a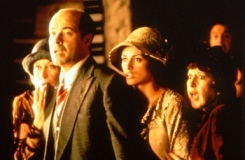 nother period drama, La Dama Boba instead. However, he has remained in the limelight in the television series he?s starred in and which have been highly successful too. His characters in "Los Ladrones Van a la Oficina", "A las Once en Casa" and, more recently, "Los Serrano", have proved very popular with the public. And, in the latter he met and teamed up with
Jesús Bonilla
and Antonio Molero. He has produced some of the best moments of television over the last few years with them at the bar of La Taverna Serrano.
A few weeks ago the musical Don Mendo Rock, ¿La Venganza? was released; curiously, Resines was the only actor who didn't sing. He did once in a film, but Martínez Lázaro cut the scene. Singing and directing do not figure in his plans.
Now he's back with his ?new gang? in La Daga de Rasputín, which comes out in cinemas this week. This, the sequel to Moscow Gold, also features actor Jesús Bonilla, plus an extensive, well-known cast of actors who already appeared in the first one. Antonio Resines' character is a prisoner who, together with his cellmate, Bonilla, will get involved in a series of adventures which will take them to inhospitable, mysterious Russia.
What's more, still pending release are Área de Descanso, (Rest Area) Michael Aguiló?s first work, with Emma Suarez, and El Sueño de Iván, a family comedy directed by Roberto Santiago. So we can come to only one conclusion: if all actors without agents worked this hard, agencies would be expendable.