Rated R
From sportscaster on Canal Sur TV, Antonio de la Torre has turned into an esteemed actor on the Spanish cinema scene. Although he has divided his time between the two professions, four years ago he decided to take a leave of absence from the TV broadcaster. De la Torre is moving on from small, bit parts to longer and more important film roles and is now one of the top actors in Spanish cinema. Antonio de la Torre's need to tell stories led him to study journalism and enter the profession. To get there, he left his Malaga birthplace he went to Madrid, where he worked in the accountancy department of a freight shipping company to pay for his studies. With a desire for acting already in his veins, he started working for Andalusia's Canal Sur presenting sports programmes and he managed to escape from time to time to Madrid to participate in some episodes of TV series like Lleno por Favor and Hermanos de Leche or Los Ladrones Van a la Oficina.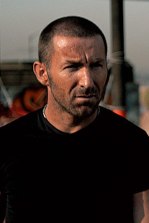 Emilio Martínez Lázaro gave De la Torre his first feature film role with the comedy Los Perores Años de Nuestra Vida, in which he played ?reporter no. 3?. He was also ?taxi driver no. 1? in
Cuernos de Mujer
(Infidelity), ?telephone operator? in Morirás en Chafarinas, ?dependent guy? in El Día de la Bestia (The Day of the Best), ?young man? in Hola, ¿Estás Sola?, Civil Guard in Carreteras Secundarias, or ?truck driver? in Flores de Otro Mundo. The first character he played which actually had a name was ?El Loren?, a junkie murderer working at a petrol station in the TV series Padre Coraje in 2002. That same year,
Chus Gutiérrez
took him on to perform in Poniente, a film on the displacement arising from immigration in which De la Torre plays the supporting role to
Cuca Escribano
,
José Coronado
, and
Antonio Dechent
. This film prompted budding film director Daniel Sánchez Arévalo to call on De la Torre to star in his second short film, Profilaxis. Antonio continued to divide his work among being a sports caster for Canal Sur and his nameless characters in films like Días de Fútbol (Soccer Days), Te Doy Mis Ojos (Take My Eyes), and El Calentito. In 2006,
Pedro Almodóvar
called him to play the repugnant, violent husband of Raimunda (
Penélope Cruz
) in Volver.
Meanwhile, he worked with his now great friend Sánchez Arévalo in the director's first feature film, AzulOscuroCasiNegro (Dark Blue Almost Black) from 2006, a hit sensation that year in which De la Torre masterfully played the convict brother of the film's leading character, played by Quim Gutiérrez. The result: six Goya Award nominations with three won, one of them to Antonio de la Torre as Best Supporting Actor of the Year. The film world was starting to take notice of him and he got bigger roles in films like Mataharis by
Iciar Bolláin
,
El Prado de las Estrellas
by
Mario Camus
,
Cobardes
(Cowards) by José Corbacho and Juan Cruz, and Una Palabra Tuya (One Word from You), latest film by the current Spanish Minister of Culture, Ángeles González Sinde.Antonio de la Torre's definitive culmination as a star of Spanish screen came from his ?partner? Daniel Sánchez Arévalo, when the director again called on him for one of the most important roles to-date entrusted to actor from Malaga.
In
Gordos
(Fat People) De la Torre plays a cynical, bitter, promiscuous, and somewhat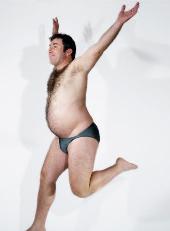 violent gay man who refers to himself as ?the worst queer in history?. This harsh and realistic film relates the troubles, disdain, social issues, traumas and obsessions obese people suffer in today's world. The film delves into the psychological and physical issues these marginalised people face simply as a result of being their natural selves. It's a complex, disturbing, at times amusing story for which Antonio de la Torre had to put on more than 30 kilos and then lose them again within a few months. He performed magnificently and would again be rewarded, this time with a Goya nomination as Best Actor in a Leading Role.
After the exhausting and time-consuming filming of Gordos, the actor from Malaga decided to take on a new challenge: live theatre. So, in late 2008, he participated in the performances of La Taberna Fantástica with the Spanish Centro Dramático Nacional (National Drama Centre).
De la Torre is now experiencing some of the best times in his professional career. After a short collaboration in Andrucha Waddington's Lope, which presents a period in larger-than?life classic Spanish play write Lope de Vega, Alex de la Iglesia picked Antonio for a lead role in his film Balada Triste de Trompeta (A Sad Trumpet Ballad), playing an aggressive and violent circus clown who has a rivalry with another clown for the love of a trapeze artist. De la Torre's performance has brought him another Goya nomination for Best Actor in a Leading Role.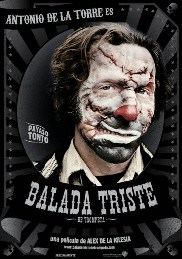 Now comes the premiere of
Primos
, again with De la Torre's director of choice, Daniel Sánchez Arévalo. It's a hilarious comedy with Antonio playing a delightfully comical drunken film buff. He's in a third currently showing film, with a small part in
Carne Neon
.
Little remains of ?reporter no. 3? or ?taxi driver no. 1? from Antonio de la Torre's early days in films. With his persistent effort and incredible talent, he has made a place and a name for himself in Spanish cinema history.