¿Para qué Sirve un Oso?
Javier Cámara is a multi-faceted actor, capable of performing in both comedy and drama. But, above all he's an ordinary guy. Perhaps it is precisely this empathy with the viewers of his films that is the secret of his success. Now we see his most ecological and family-oriented side with the debut of ¿Para qué Sirve un Oso?, and Javier once again shows us how much his talents have evolved since the TV show ?Siete Vidas?.
From Spain's wine-growing La Rioja region,
Javier Cámara
is of 1967 vintage, born in the town of Albelda de Iregua. He studied at the Universidad Laboral de Lardero, where he got hooked on acting when he made friends with a theatre group. He got so involved in his new hobby that he left La Rioja, going to Madrid and enrolling in the Real Escuela Superior de Arte Dramático (Royal College of Dramatic Arts). He says it was all ?like an adventure ? a desire to travel, to escape??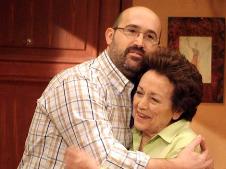 With Amparo Baró in Siete Vidas
Cámara took to the stage for the first time in 1991 in a new production of Lope de Vega's "El caballero de Olmedo", in which starred a then-unknown
Carmelo Gómez
. Since then, Cámara has made the most of his extroverted, talkative personality, and he recalls playing the piano when he arrived for rehearsals.
The first years in Madrid were hard for the actor from La Rioja. The few, small theatre parts he had weren't enough to pay the bills and he had to do other odd jobs at the same time, such being an usher at the Figaro Theatre. Still, his luck began to change when he met a leading figure on the Madrid comedy scene, Fernando Colomo, a director always willing to help up-and-coming actors. Colomo gave Cámara some small parts in three successive comedies: Rosa, Rosae (1993), Alegre ma non troppo (1994), and ESO (1997), in which he was able to hobnob with established performers the likes of Ana Belén, Rosa María Sardá, and Óscar Ladoire.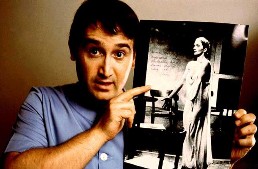 Hable con Ella (Talk to Her)
In 1998,
Santiago Segura
gave Cámara the role which would definitively change the course of his career. In Torrente, el Brazo Tonto de la Ley, he played the part of a ?rather unmotivated? son of
Chus Lampreave
and was able to demonstrate his rich sense of humour, adapting it to Segura's particular tastes as director. Reviews weren't very kind to the film, though, and few would have imagined that bespectacled balding fisherman Cámara would later become
Almodóvar's
wonder boy.
The popular success of Torrente got Cámara directly into television, with a history-making Spanish series, "Siete Vidas". Cámara, who had previously participated in the series "Ay Señor, Señor" with Andrés Pajares, now became a star of Spanish TV fiction, thanks to the one-of-a-kind Paco Jimeno. The hilarious smacks on the head his fictitious mother, Amparo Baró, gave him remain for posterity.

Cámara continued his work in cinema, working with Fernando Colomo in Cuarteto de La Habana (1999), a very clever comedy with a lively script for Cámara with Ernesto Alterio and Mirta Ibarra. Then, Cámara made his first inroads into drama with Julio Medem's Lucia y el Sexo (Sex and Lucia).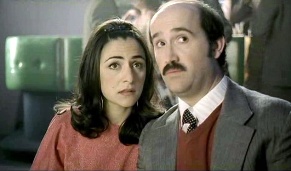 With Candela Peña in Torremolinos 73
Javier had shown his remarkable abilities for comedy. But, now he had to undergo a significant change in register and become a ?serious actor? for his next project. And this trial by fire was Pedro Almodóvar's
Hable con ella
(Talk to Her) a grand melodrama about Benigno, a male nurse in love with a woman in a coma. It's a study on love and devotion in which Cámara showed that he was a top-notch actor. Almodóvar was so happy with him that he gave a small part in
La Mala Educación
(Bad Education), a biting criticism of Catholic schooling and the negative impact this kind of education would have on the pupils as they grew up. Javier played ?la Paca?, a small-time transvestite thief who had had a difficult life and was inspired by actress Farrah Fawcett. Cámara himself admits, however, that the result came out more like ?a kind of Encarna Sánchez", a Spanish talk show commentator popular in the 1980s.
In 2003, Cámara appeared in Joaquín Oristrell's Los abajo firmantes (2003), with which he collaborated with the script-writer in this portrayal of the ups and downs of a theatre company on tour. Also that year he was matched up with his great friend Candela Peña to play a wild couple in Torremolinos 73, who show how using a Super-8 camera and exposing their own flesh can put meat on the table in times of crisis.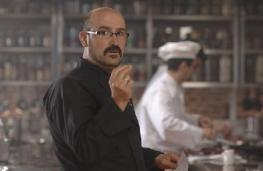 Fuera de Carta (Chef's Special)
Then, in 2005 he took a leap forward in his career with one of his most international works,
The Secret Life of Words
by
Isabel Coixet
, in which he appears in scenes with
Sarah Polley
and Tim Robbins. Isolated on an oil rig in the North Sea, Cámara provides a touch of humour to this slow-paced drama on healing the wounds of the past. The film was a smash hit for the Goya Awards. Isabel Coixet would remember Cámara and called on him again to perform in a collective project of short films called
Paris, Je t'aime
(Paris, I Love You).
Javier has become one of the most sought after actors in Spanish cinema, although as he himself notes, there remain many top directors with whom he has yet to work: ?Alejandro Amenábar, Iciar Bollaín, Fernando León?? However, his participation in high-profile projects hasn't precluded him from working in the most minor and independent of productions. He played an ex-con complete with cigar in hand in Manuel Martín Cuenca's Malas Temporadas (Hard Times) and joined director Cesc Gay in a search for inspiration in Ficción before returning to more commercial cinema with Agustín Díaz Yanes' Alatriste (2005), in which he has a short part playing no less that the Conde-Duque de Olivares.
Along with his work in movies, Cámara decided to go back to his TV roots, where he had his first public success. He did so with the series "LEX", in which he played a rather unconventional judge and co-starred with other actors who normally appeared on the big screen, such as Nathalie Poza, Santi Millán, and Paz Vega.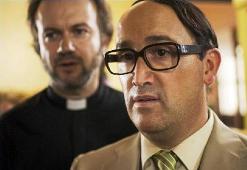 He was continuing to get work in television when Nacho G. Velilla, one of the creators of "Siete Vidas" and "Aída", got in touch with him to star in his first feature-film,
Fuera de Carta
(Chef's Special). Cámara was brilliant in his part as a demanding gay cook for whom life suddenly gets complicated due to no fault of his own. He was considered the best actor that year at the Malaga Film Festival.
Cámara went back to drama when the never-disappointing José Luis Cuerda made Los Girasoles Ciegos (The Blind Sunflowers) in 2008. From the novel by Méndez Ferrín, set in the post-Spanish-Civil-War period, this time Cámara is in the closet, performing as a man who has to live a hidden life while ostensibly with his wife Maribel Verdú.
Nacho G. Velilla called on Javier Cámara a second time, on this occasion to perform in Que se Mueran los Feos (2010). The film is a romantic comedy but with features of a drama and Cámara's character, Eliseo, is ugly and lame and falls in love with his rather unappreciative sister-in-law, played by Carmen Machi. This was a big commercial success and it showed Cámara's wide range to play whatever part he was given with a chameleon-like skill.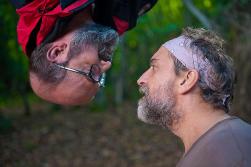 With Gonzalo de Castro in
¿Para qué sirve un oso?
We can also see this ability in
La Torre de Suso
(2007) in which Tom Fernández, directing his first feature film, trusted Cámara to play a leading role, along with Gonzalo de Castro, Malena Alterio and
Emilio Gutiérrez Caba
.
¿Para que Sirve un Oso?
had the honour of being selected to open the Malaga Film Festival on March 26, 2011. It was very well-received there and debuted across Spain on April 1st. The leading characters are a couple of brothers from Asturias who have been interested in nature since their childhoods. Growing up, one, Guillermo, has become a prestigious biologist investigating climate change, while the other, Alejandro, is a zoologist dedicated to repopulating Asturias with bears. While having similar goals with some differences, they reach the conclusion that they can best achieve their respective objectives by joining forces. In this comedy with a serious ecological message, Javier Cámara and Gonzalo de Castro play the two scientist brothers in a gentlemanly and courageous manner and show that they connection they had in the TV series "Siete Vidas" is more alive than ever.