Comfortable in both drama and comedy, Adriana Ozores has successfully tackled all kinds of acting. Her career began in cinema, playing small roles in her uncle?s films. Then, after a decade wholeheartedly devoted to theatre, she resumed her film career with gusto, and became tremendously popular on television, particularly in the recent series about the Duchess of Alba. Now, No lo Llames Amor? Llámalo X is showing ? a hilarious comedy in which she plays a former porn star determined to bury her past. Adriana Ozores represents the third generation of a renowned family of comedians. The granddaughter, daughter and niece of actors and directors, she managed to shrug off the implications of her surname with an ease and simplicity not often seen in the environment in which this Madrid actress, daughter of the ?
Tiger of Chamberí
?, Spanish actor José Luis Ozores, has been working for almost 30 years.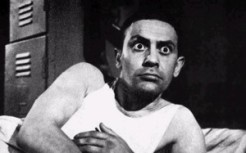 Her father,
the great José Luis Ozores
Although she tentatively explored the world of Fine Arts and got as far as enrolling at university, her film career began when she was 20, with small roles in her uncle Mariano?s comedies. Minor films like
Los Energéticos
, El Liguero Mágico and El Hijo del Cura helped her gain experience and mature as an actress. In 1984,
Carlos Saura
directed her in Los Zancos (The Stilts), along with actors like Fernando
Fernán Gómez
,
Francisco Rabal
and a very young
Antonio Banderas
.
After that, the young actress decided to retire from the big screen and auditioned for the Spanish National Classical Theatre Company, then managed by Adolfo Marsillach. Before long she became the company?s leading actress and devoted nine years of her life to touring the whole of Spain with productions like ?El Alcalde de Zalamea? (?The Mayor of Zalamea?), ?La Verdad Sospechosa? (?The Suspicious Truth?) and ?Don Gil de las Calzas Verdes? (?Don Gil of the Green Breeches?), among many others. She also appeared in the popular TV series ?Turno de Oficio?. In 1993, Pilar Miró encouraged her to return to cinema, offering her a role in El Pájaro de la Felicidad (The Bird of Happiness), a drama starring Mercedes Sampietro, Aitana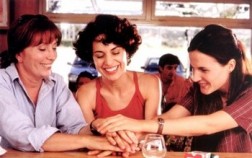 With Sampietro and Mariscal
in Cuando Vuelvas a Mi Lado
(By My Side Again)
Sánchez Gijón, and
José Sacristán
. Adriana then accepted another small part in Niño Nadie (1996), directed by
José Luis Borau
. Then she decided to revisit her favourite genre, comedy, accepting a part in a film by former scriptwriter and first-time director Joaquín Oristrell. In ¿De Qué se Ríen las Mujeres? (What Makes Women Laugh?), she shares the billing with
Verónica Forqué
and Candela Peña.
Two years later she played a supporting role in La Hora de los Valientes (A Time for Defiance), a story set in the Spanish Civil War, for which she won a Goya Award for Best Supporting Actress and wide public recognition. This award brought her roles in important films like Imanol Uribe's Plenilunio, a complex story adapted from the novel by Antonio Muñoz Molina, which encompasses such diverse themes as love and terrorism. In this film, Adriana worked with co-stars like Juan Diego Botto, Fernando Fernán Gómez, and Miguel Ángel Solá, and won the Ondas Award for best actress. She was also nominated for the Goya, but this was utimately won by Carmen Maura for La Comunidad (Common Wealth).
That same year, 1999, marked another return to comedy, in Manolito Gafotas (Manolito Four Eyes), about the adventures of a character originally created by Elvira Lindo. Miguel Albadalejo - with whom Adriana had already worked on La Primera Noche de Mi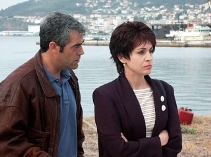 With Carlos Blanco in Heroína
Vida (The First Night of My Life) - adapted the original children?s book into a fantastic comedy of manners, full of humour, with brilliant performances from Roberto Álvarez Antonio Gamero and Adriana herself.
This was also the year she met filmmaker Gracia Querejeta for the first time. Querejeta called on Ozores for the leading role in Cuando Vuelvas a Mi Lado (By My Side Again), the dramatic, moving story of three sisters who are reunited upon their mother?s death, after many years apart. Mercedes Sampietro, Marta Belaustegui, and Adriana Ozores gave top-rate performances and Adriana was again nominated for a Goya as supporting actress. In La Vida de Nadie (Nobody?s Life), Eduard Cortés' remarkable directing debut, she shared some very different vicissitudes with José Coronado, won the Best Actress award at the Valladolid Film Festival and was nominated for the Goyas in the Best Leading Actress category.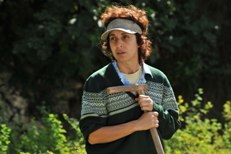 Nacidas para Sufrir
(Born to Suffer)
by Miguel Albadalejo
After joining an ensemble cast to make the acclaimed film En la Ciudad sin Límites (The City of No Limits), scriptwriter Ángeles González Sinde chose her for the lead in the first film she directed:
La Suerte Dormida
(Sleeping Luck). Here, Ozores created a very convincing character: a lawyer conscientiously investigating the case of an industrial accident while going through a very difficult time in her private life. Ozores, now a regular on the red carpet at the Goyas, walked down it that year too, thanks to her fifth nomination.
One year later she was working with Gracia Querejeta again on Héctor, which follows the experiences of an orphaned boy, who after being taken in by his aunt has to get used to a very different kind of life.
In 2005, producer and filmmaker Gerardo Herrero offered her one of the most important roles in her career, that of Carmen Avendaño, a modern ?Mother Courage? concerned for her addict son, pitted against some Galician drug dealers plying their trade with shocking impunity. This earned her a sixth - so far her last - Goya nomination. That same year saw the release of El Método (The Method), an adaptation of the play of the same name, directed by Marcelo Piñeyro, and she also joined the cast of ?Los Hombres de Paco,? a hit TV series broadcast by Antena 3 which ran for several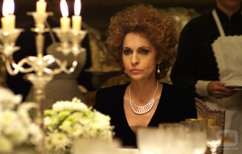 Playing the Duchess of Alba
in the series ?La Duquesa?
years. At the end of 2008, Ozores announced she was leaving the show to devote herself to other projects, including a new film, Nacidas para Sufrir (Born to Suffer), a comedy drama by Miguel Albadalejo in which she plays Purita, a woman who shows an old lady how to look after herself and her family.
Now, after her TV triumph playing the Duchess of Alba, she is back on the big screen in a film called No lo Llames Amor... Llámalo X, a daring, delirious comedy about a retired porn director who wants to go back to work and make an X-rated blockbuster about the Spanish Civil War.