Al salir de clase (?After Class?) made her famous
She could have been one like so many others who never came to much out of the Spanish prime time soap opera Al Salir de Clase (?After Class?). However, young actress Pilar Lopez de Ayala, with a delicate look but a super strong will, has known all along how to shape a distinguished career in cinema, skilfully choosing her roles. Today she is considered one of the leading Spanish actresses of her generation. Here, we review her path to stardom through five of her films.
Báilame el agua [Fill Me with Life] (2000):
Lopez de Ayala's first feature film in a leading role. After deciding to go into acting, Pilar worked in television for a few years. She started out in the Antena 3 children's show ?Tras, tres tris, buenos días? and had sporadic parts in the series Menudo es mi padre. She was one of Concha Velasco's daughters in Yo, esa mujer and then got the part of Carlota, a studious and responsible young girl, in the prime time soap opera Al salir de clase, with a look and feel of the American TV series for teens. It was a totally unexpected hit, and Telecinco kept it on the air for a number of seasons. After a couple of years in this series, Pilar chose to leave this road to easy but probably ephemeral success to venture into cinema. Without any projects in sight, she went to an acting school and patiently waited for the break that would come soon with this drama directed by
Josecho Sanmateo
and co-starring
Unax Ugalde
in his first film role. The two leading characters are a pair of youths without roots who struggle to have a romance in a seedy Madrid of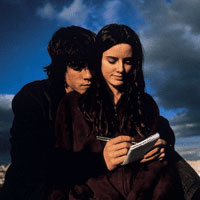 Báilame el agua,
her first leading role
drugs and prostitution. The film captures the attention of critics and the public alike for the two newcomer stars who more than amply performed their parts. Pilar got the award for Best Actress at the
Toulouse Latin American Film Festival
and the Sant Jordi best actress award, as well.
Juana la Loca [Madness of Love] (2001): Pilar's career in cinema was steadily taking off. Still, for the public, she was still best known as an actress from the ?Al salir de clase? TV series. In February 2001, she walked the red carpet of the coveted Goya Awards for the first time as best newcomer actress for her role in Besos para Todos (Kisses for Everyone). In this Jaime Chávarri comedy, she plays an upper-class girl from the southern Spanish city of Cádiz who wants to have her way with a medical student played by Eloy Azorin after having got pregnant with her boyfriend. Around that time, the actress finished filming a new version of the story of the life of Queen ?Juana the Mad? of Castille directed by Vicente Aranda. Without a doubt, this has been the most significant role in her career up to now. Juana la Loca established Lopez de Ayala definitively as a serious actress, with this part once and for all finally replacing the one she had as Carlota Chacón in ?Al Salir de Clase? in the popular imagination. The filmmaker, who said he always had her in mind for the starring role, risked a great deal to give an actress with such a short career history such a significant and difficult part. However, the results leave no doubt that he made the right choice.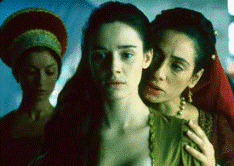 Juana la Loca,
the role of a lifetime
Pilar created a Juana quite different from the stereotype tormented and mad queen. Instead, she gave audiences a passionate woman, quite lucid, indeed, deep in love who fought against her times and misfortune. The critics fell at her feet at the
San Sebastian Film Festival
, where the film was presented, and the festival jury presided by Claude Chabrol, gave her the Concha de Plata (Silver Shell) Award for best female performance. Lopez de Ayala was just 23 years old, and this was only the beginning. The Goya for Best Actress and many more awards were to come for this outstanding performance.

En la ciudad de Sylvia [In the City of Sylvia] (2007): With Madness of Love, Pilar had an intense year of awards, promotion, interviews, and news reports on her. The actress reached the point she had been aiming for after many years of hard, focused work. Now she could choose her projects. But, first she needed a break to think carefully about her career and her life goals. While she adores Aranda and wanted to make another film for him, she turned down starring as Carmen because she ?didn't see [herself] in the role.? At the end of 2002, she reappeared to give us Season's Greetings in a Christmas spot for Freixenet cava (a Catalonian champagne-like beverage). She also announced her almost certain participation in an international production to include actors the likes of Robert De Niro, Harvey Keitel, and Kathy Bates: The Bridge of San Luis Rey, a mediocre film with disappointing box office results in Spain and elsewhere. Such was not the case with Obaba, a film adaptation by Montxo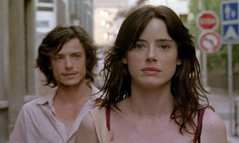 A young woman being
watched "In the City of Sylvia"
Armendariz of the magical universe portrayed by Bernardo Atxaga in his book of stories. The film garnered numerous nominations for the prestigious Goya Awards. In it, Pilar played a lonely, romantic teacher who is the tie between the stories presented. The actress got her third nomination for a Goya, this time for Actress in a Supporting Role. However, this time the award ultimately went to Elvira Mínguez for her performance in Tapas. Then, after starring in David Trueba's Bienvenido a Casa and having a very small part in the ensemble cast in the super-production Alatriste, Lopez de Ayala became the muse of José Luis Guerín. She had met him at the San Sebastian Film Festival, and he chose her for his In the City of Sylvia, an art house cinema feature film with almost no dialogue which follows the pursuits of a young man in Strasbourg looking for the Sylvia of the film's title. The director of the acclaimed documentary En Construcción claimed that Pilar's face, which he had wanted to film since he first saw it, was the inspiration for the film. By accepting the part, Lopez de Ayala re-affirmed her comfort with risky, unusual, and challenging roles. The film competed at the
Venice Film Festival
and gave the actress' work international visibility.
Las 13 rosas [13 Roses] (2007):
In April 2004, author Carlos Fonseca published his book ?
13 Red Roses?
about the story of 13 young girls murdered by Franco's Government just after the end of the Spanish Civil War. Filmmaker Emilio Martinez Lázaro decided to bring their tragedy to the big screen, selecting an ensemble cast led by Lopez de Ayala, among others. She played the part of Blanca Brisac, a young, fervent Catholic whose only crime was to help a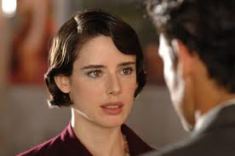 friend of her husband's affiliated with the Communist Party. Pilar's name was now becoming well-known on film posters and marquees and directors were beginning to prepare roles especially of her. Such was the case of Agustín Díaz Yanes. In
Sólo Quiero Caminar
(I Only Want to Walk), a sequel to Nadie Hablará de Nosotras Cuando Hayamos Muerto (Nobody Will Speak of Us When We're Dead), she played a part the director tailor-made for her. She was a thief friend of the character played by
Victoria Abril
, who she helps to get personal revenge against a group of Mexican drug traffickers.
O Estranho Caso de Angélica [The Strange Case of Angelica] (2010): Having said that she would only be tempted by Hollywood when she was offered a truly worthy project, Pilar Lopez de Ayala has always placed filming in Europe as a priority. So, she sent French filmmaker François Garenq a copy of En la ciudad de Sylvia (In the City of Sylvia). This gesture paid off, and Pilar became co-star of his comedy-drama on paternity in gay couples. In Comme les autres, the actress played an illegal argentine immigrant in Paris who makes a deal with a young gay man to give him a child in return for him helping her get her residency papers. By chance, En la ciudad de Sylvia also helped Lopez de Ayala get the opportunity to film with Manoel de Oliveira. In going to present the film at the Venice Film Festival, she happened to be on the same boat with the centenarian filmmaker on the ride into the city from the airport, Soon after, one of the producers proposed her for the part of the spirit of the young deceased girl who captivates a photographer who is giving the job of taking photos of her just after her death. At first, Oliveira rejected
Lopez de Ayala. He wanted a blonde for the part, but she didn't give up and presented herself to him in a blonde wig to win him over. The result, The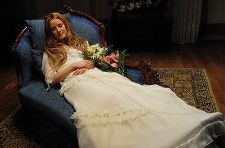 A lovely dead woman
in The Strange
Case of Angelica
Strange Case of Angelica
, premiered recently in Spanish cinemas and took the actress to the red carpet at Cannes as an international star. After that, she returned to Spain to film
Lope
, an adventure super-production about the wild and passionate youth of Spanish classic writer Lope de Vega in which she plays the writer's first serious lover.
About to turn 33 years-old, Pilar López de Ayala is no longer only an actress with promise on the Spanish film scene. Rather, she has become a well-known, respected performer thanks to the talent she has carefully focused on worthy projects alternating from experimental and art house cinema to more commercial but always deserving productions. We are currently awaiting the premiere of Medianeras, a story of young people coming together and splitting apart in Buenos Aires. Also in the line-up is Buenas Noches España, an experimental film from often-seen-at-festivals Philippine director Raya Martin, and Intruders, a psychological-horror thriller, the filming of which has just been completed under the direction of Juan Carlos Fresnadillo, with an international cast and shot in English. Who knows? Hollywood may not be so far off as she might think.