Cover of his LP of poems "A dos"
He came to Spain to make Nueve reinas (Nine Queens) and is now firmly entrenched in the popular imagination as El hijo de la novia (Son of the Bride). Argentinian actor Ricardo Darín has since become a huge success here in Spain, whilst in his native country he had already spent 30 years in the limelight. Must be that cute Buenos Aires accent. Or that smile, somewhere between candid and sly, able to melt hearts of reinforced concrete. Or perhaps, as Benjamín Expósito claims, it is the look in his eyes, a gleam of complicity, pure, humorous or sad, depending on the demands of the script. Now he?s back in cinemas to tell us Un cuento chino (A Chinese Tale) ? meaning a tall tale - which we will believe every word of, because we can?t resist him. But, to get our own back, we?ll tell you a few of his secrets...
Origins - His father, Ricardo Darín Senior, was a poet, aviator and adventurer; he came to Europe, enlisted in the foreign legion and ended up in de Gaulle?s personal guard. On his return to Argentina he started working as a radio play actor and that was where he met his wife-to-be, Renée Roxana, while both were working on the series ?Las aventuras del zorro?. In 1955 they married, and two years later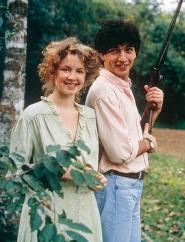 As a soap opera star,
with Andrea del Boca
in Estrellita mía
?Ricardito? was born. Unlike their son, the couple were not very successful professionally and sometimes had serious money troubles. One night at New Year, aged twelve and tired of listening to his parents argue, Ricardo Darín Junior confronted them and asked them to obtain a divorce, which in fact they subsequently did.
Starting out - His first memory as an actor is, curiously, of doing another radio series, playing Norma Aleandro?s son. Then he won a Latin American dubbing competition, and was working in this field while new radio and TV projects came up. Ricardo?s face soon became known on Argentinian television and he appeared on various episodes of the show Alta comedia as a ?child prodigy?, and also in serials like Estación Retiro. Darín grew up before the eyes of all Argentina, from boy to beau in romantic soap operas like Ayer fue mentira, Los que estamos solos, Pablo en nuestra piel, Estrellita mía and Rebelde. He was a member of a group of young Argentinian actors popularly known as Los galancitos, who adapted TV hits for the theatre. This was quite a media phenomenon, and thousands of fans would scream rapturously at them at the end of each performance; the Beatles, ?gaucho? style. The film producers jumped on the bandwagon and offered them star roles in a series of musical comedies for young people, known as the "tetralogía del amor" or tetralogy of love: Los éxitos del amor, La carpa del amor, La playa del amor and La discoteca del amor (the last two, by the way, were directed by Adolfo Aristarain).
Consolidation - In 1993, when his highly successful TV comedy Mi cuñado was being broadcast, he was also tackling his first lead role, in a film directed by Alberto Lecchi. It was called Perdido por perdido and Darín was excellent in the part of a very ordinary man who gets mixed up in the criminal underworld over his mortgage. The critics applauded his performance and Argentina began to take this comic actor, whom they had watched grow from boy to man, with his belligerent, clownish reputation, a bit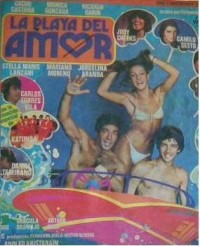 Seventies hit La playa del amor.
more seriously. Then a small but key part came up in El faro del sur (The Lighthouse), by Mignogna, and after that the lead in the romantic comedy El mismo amor, la misma lluvia (Same Love, Same Rain), his first collaboration with Juan José Campanella, the director who helped him become a cult actor of international renown. In 1999, Fabian Bielinsky, a TV commercial director, after winning a competition, obtained funding for his first feature film: Nueve reinas (Nine Queens), the story of a professional con man. Darín played Marcos, a talented swindler who inveigles a novice into helping him carry off the scam of the century. The film was an international hit and Darín?s performance was acclaimed worldwide, and particularly in Spain where, after the release of hit film El hijo de la novia (Son of the Bride) a year later, he became extremely fashionable. And the rest is (film) history... At one point five films showing in Spanish cinemas at the same time all starred Darín, and his mere presence in the cast of a film was a sure guarantee of its success, both in Spain and in his native Argentina, where all the producers were fighting over him. He starred in the political drama Kamchatka, by Marcelo Piñeyro; worked with Juan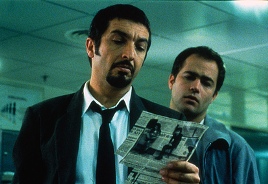 Nueve reinas (Nine Queens) -
his big break.
José Campanella again in Luna de Avellaneda (Avellaneda?s Moon) and El secreto de sus ojos (
The Secret in Their Eyes
) and with Bielinsky (El aura) and even directed himself in one movie, La señal, a film noir thriller ? sadly, Eduardo Mignogna died halfway through. He has also worked with Spanish directors
José Luis Cuerda
(La educación de las hadas) (The Education of Fairies) and
Fernando Trueba
(El baile de la victoria) (
The Dancer and the Thief).

His Real Self
? Those who know him well and see him on an intimate footing describe him as a tremendously generous guy with a great sense of humor, and very sensitive (he has been known to cry when watching soap operas). When a few years ago some youths broke into his house and held his wife and small daughter hostage inside, he called a press conference to demand opportunities for young Argentinians. He is very modest, constantly playing down compliments, and insists that his success is simply a question of good luck and good storylines. His bad points? He is unpunctual, inconsequential and given to practical jokes. Apparently his mother once came and dragged him out of a bar, giving him a few slaps in the process, and on another occasion he dropped his trousers backstage and mooned at two other cast members in the middle of a love scene.
With Susana Giménez,
Argentine TV diva.
Regrets -
A record featuring poems written and recited by him, called ?A dos?, made during the ?galancitos? (?hunk?) period, when thousands of fans used to wait for him at the back doors of the theatre.
Family ? He has been married for over 20 years to Florencia Bas, a young translator he met when she was just 18, and has two children: Ricardito ?Chino? Darín, who is studying film and has just had his first small role in the Spanish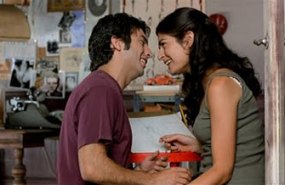 With Soledad Villamil in
El mismo amor, la misma lluvia
(Same Love, Same Rain).
film En fuera de juego, and a younger daughter, Clara. He is very much a family man and loves to spend time with his wife and children. He met Florencia one day when having a pizza in a restaurant on Corrientes Street. She was walking past and stopped and stared at him through the window, without knowing who he was. He was smitten. So was she, and though she had second thoughts when she finally recognized him she couldn?t resist his eyes, his laugh and his sense of humor. The couple married because they wanted to go on holiday together and, as Florencia was a minor, they found they had to obtain her parents? permission. Previously, he had been engaged for many years to Susana Giménez, an Argentine TV diva twelve years his senior (a cross between Oprah Winfrey and Raffaela Carrà), and who remains a close personal friend.
A Little Legal Trouble
- In 1991 a scandal involving various celebrities broke out; they were supposed to have purchased cars brought into the country under a tax exemption for the disabled. The actor and his then fiancée Susana Giménez were caught up in the affair as both had bought vehicles under these terms. Darín was arrested and accused of contraband concealment, but ten years later the Chamber of Appeals absolved him.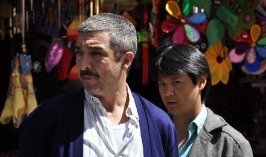 Un cuento chino
(A Chinese Tale), his latest release.
Theatre
? Although he started out in television and owes his worldwide fame to cinema, Darín loves the theatre best of all and admits that while he could live without doing film or television he couldn?t survive without theatre, work which fascinates and inspires him. He has acted in successful stage versions of Extraña Pareja, Rumores and Taxi. He sang and tap-danced in Sugar, a musical adaptation of Some Like It Hot, which he put on a few years back with Susana Giménez. He directed Lend Me a Tenor and Pizzaman and, during the last 13 years, has starred in the play Art all over the world. He also invested the greater part of his savings in restoring and setting up an old theatre, the Regina, on which the welfare institution la Casa del Actor depends.
Future Projects ? At the moment Darín is awaiting the release of Delirium Argentinum, a peculiar comedy about some youngsters who want to get rich by making a film but have no idea about cinema, and end up hiring Ricardo Darín himself to play the lead. Also pending is an old project directed by Brazilian Walter Salles (Estación Central de Brasil, A ciegas) about two brothers who travel to Patagonia to tell their father?s lover that he has passed away. Meanwhile, he?s here on our cinema screens in Un cuento chino (A Chinese Tale) - don?t miss it.