An amateur bandit in Blackthorn
Master of fancy dress at his school, St Augustine?s in Santander, once in Madrid, Eduardo Noriega got his first break when he saw an ad for a short film. Writers Alejandro Amenábar and Mateo Gil were to become his lucky stars. Then, launched as one of the official heartthrobs of Spanish cinema, he tried to avoid typecasting by choosing the independent, risky projects which have marked his career. Now he?s back, complete with moustache, hat and spurs, as a bandit in a new film by his friend Mateo Gil.
He claims it is not a question of vocation ? that he never dreamed of becoming an actor and that he first took to the stage accidentally when a friend invited him to come to her theatre group. However, his brothers say Eduardo always loved dressing up in any costume he could get his hands on. His favourite character was John Travolta as once in costume he got to rock and roll to the soundtrack of Grease which they used to play on their old radio?cassette.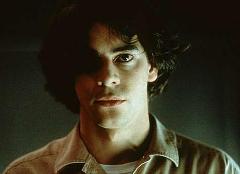 Abre los Ojos
(Open Your Eyes), his first Goya nomination
Once Noriega finished school, he enrolled in the faculty of law but never actually entered the university as he was offered a place at RESAD (Royal Higher School of Dramatic Arts) in 1992. One year later, he met
Alejandro Amenábar
and Mateo Gil, who were looking for actors for the lead roles of the short En Casa de Diego. They placed an advert and Eduardo came to audition. It was, as they say, the beginning of a beautiful friendship, which has now lasted 15 years. They progressed from two homemade short films shot in out in the Madrid suburb of Paracuellos, with a handful of people, eating sandwiches made by Amenábar?s mother, to the Tesis (Thesis) phenomenon. Written by Amenábar and Mateo Gil, the film was a hit ? a success with critics and audiences alike, and seven Goya awards marked the first feature film of a newcomer who was to become one of the most valued and popular Spanish film directors. Noriega, who had already had a small role in
Montxo Armendáriz?s
generational drama Historias del Kronen (Stories from the Kronen), also made the most of the credit he gained from this hit movie. Playing Bosco, the sinister, upper-class youngster in Thesis placed him on the map of the Spanish ?Star System?, in the ?hot young stars on the rise? category. His next collaboration with Amenábar,
Abre los Ojos
(Open Your Eyes) this time indisputably in the lead role, consolidated his position and also got him his first Goya nomination.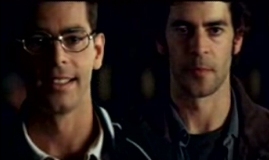 Dual role in
Canciones de Amor en Lolitas? Club
After trying his hand at comedy (
Cha-cha-chá
), a thriller (La Fuente Amarilla) (The Yellow Fountain) and romantic drama (El Invierno de la Anjanas) Noriega accepted a part in Plata Quemada (Burnt Money), an interesting action movie by Argentinian director Marcelo Piñeyro. Here he plays a gay bank robber and manages to create one of the best characters of his career. He went on to work with the most interesting directors of the time in El Espinazo del Diablo (The Devil?s Backbone), Visionarios (Visionaires) and
Guerreros
(Warriors). He alternates big productions like Alastriste and El Lobo (Wolf) - in which he plays ETA infiltrator Mikel Lejarza and for which he received his second and so far latest Goya nomination - with experimental projects like Novo, Las Manos Vacías or Souli. He also played Che Guevara in an independent American film that passed unnoticed as its release coincided with two films directed by Soderbergh and starring
Benicio del Toro
. And under director
Vicente Aranda
he took on one of the greatest challenges of his career: playing twin brothers, one violent cop and the other a gentle mentally handicapped youth in Canciones de Amor en Lolita?s Club. With Transsiberian and Vantage Point (En el Punto de Mira) he made inroads into Hollywood cinema. His most recent releases in Spain are
El Mal Ajeno
(For the Good of Others) and
Agnosia.
Now, fifteen years on, he is collaborating with his friend Mateo Gil again on the Western
Blackthorn
, a crazy adventure filmed on the high plains of Bolivia in extremely taxing conditions. Noriega plays a Spanish engineer turned bandit who by chance meets legendary Butch Cassidy, who was thought to have died years before.
This autumn we?ll see him starring in the TV series Homicidios, as a psychologist, an expert in behaviour disorders, who collaborates with the police. Good news for his fans ? they?ll be able to watch him in their living rooms every week.