Given the latest film projects in which Colombian actress Juana Acosta has been developing her acting talents, it seems that she enjoys ?taking the pulse of history.? Acosta has worked in various films which have brought historical figures to the television and the big screen, ranging from one about Adolfo Suárez, a key figure in Spain?s transition to democracy, to the international terrorist called Carlos the Jackal to the Lusitanian rebel against the Roman Empire Viriathus.
Projects with scripts based on particular figures or periods from history have been a growing part of the Colombian performer?s filmography. Until 2010, the career of the Cali-born actress has been focused on a number of popular TV series, both Latin American and Spanish. These include her 1995 debut in the series
Mascarada
, from her native Colombia,
Policías, en el Corazón de la Calle
, in which she starred with
Josep María Pou
and
Lola Dueñas
, among others, and the long-running
Hospital Central
.
During this period, Acosta began to take steps towards big-screen productions. She made her first inroads in 1998 with the comedy
Golpe de Estadio
, starring
Emma Suárez
. She became quite popular in comedies for a while, thanks to other titles like
Slam
, in which she appeared with
Kira Miró
, and the sequel to
The Other Side of the Bed (El Otro Lado de la Cama)
, called
The 2 Sides of the Bed (Los Dos Lados de la Cama)
. The two ?bed comedies? were directed by
Emilio Martínez Lázaro
and starred
Ernesto Alterio
,
Alberto San Juan
, and
Willy Toledo
.
Two of Acosta?s films from this phase in her career, but more on the serious side were
Fisticuffs (A Golpes)
and
Welcome Home (Bienvenido a Casa)
. In the first of these, Acosta has the part of Juanita, a young woman from the suburbs who gets involved in break-ins with her friends. Meanwhile, in
Welcome Home
, she plays friend from their childhood to Samuel, performed by
Alejo Sauras
, a young man facing the experience of moving in with his girlfriend, played by
Pilar López de Ayala
.
Then, in 2010, the Latin American beauty started to get roles related to historical events. The first of these came with her part as Carmen Diez de Rivera, Chief of Staff for Adolfo Suárez, in the TV series about the UCD (Spanish acronym for ?Union of the Democratic Centre?) party leader,
Adolfo Suárez. El Presidente
.
That same year, Acosta got the part of a lawyer in the film biography of international terrorist Ilich Ramírez Sánchez (aka ?Carlos the Jackal?), simply titled
Carlos
. This French production won the
Golden Globe Award
and
13 other prizes
.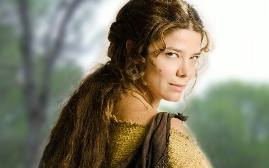 Her next cinematic leap in time took her all the way back to the Roman Empire, with the historical drama for television called
Hispania
. In this series, she plays sister to Paulo, a rebel who joins forces with Viriathus in his struggle against the Roman army.
Juana Acosta
?s latest character is again from the past, but many centuries later. This time, it?s late-18th to early-19th century South America, when Simón Bolívar gets independence from the Spanish Empire for the countries that would become Bolivia, Colombia, Peru, Ecuador, Panama and Venezuela. This film,
Libertador
, is still in production, Acosta in the role of
Manuela Sáez
, Bolivar?s last lover, who leaves her husband to join his cause.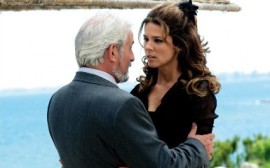 Juana Acosta with José Sancho in Crematorio
In this Hispano-Venezuelan project, Acosta shares billing with
María Valverde
, who plays the wife of the Latin American independence leader. Apart from feature films, the actress from Cali has participated in the 2011 mini-series for television
Crematorio
, which received an
Ondas Award for Best Series
. In it, Acosta was Mónica, girlfriend to an unscrupulous real estate developer played by
José Sancho
.
From ancient Rome to the period when South American countries gained their independence two centuries ago to Spain?s transition from Franco to democracy in the 1970s and 1980s,
Juana Acosta
has had a role to play. No doubt, many more are to come.