MADATAC 04
CONTEMPORARY FESTIVAL OF NEW MEDIA ARTS AND ADVANCED AUDIOVISUAL TECHNOLOGIES
10-16 DECEMBER 2012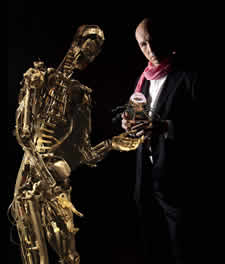 CYBERCIVITAS
CYBERCULTURE AND AUDIOVISUAL ART FOR THE END OF TIME
At a delicate time for culture and the arts, it was difficult to predict that we would arrive at this 4th edition of MADATAC with ever-greater visibility. Even less so, with solid expectations of holding a 5th edition in 2013, complete with the participation of an international figurehead for audiovisual creation, whose artistic DNA will be revealed in due course.
As is vox populi, each MADATAC competition aims to take the pulse on what is new in this ever-changing environment and put forward an attention-grabbing and inspirational theme that enables radical new processes to storm the audiovisual arts, conquering screens with groundbreaking pixels and a re-assimilation of the relationship between art, matter and technology.
For this edition, guests at the exceptional CentroCentro Palacio de Cibeles, we have opened a Pandora's box of cybernetic culture linked to the evolution of our cities. The title-phrase this year portrays and challenges not the end of the world, but a dated way of understanding New Media Art. Among the selected works, grouped into different programmes, we will be screening a huge number of experimental audiovisual artworks from all four corners of the globe. Leading figures from the sector will present their viewpoints at the I Symposium on Cyberculture and New Media Art and there will be a permanent exhibition of installations by artists who employ new communications or information technology to investigate the aesthetic, cultural or critical opportunities afforded by these tools.
Redefining artistic processes across the board is not only one of MADATAC's objectives, but also the basis upon which new media artists both determine and question the very media now bringing about the digital revolution.
Iury Lech
Festival Director


CYBER-CULTURE AND NEW MEDIA ART SYMPOSIUM
AUDITORIUM CENTROCENTRO
MONDAY 10TH, DECEMBER
10 AM – 2 PM
4 PM – 8 PM

FRIDAY 14TH, DECEMBER
11 AM – 2 PM


ACTIVIDAD REALIZADA CON LA AYUDA DEL MINISTERIO DE EDUCACIÓN, CULTURA Y DEPORTE
INTRODUCTION
The Symposium panels will reflect on the interplay between art, science, technology and the creative processes connected to urban life and contemporary media.
Monday, December 10th, 2012
10.30 am – 11.30 am
Title of the conference: ART, SCIENCE AND TECHNOLOGY: THE TECHNOLOGICAL QUEST IN WESTERN THOUGHT
DRA. RAQUEL CAEROLS MATEO. Profesora de la Universidad Antonio de Nebrija

Specialist in creativity studies within the visual arts, Raquel Caerols graduated in Audiovisual Communication from Madrid Complutense University before going on to complete her PhD in Applied Creativity at the Department for Teaching and Visual Expression at the Fine Arts Faculty of the same university.

She has worked for Tele 5 News and the El Mundo production company and taught classes, seminars and workshops on audiovisual technology or video at a number of institutions, including Miguel de Cervantes European University (Valladolid), Francisco de Vitoria University, Complutense University and Antonio de Nebrija.

Raquel has participated in international congresses such as Computer Art (Mexico DF) or the VI Congreso de lúdica y pedagogía. Por un nuevo aprender, organised by the Madrid Technology Foundation and held in Cartagena de Indias (Colombia). Her work has been published in magazines including Revista de Artes Plásticas, Estética, Diseño e Imagen, Bellas Artes, La Laguna University, Trípodos, Arteliebre.com, and with Fragua publishing group; she also took part in the International Television Festival on Urban Life and Ecology held at La Casa Encendida, Madrid.
12.30 pm – 1.45 pm
Title of the conference: FROM CYBERNETIC AESTHETICS TO ENDO-AESTHETIC Art, action, participation, and interaction: cross-disciplinary dialogues



Foto: Marcel·lí Sàenz, 2008

DRA. CLAUDIA GIANNETTI

Claudia Giannetti is a researcher specialised in contemporary and new media art, and the realationship between art, science and technology. Exhibition curator, theorist and writer, she directs the Edith-Russ-Haus for Media Art, Oldenburg, Alemania and is Senior Guest Lecturer at the Faculty of Visual Arts, Évora University, Portugal. Artistic consultant for the Fórum Eugénio de Almeida, Évora, Portugal, she has also directed ACC L'Angelot (1993-1999) and MECAD Media Centre d'Art i Disseny (1998-2007), both in Barcelona.

As a curator, Claudia Giannetti has been responsible for over a hundred projects both in Spain and abroad, at exhibition venues including: Museo Nacional Centro de Arte Reina Sofía, Madrid; Centre de Cultura Contemporánia de Barcelona; Centro Multimedia del Centro Nacional de las Artes, México DF; Centre George Pompidou, Paris; Le Fresnoy Studio Nacional des Arts Contemporains, Tourcoing, France; Cervantes Institute in New York and Beijing, China; CaixaForum, Mediateca, Barcelona; Expanded Box, ARCO'2008, Madrid; MEIAC Museo Extremeño e Iberoamericano de Arte Contemporáneo de Badajoz; ZKM Center for Art and Media de Karlsruhe, Alemania; and Neue Galerie Graz, Austria.

Jury member for diverse international art prizes, she has also received a number of awards for her work as a curator and writer.

Her numerous publications include articles for specialized magazines and catalogues along with various books, including Estética Digital - Sintopía del arte, la ciencia y la tecnología (Barcelona, 2002, translated into four different languages) and La razón caprichosa en el siglo XXI - Los avatares de la sociedad posindustrial y mediática (Las Palmas de Gran Canaria, 2006).
4 pm – 5 pm
Title of the conference: READING THE LAND. THE CITY AND ITS WEB VALUE
FRANCISCO BERENGUER

Francisco Berenguer is a lecturer at the Faculty of Fine Arts, Polytechnic University of Valencia, dealing with concepts of interface and interaction design. Guest lecturer on numerous Spanish and international Master's degrees, he has organised courses and workshops in Spain, Mexico and Portugal. He has also presented papers and exhibited interactive work at the following electronic arts competitions: ArtFutura (Barcelona, Spain), Ciberart (Bilbao, Spain), Fournos Centre for Digital Culture (Athens, Greece), Gran Canaria Espacio Digital (Las Palmas, Spain), ESAD (Oporto, Portugal), Ingráfica (Cuenca, Spain.)

Director of the publishing company, Sendemá, DEFORMA magazine and the webspace DEFORMA Cultura Online (www.deforma.info).
5 pm – 6 pm
Title of the conference: VIDEO ART AND THE ABSENCE OF NEW MEDIA ART IN CONTEMPORARY IRAN
SHAHRAM ENTEKHABI

Shahram Entekhabi is an Iranian-born artist and architect who lives and works in Berlin. He studied graphic-design at the University of Teheran, Iran, then Architecture, Urbanism and Italian language in Perugia and Reggio Calabria, Italy. His work has been the subject of many exhibitions all over the world. Framed within an urban setting, Shahram's practice diffuses the idea of the urban space being a reserve for the practice and performance of the white, middle class, hetero-sexual male. He explores these ideas via a variety of performative practices using architecture, installation and digital media.

Shahram explores society's prejudices and suspicion of 'the Other' by visualizing fear and paranoia and the stereotypes constructed about 'the Other' owing to colour, religion or ethnicity; similarly, how people participate in the ghettoization of the minority through perception, politics, propaganda and control. Hence, Shahram chooses to highlight individuals who are ordinarily marginalized and made invisible or forced into self-ghettoization from the urban domain, such as migrant communities and their cultures, particularly communities from the Middle East and its diaspora. The question of visibility and invisibility is therefore a theme he recurrently explores within his artistic practice.

Shahram also engages in Parasite Architecture, which questions aspects of social communication while deconstructing notions of public space and its ownership. Focusing the aspect of the transient within the idea of the informal, Parasite Architecture examines themes of migration and cultural diversity. Hence, in many places around the world, Shahram creates informal extensions to existing architectures (e.g. museum architectures) or constructs independent temporary spaces. These informal architectures are always constructed in public spaces and are always made from caution tape - suggesting ideas about safety zones or no-go areas and indicating aspects of exclusivity and inclusiveness in the public space. These works deal with the concepts of performance and public space and time.
Friday, December 14th, 2012
11 am - 11.30 am
Title of the conference: CYBERCIVITAS::::
CYBERCULTURE AND NEW MEDIA ART IN THE METROPOLIS
IURY LECH

Multi-disciplinary artist, Iury Lech has developed his creativity in the style of Enlightenment artists and, with an atypical take, explores the fields of video creation, music and writing.

His open and unclassifiable work reinvents stereotyped avant-garde concepts with a provocative arsenal, taking accurate aim, from a shadow line, at the complexities of artistic evolution.
11:30 am - 12:30 am
BOOK LAUNCH:
"From Prometheus to Frankenstein. Automata, Cyborgs and other more-than-human creations".
Presented by Iury Lech and the editors Fernando Broncano & David Hernández de la Fuente, with the authors' participation.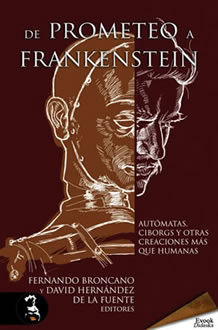 From 12:30 pm to 2:30 pm lecture of Roy Ascot
Title of the conference: LA CIVITAS CIBERNÉTICA Y EL SER MÚLTIPLE
ROY ASCOTT

Roy Ascott is currently showing in the Shanghai Biennale, and previously exhibited with the Venice Biennale, V2, Milan Triennale, Biennale do Mercosul Brazil, European Media Festival, Musée d'Art Moderne, Paris, etc. Initiator of Telematic Art, his seminal projects include La Plissure du Texte at Electra, Paris 1984, (Second Life versions in 2010, 2012), and Aspects of Gaia Ars Electronica, 1989. His retrospective The Syncretic Sense was shown at Plymouth Arts Centre UK, 2009; at the Incheon International Digital Art Festival, Korea, 2010, and at SPACE, Hackney, London, 2011. His exhibition Syncretic Cybernetics is part of the Shanghai Biennale 2012. He is the President of the Planetary Collegium, and the DeTao Master of Technoetic Arts at the Beijing DeTao Masters Academy in Shanghai. His books include: The Future is Now: Art, Technology, and Consciousness], Gold Wall Press, Beijing, 2012; Telematic Embrace: Visionary Theories of Art Technology and Consciousness, UC Press, 2003. Technoetic Arts.Yonsei University Press, 2002. Art & Telematics: toward the Construction of New Aesthetics, NTT, Tokyo, 1998.



OFFICIAL INTERNATIONAL SECTION
The Official International Section is made up of 73 video creations from 30 different countries, to be screened at the Auditorium of "CentroCentro Cibeles of Culture" in Madrid, December 10th to 16th.
AUDITORIUM CENTROCENTRO
Programme recommended for over 18's
PROGRAMME #1
Tuesday, December 11th
4pm- 5pm
Miguel Ángel CONCEPCIÓN (España/Spain)
LAST SUPPER/03' 14"/2012
Twelve artists are invited to a last supper in which they fuse and metamorphose into each other. As if a Savonarola theatrical, a bonfire burns within each of them. A criticism of religion set against intelligence, art and modernity.

Mariana CARRANZA (Alemania/Germany)
CONSTELLATIONS 1, CONSTELLATIONS 2/02' 09"/2011
With its movements, a body sketches infinate variation of animated drawings. The images are generated interactively through software designed especially for this work in Processing. As the body moves, it activates particles of a system which react, to a certain extent at random, by drawing figures onto the image. The video, then, is not the result of superimposing two different images but is self-generated, computerising the pixels from the video of the dance, each time in a different way.

Roderick STEEL (Brasil/Brazil)
TRANSFIGURATION: A TELEMATIC TRYPTYCH/03' 08"/2012
Triptych of a telematic intervention in a cathedral in Brazil. Documentary and theatrical blur borders between actual and virtual worlds in fluid frames-within-frames. The cell phone's itinerant gaze maps the cathedral-body within another body, in communion with mobile modes of communication.

Iñigo Benito MOLINERO (España/Spain)
SIGNAL_LOST/04' 49"/2012
Audiovisual piece created from found footage and video data corruption techniques, dealing with modern-day issues of 'connecting', cyborg identity and the labyrinth city.

Ulf KRISTIANSEN (Noruega/Norway)
I FEEL YOU/05' 14"/2010
A chilling poetic tale about obsession, horror and death.

Matías MONTARCÉ (España/Spain)
THE PROCESS/15' 00"/2012
A personal, critical reflection on some of the issues currently affecting us at a social, economic and cultural level. Among them, particular attention is paid to the slow resurgence of poverty, the lack of employment opportunities or the gradual, generalised slide in sectors such as health, education or culture. The door is left open for positive change based on the seed germinating within society's common response.

Jonathan DESJARDINS (Canada)
VARIATIONS FLEXIONNELLES EN TROIS MOUVEMENTS/02' 18"/2012
Variations Flexionnelles are studies of sound writing and this piece is an animated video made from a series of drawings done for Variations Flexionnelles 3, 4 and 5. This serial connection is a morphological study of movement specific to this type of writing. Each movement is built on the scroll of a sequential series, each constructed from a distinct writing proceed. The possibility of bending creates, firstly, a phase shift between the repetitive elements unique to each movements and secondly, between those same movements. It gives us a glimpse of the space-time resonance that could be heard.

Jarek LUSTYCH (Polonia/Poland)
GOD LOVES THREESOME *RUSSIAN PROVERB/0' 30" /2012
This is my attempt to unite violently opposed concepts from common systems of beliefs. It has a dreamlike or hypnotic quality, designed to suggest our longing to achieve this aim.

Jose Miguel SEGUÍ (España/Spain)
IL SOGNO DELLA RAGIONE/05' 20"/2010-2012
Reflection on the nature of the monster, based on Goya's work. Real images, 2D animation and collage.

Paul O'DONOGHUE (Irlanda/Ireland)
PRETTY IN PINK/04' 41"/2012
Visual music comprised of elements created using analogue technologies, where both audio and visual components were generated simultaneously. Frequency in a visible form, all the visual parts retaining the sounds that created them. These fragments were then digitally re-arranged to create a rhythmic audio/visual composition. What you see is what you hear.

Diego SERAFINI (Argentina)
DEBTS/01' 39"/2012
A static shot towards a white background. Bullets start to fall, staining the area blood-red. When the image is formed there is a short cut; finally, coins drop and the video comes to a close.

Volkan ERGEN (Turquía/Turkey)
HAMADRYAD/04' 59"/2012
she is a djinn
she is a dryad
she is an hamadryad
she is in love all an over
kissing with the giant in the small
tired of identifying her loneliness
covering the sea weeded arms of the forest with all the jewelry
within the eyes where dryads are fucking
in the dreams of the butterflies
our children are only made up of light
going around the fragile organs above me.

Miroslav SRETENOVIC (Serbia)
SPRINGBOARD/05' 25"/2012
Realtime rendering 3D visuals, live Electronic music soundscapes, glitchy passages and discrete noises by Springboard, an AV project from Belgrade, formed by sound artist and producer Springboard and video artist Incredible Bob.

Salome MC (Japón/Japan)
AQUAPHOBIA/01' 24"/2012
Aquaphobia implies a fear of water beyond the patient's control, which may interfere with their day to day. Water covers 70.9% of the Earth's surface, and is vital for all known forms of life.

Thomas LORENZ (Austria)
BROKEN LAND/03' 35"/2012
Broken Land is an interactive realtime simulation that develops a virtual, three dimensional scenery which reacts to the music, aiming to create a visual that goes beyond a purely abstract play of forms and colours. The work shows something that one could understand as a landscape in constant change, an "other space" which is full of motion, conveying a sense of familiarity and strangeness at the same time.

Roland QUELVEN (Francia/France)
ROJA CATHARSIS/01' 00"/2012
Catharsis describes the result of measures taken to cleanse away blood-guilt.
"Blood is purified through blood" Walter Blanket.
PROGRAMME #2
Tuesday, December 11th
5 pm – 6 pm
Ana Rodríguez LEÓN (España/Spain)
THE SPIRITUAL MACHINE/19' 00"/2012
A hypnotic journey delving inside the human being, unveiling the profound mystery hidden within. A mystery replete with beauty and the potential to destroy.
Illness, understood as a possible collision between the emotive, cerebral and bodily facets of the human being, reveals its power as a tool for introspection and self-discovery.

Liz RODDA (EE.UU/USA)
CUT/02' 45"/2012
Cut pairs two videos side-by-side: a series of sounds of found muscle growth animations with a video of an infinitely spinning diamond.

Jym DAVIS (EE.UU/USA)
DARK SURFACE/05' 00"/2012
Dark Surface is an abstract meditation on the creation and / or resurrection of life on a desolate, barren planet, the second act to video art piece, White Space. The film offers very little to guide the viewer's interpretation of meaning, instead focusing on a sensory experience: textures, sounds, rhythms, and movement. Influences of David Lynch as well as the repetitious music of minimalist composers Philip Glass and Steve Reich can also be seen.

Paco GRAMAJE (España/Spain)
INSIDE VAN GOGH DREAMS/02' 57"/2012
Video dance: "Last night I dreamed of a dancer...and she danced for me all night." (Vincent Van Gogh, September, 1868)

Fabio SCACCHIOLI - Vicenzo CORE (Italia/Italy)
MISS CANDACE HILLIGOSS' FLICKERING HALO/13' 30"/2011
The Beginning is an American film noir from the early 60s: disemboweled, tortured and "detourned" images organize themselves into precarious and evolving structures, intertwined in multiple, twisted plots in a state of permanent collapse. The aim is to incite the explosion of a closed system through a battery of audiovisual implosions. Forget what you see while you are actually watching it, and soak in a vibrating, optical ancestry. "Miss Candace Hilligoss' Flickering Halo" is about the interval simultaneously separating and uniting, the silence between words, the black between pictures. It's a film against the dialectical opposites in cinema, assembled according to Heisenberg's uncertainty principle and the use of the phenomenon of retinal persistence as an expressive tool.

Alessandro AMADUCCI (Italia/Italy)
ANATOMY THEATER/03' 30"/2012
Theatrical drama with anatomical actors.

Bakary DIALLO (Francia/France)
TOMO/07' 00"/2012
The story of a territory deserted because of war and a character disturbed by his subjective experience of violence.

Pablo Fernández PUJOL - Miguel Ceballos (España/Spain)
CYBERBIRD (Part I)/02' 27"/2012
From an artistic metaphor, Cyberbird proposes a reflection on metamorphosis and processes of transformation as elements that are essential in order to readapt to an ever-changing environment. Through a mutant mechanical-organic character, a virtual journey is begun; the main character is used as a vehicle to travel through different situations, in different eras, within the map of Europe. It is a stop-motion piece, using an articulated sculpture, inserted within a practically deserted, apocalyptic environment which, along with the sound, amplifies history's disturbing message.

Isabel PEREZ DEL PULGAR/TAXONOMY 5/04' 29"/2012
This work forms part of the Taxonomy Project, made up of five videos and a photo series. 'Taxonomy' is defined as the study of links between organisms and their evolutionary history. Beyond this definition, within a framework for scientific classification or management, the artist addresses the relationship between the body, as an organic element, and its diverse realities. Fractured realities, mirrors that reflect a subjective image. Subjectivity dependent on individual perception, on the fragile and ephimeral nature of the body's structure and direct communication with one's consciousness. At the same time, awareness and knowledge – both conscious and unconscious – of the finite, of decadence. In short, the idea of death and its denial.
PROGRAMME #3
Wednesday, December 12th
4 pm – 5 pm
David Rodriguez GIMENO (España/Spain)
DEVELOP/MOVEMENT Nº1/03' 00"/2011
The process of travelling across terrain conditioned by the projection of Cartesian geometry at the point where the landscape becomes concentric. A reconstruction of the fractioned memory of this journey. Filmed in Antarctica.

H.D. MOTYL (EE.UU / USA)
NUDES DESCENDING A STAIRCASE #2 - DESNUDOS BAJANDO LAS ESCALERAS
Nº2/03' 50"/2010
The work is a video tribute to Marcel Duchamp's seminal painting, Nude Descending a Staircase #2, joining that already made by Michael Somoroff: Query (2004). The images of seven descending men are fractured, deconstructed and reassembled in time and space. This processing of the images evokes questions about male nudity and beauty, as the soundtrack underscores it all with sounds/noise created with ready-mades.

Miguel Maldonado CAPARRÓS (España/Spain)
A PLACE IN THE SUN/03' 53"/2012
Inspired by a Walt Whitman text, this video-creation aims to evoke feelings around evolution and the human being's existence as a chance animal in the universe.

Victor Meliveo NOGUES (España/Spain)
NEUKÖLLN BERLIN WAKE UP DANCE/04' 30"/2011
This video-dance piece transports us to a midway point between the mental and the physical, the emotional and the tangible. The body as a means of communication, without words, brimming with feelings and sensations, where each symbol comes to life, becomes something material. Senses and intellect fuse in order to read a plot as abstract as the human heart itself.

Sonia ARMANIACO (Italia/Italy)
TALE OF SUSPENSUS SERIE/04' 54"/ 2011-2012
Tale # 5: Miniserie Life Extension 2 Oxitocini. Lecture Sonnet 47.

Marta Azparren LUCAS (España/Spain)
TRACT/04' 58"/2012
Tract is the image of an inert place which, when touched, becomes an organic centre-point, a melting pot of dry and wet, perfect and palpitating, calculated and unpredictable. It is a journey within a preserved interior, a voyage through the dark grotto whose openings are outlets of gasping, breath and noise. In short, an endoscopy inside a bass saxophone.

Joaquín GASGONIA (Filipinas/Philippines)
BANIG/17' 04"/2010
The Southeast Asian sleeping mat or banig, is a site of contesting/productive social relations that transcends particular cultural conventions. It is a venue for universal human investments in the emotional or material, and the aesthetics of relaxation, procreation, and nurturing. Its prevalent use as bedding or floor covering also associates it with larger-scale social occasions: community rituals, public spectacles and burial rites. The banig thus fulfils several roles simultaneously; a simple, otherwise fragile piece of furnishing which takes on a range of meanings covering broader human concerns, such as identity, way of life and predestination.

Joas Sebastian NEBE (Germany)
THE PROVERB PICTURES/23' 00"
1.Pep Talk Picture/01' 57"/2012
The Proverb Pictures are a collection of 6 fine-art videos that analyse the independence of words and phrases and the speaker or listener's fantasies. The film maker uses complete freedom of interpretation by combining images with words in a dadaesque manner. Pep Talk Picture is an audiovisual composition of the subject of pep talk phrases used e.g. in sport.

Alfredo García BARROSO (España/Spain)
THE PERFECT HUMAN BOMBAY REMAKE/02' 24"/2009
This piece is an audiovisual inquiry on the natural and the synthetic in the work of Jorgen Leth.

Bo LEE (Corea del Sur/South Korea)
DIVINE NATURE OF MOTHER AND HER SINS WITHIN/02' 30"/2010
"A world: a beautiful form overwhelmed with human materials that saturate it." In the beginning, it was more about form and movement but the more layers added, the more one can realize that these actions only strip away the essence of the piece. The incorporated bits of footage only damage and eventually change the meaning of the video.

Pascual Pau GALBIS (México)
LA LLET SIGMOIDE/04' 35"/2011
Cathartic, lactic strength against the anguish and obsessions in the dark dreams of the 'becoming-animal'. To a certain extent, the video represents a Novalis-style liberation from the nightmares which torment us. A procession of traumas and weeping within a fetishistic atmosphere of pitiless noise. The human mind is like a sacred and immortal temple, a close-woven fabric of dreams, fears and desires.

Albert MERINO (España/Spain)
LOT'S SHADOW/06' 29"/2010
A visual reflection on the means of inhabiting an empty space through gestures. The same character takes on different, contrasting roles and develops a mime based on slow, expressive movements. The space is thus transformed into a succession of moods, often disturbing or alarming. Certain passages from Antonin Artaud's 'Theatre of Cruelty' were used as a starting point for this piece, which gives a visual form to some of the ideas contained within that text.
PROGRAMME #4
Wednesday, December 12th
5pm - 6pm
Carlos Sedeño ROMERO "DRIPP" (Spain)
SYMMETRIC ASYMMETRIC/09' 23"/2012
Symmetric Asymmetric shows possible worlds, many of which differ from each other only in irrelevant details. The visual language gains amplitude and dynamism through the use of symmetrical compositions specifically composed for the audiovisual piece, creating a symbiosis between the visual and the musical.

Bret BATTEY (Reino Unido/U.K.)
CLONAL COLONIES I.Fresh Runners/06' 50"/2011
The first movement of Clonal Colonies, Fresh Runners, is a fast romp of densely interlocked textures, thrilling in the process of transformation itself. The second movement, Soft Strata, starts with an almost childlike simplicity, from which a series of gentle elaborations culminate in a not-so-gentle interjection. "A clonal colony" is a group of genetically identical plants and is analogous to the computer algorithms used in the creation of the music. Each musical phrase can be thought of as the disposition of a single plant. All instrumental parts share the same underlying "genetic code". But each instrumental behaviour influences and is influenced by the others. The video element extends my previous Brownian Doughnut Warper technique of algorithmic manipulation of points by adding Bézier splines between points, camera control, and post-processing routines. Complex patterns arising from the lines between points forms a further analogy to botanical clonal colonies.

Laura CABRERA y Sira CABRERA (España/Spain)
SELF ABANDONMENT/03' 21"/2012
In Self Abandonment, a woman gradually loses spiritual and physical solidity, she splits in two, is superimposed, becomes tangled, fragmented, pulverised, transformed. The sound, somewhere between song and howling, is an alarm, a warning to be alert against the trivialisation of life, against self-abandonment.

Eleonora MANCA (Italia / Italy)
I SING THE BODY ELECTRIC_BORDER SKIN/03' 49"/2012
The project starts from a line by Walt Whitman, and revolves around the topic of the body meant as a border. A border between skin, frame and space. The body is dealt with as it were a language in which the telling self and the told self overlap, and it reveals itself through the perception of space merged with the artist's skin.

Neil HARBISSON - Moon RIBAS (España/Spain)
WALKING COLOURS/03' 44"/2012
Walking Colours is a long take where the performer dances mechanised, repetitive movements which are transformed as objects are given to him. The sound originates in a peculiar characteristic of Neil Harbisson himself; he only sees in black and white but has a cybernetic device installed in his head which transforms colours into notes. This video-dance piece is based on his personal system, given that each note represents the colour of the object which appears. From there, Neil has composed a melody, so creating a direct link between sound and choreography.

Vincent CICILIIATO (Francia/France)
ORDINARY COMPULSIONS/18' 10"/2011
A character in the distance, in a dark empty space. He comes to the foreground, agitated, as if embarrassed by his clothes. Then a chair appears: a first object with which the subject can make contact. Here begins a strange history of a lonely, isolated and independent body, grappling with it inner compulsions and an enigmatic territory populated with actor-objects: a chair, a door, a coat rack, a sink… Each character is a specific compulsion personified (checking, washing, scratching, etc.), invading a space that is becoming more limited and constrained. A strange machine is set up with repetitive movements, absurd and increasingly frightening.

Michael SZPAKOWSKI (Reino Unido/U.K.)
SHIT HAPPENS IN VEGAS/03' 47"/2012
A video to accompany a piece from a year long remix project, where the artist undertook to enter a remix competition every month between Aug 2011 and July 2012.

Ryo IKESHIRO (Reino Unido/U.K.)
CONSTRUCTION IN ZHUNGZI/09' 51"/2011.
Construction in Zhungzi is a simultaneous sonification and visualisation of a modified Lorenz dynamical system, a three-dimensional model of convection that is nonlinear, chaotic and sensitive to initial conditions. It is implemented in Max/MSP/Jitter. A performance takes the form of an improvisation involving the modification of parameters of the dynamical system, these human interactions being indicated by momentary colour inversions. The real-time, generative audiovisual establish a perceptual feedback loop between these two elements due to the "butterfly effect" and the emergent behaviour of the dynamical system. Interesting results are obtained as audio, either as signal data in nonstandard synthesis or control such as rhythm, pitch and panning (no pre-recorded samples or conventional oscillators are used apart from sine waves) and as OpenGL 3D visual. Being representations of the same data source, coherence between these two domains are maintained without either being subservient to the other as it is neither the audio triggering the visuals nor vice versa as is often the case. The outcome is an integrated audiovisual, real-time, generative, interactive, and improvised live performance.
PROGRAMME #5
Thursday, December 13th
4pm - 5pm
Lisi PRADA (España/Spain)
HAIKU TIME/05' 07"/2012
A metaphor of survival, at this decadent end of time, which disputes the traditional separation between nature and culture, human and non-human, masculine and feminine or nationality and language (including other languages such as the poetic or scientific). It proposes abolishing the frontiers which distance us from others, and from what is different, in favour of that which unites us. It questions our modern-day lifestyle, which leaves us alienated or lost in our attempts to save time. Presented as a haiga-video** these images accompany a haiku, preceded by a poetic text recited simultaneously in German and English. Some verses are also heard as a chorus in Japanese, Norwegian, Italian, Portuguese or Spanish, emphasising the fact that what is narrated could happen to anyone, anywhere.
** Haiga is a style of painting derived from Haiku, whose poetic structure is three verses with 5,7 and 5 syllables respectively. This explains the video's duration: 5 minutes, 7 seconds, 5 milliseconds. Haiga were based on simple but profound observations about everyday life and poetic images, among which the moon or references to nature were a common feature.

Miss ENABYME (Alemania/Germany)
GROTESQUERÍA/06' 40"/2011
A body is constructed piece by piece. Once the new identity is built, it erupts, explodes into fractured images. The eye, longing for the memory of what it once saw, inevitably tries to complete and correct them into a harmonious whole. Constant metamorphosis means letting go of established identity. Re-translating tradition and exploring the boundaries between art and technology is central to this video. Choreography for the brain and eyes set to a mechanical drone and repetitive strings. The soundtrack for a struggle between the different layers of self involved in endless transformation.

Alba SOTO (España/Spain)
CYCLICAL TALES OF THE STERNUM/04' 47"/2012
Cyclical Tales of the Sternum is a compilation of images linked to feelings of conscious anxiety. To assimilate, accept and respect this anxiety, the only option was to visualise it; imagining, as a kind of meditation, the elements and movement which inhabit my own interior.

Beate HECHER - Markus KEIM (Austria)
IN ABSENTIA-ECSTASY-INSURRECTION/10' 00"/2012
In Absentia/Ecstasy/Insurrection is the cinematic reconstruction of a performance which was intended to be staged in Damascus together with Syrian artists. Because the political situation in Syria increasingly worsened in 2011, the performance never took place as planned. The two directors then decided to re-enact it in the Egyptian desert, 1000km southwest of Syria and in the absence of the Syrian artists. The result is a film that shows the fragility of a human body, and the mirage-like disappearance of humans in politically precarious situations.

Gabriel SALINAS AGÜERO/GRRRRR!/03' 36"/2012
This video delves into the thoughts and synesthetic hallucinations of an underground passenger, using music as true discourse. As they synchronise with the sound, the protagonist's thoughts turn into a psychotic chaos, creating a unique abstract experience of subjective sensations.

KirsiMarja METSÄHUONE (Finlandia/Finland)
TRANSITION PROCESS/05' 00"/2012
Moving image collage of a photographer and the absurdity of the world.

Piotr KOTLICKI (Polonia/Poland)
ARTERY/01' 36"/2012
Video based on the author's painting Man Jumping Over, using photos from a regular camera, edited as a slideshow and enhanced with a soundtrack.

Jean-Michael ROLLAND (Francia/France)
NEONS MELODY/03' 03"/2011
Audiovisual work on the sound and light generated by a neon ceiling lamp.

Diego RAMÍREZ (Australia)
POLLY, JENNIFER AND MELISSA/04' 31"/2011
The androgynous Polly narrates an episode of post-coital anxiety while Jennifer makes her confession to a priest and Melissa strikes flirty poses for the spectator. A mix of sci-fi, queer and horror, Polly, Jennifer and Melissa is a video performance set in the future, which questions contemporary notions of gender and identity politics.

Recep AKAR (Turquía/Turkey)
IN_BETWEEN/15' 29"/2012
Human beings, in our complicated and multi-dimensional lives, can become independent in intellectual terms only by internalising experiences and developing awareness. This struggle becomes meaningful when the historical development of individuals' desire to lead themselves is considered. This painful battle, whose winner and loser are the same, brings change and transformation within.

Danny WARNER (EE.UU/USA)
APHASIA VOLUTIA/01' 59"/2012
As the bio-tech era dawns, this short experimental work explores our bared physical scaffolding. Tiny, nanoscopic, biotechnological machines, pulsing with energy, boring holes; tendrils creeping along, quietly going about their unknown business within a vast bodyscape of porous bone and watery ligament. Aphasia Volutia slips along the edge between organism and technology, where nanoforms quietly manipulate the electrical and biochemical impulses through which we sense (and make sense of) the worlds within and around us.

RAFAËL (Corea del Sur/South Korea)
GEOSTRATEGIC DRAMA AT THE 38 PARALLEL/03' 25"/2012
This work is part of BOM ('Spring' in Korean). It follows KYOUL (Winter), the first part of a 1 year live-cinema project made in Korea. It was shot on an island, near the Korean demilitarized zone.
PROGRAMME #6
Friday, December 14th
4pm - 5pm
Sandra ALVARO (España/Spain)
LABYRINTH CITY/14' 14"/2012
This project deals with a virtual world which envelops us within nearby spaces: the close-up, partial and fragmentary view that characterises a stroll down the street. In this case, through a location brimming with possibilities. After a random event an ephemeral order is established, within which the city gradually changes, transforming and recomposing itself in line with our steps.
This video is the first visualisation of a work in progress on an interactive, vir-tual world, developed using modelling, texturing and 3D animation techniques. Special attention is paid to the textures, taken from the artist's photo archive of shots from different cities.

Henry GWIAZDA (EE.UU/USA)
REMOTE…UP CLOSE/05' 07"/2003
Remote…Up Close is a surrealist work which explores both organic and inorganic shapes from a distance and close up.
On another level, it is about the relationship of sound to image in a non-narrative sense. How does visually imagery and music combine in an abstract work to create something larger than either of the two alone? The visuals are composed in a musical way using counterpoint and musical phraseology.

Alessio RUTIGLIANO (Italia/Italy)
SIX TRIPTYCHS ON THE DEATH OF A MARIONETTE/06' 55"/2012
Based on Collodi's book and strongly influenced by Giorgio Manganelli's Pinocchio: a parallel book, Six Triptychs on the Death of a Marionette is the tragedy of flesh becoming word.
Translating into images Collodi's fairy tale is a paradox itself: Pinocchio's refusal to grow up and his escape from every kind of ritual simulating death and rebirth constitute a dialectic of the impossible. Even though it was possible for Collodi to express negation in filmic language - always encoded "verbally"- it became more and more complicated (Guilles Deleuze, Un manifeste de moins).
In Six Triptychs on the Death of a Marionette we witness a progressive rarefaction of sound and images, a continuous process of erosion of body and language.

Bulle PLEXIGLASS (Francia/France)
ALIENATION/01' 56"/2011
A visualisation of how we can feel in times of anxiety and disorder. The author works on the transformation of reality - which he films and records - into abstraction. To this end, he deals with layers, transparency, speed, blur, colours and sound.

COLECTIVO 3 POTENCIAS (Michelina Farrauto, Patricia Proaño, Soledad Vasquez, Harol Ramos, Nick Duque, Juan Carlos Velásquez) (Venezuela)
TRANSBIOMORFOSIS/09' 12"/2012
A recurrent reformation. An insistent transformation of the body, of one piece of an organism redesigned at will, provide the powerful central image, the negation of being and of organic nature itself. This brings the human being to a new ontology: a reality where life's multiple make-up steadily evolves toward a vague laconic screaming, a constant of the new, silicon world.
Blood, circuits, head, cables, tongue and innards take the spectator on an abstract journey through the flashes of the subconscious. Flesh as the canvass and as the artwork, blood.

Fernando Garcia MALMIERCA (España/Spain)
NEONOVA/08' 55"/2012
Neonova aims to construct or simulate future human evolution. The beings represented here are taller, their spinal curve more pronounced and their skull oversized; they are completely bald and their toes are atrophied. This may be the natural logic of evolution but, most of all, the piece deals with genetic engineering. In this sense, Neonova explores the ethical and existential challenges we face, along with the dilemmas which arise from being able to modify that which is human, altering our natural evolution, from which we are increasingly removed.

Marc NEYS (Bélgica/Belgium)
POLLOCK WAS A FISHERMAN/03' 10"/2012
Looking for the spirit of Jackson Pollock. The film was made of one image photo of shrimp intestines.

Candas SISMAN (Turquía/Turkey)
FLUX/04' 43"/2010
Digital animation inspired by the structural features of work by sculptor, İlhan Koman, such as Pi, 3D Moebius, Whirlpool and To Infinity... A red circle is morphologically transformed, re-interpreting the formal approach of Koman's creations. The continuous movement sometimes connotes the characteristics of Pi, 3D Moebius, Whirlpool and To Infinity... or the design principles underlying these works. A sphere is developed from a two-dimensional circle, creating a piece which does not resemble Pi, but is true to its design principle, following through the flow of a circle into a sphere.
By integrating the sounds of various materials which Koman used in his sculptures, Flux turns into an impressive spatial experience. It also exemplifies that Koman's work can be re-interpreted by the analysis and manipulation of form in the digital medium.

COLECTIVO ERROR GRÁFICO (Víctor Molero Martín y Cristina Moreno Berlanga) (España/Spain)
BREAKBIT/06' 12"/2012
Video-creation with 3D effects produced through live audiovisual experimentation. Graphic errors created by manipulating an analogue image source are combined with representations of visual and sound data generated by a digital sequencer.
The audiovisual phenomenon - created from a modified analogue signal - are researched and the graphic imaging of digitally sequenced sound data (MIDI) is manipulated in order to obtain an anaglyph image. A process is based on that feeling of melancholy produced by the rapid advances in digital and 3D technology. The technical resources used in our video-creation are obsolete, revealing the objectives towards which digitalisation is now moving: a quest for greater accuracy in representations of reality and, consequently, the gradual loss of the mathematical schematic which make up its complex codes. In short, the disappearance of those fragile frontiers of perception between the virtual and the real.
VIDEO-INSTALLATIONS PROGRAMME
(continuous exhibition)
Sadik AL FRAJI (Irak)
SISYPHUS GOES IN DEMONSTRATION/30' 00''_loop/2011-2012
The author mainly uses drawing as a technique in building up the animation. Most of his work concentrates on the question of Existence as manifested in the human being. And while working on any artwork, that question is always in the core of the concept the artwork is built upon. In this regard all ideas and subjects
are equal, whether they were political, social or even simple daily issues, always associated with a certain existential topic such as freedom, death, love, identity, nothingness and sense of awareness.

Mykhaylo BARABASH (Ucrania/Ukraine)
IMMERSING INTO ENVIRONMENT/05' 40"/2011
The Object consists of visual and sound parts. The visual part is made by cubes/pylons structurally placed in an area. It'd be projected a video on them. A video can be projected from two – four sources simultaneous depending on the room space. The sound track reproduces from four – six columns placed around the object.

Luis BEZETA (España/Spain)
NORMA JEANE IS MARILYN/02' 45"/2011
Luis Bezeta's piece brings us closer to the most authentic image of Norma Jeane. Paradoxically, it is inspired by a landmark scene which fuelled the irremediable process which transformed her into legend: that with the famous white dress which Marilyn fakes an attempt to control over the subway grating in Billy Wilder's film The Seven Year Itch.
An unconditional devotion to the Seventh Art is the basis of Bezeta's work. Here, six motionless figures appear in the middle of the desert, the central character played by the artist Javier Arce. All are wearing the iconic white dress, alongside a Mustang like the one immortalised by Steve McQueen in the late 70s.

Juan Carlos Sánchez DUQUE (España/Spain)
BIPOLAR SENSATION/2012
The images were filmed during the 2012 European Cup final between Spain and Italy, and show a group of fans watching the match on TV.
In the first video, the TV sports commentary is mixed with comments from the fans. In the second, the excited crowd celebrate with nationalistic pride, forgetting the situation in which Spain finds itself.
The third video shows images similar to the previous two, but the audio is taken from demonstrations which have taken place due to the country's economic situation and the consequences of government measures. It is presented as if broadcast on TV.
The ambient noise in the installation was created by filtering a sound recording from the TV and comments from fans.

Yiorgos NALPANTIDIS (Grecia/Greece)
VIRTUALITIES/15' 34"/2010
Virtualities is about the relationship between image (as a representation of reality) and reality itself. The film attempts to demonstrate the discrepancy between image and reality and address the deformations caused by the visualization of reality and its "spectacular" narratives. By displaying images of the contemporary world as it is shown by the advertising industry, Virtualities is struggling for a realistic representation of an objectified world.

Fabiola MARABOTTO (Canada) /COLLECTING MADNESS/25' 00"/2010
A collection of videos depicting the intense state of mind of several individuals. The power that the human mind can actually have over the body. Ritualistic activities used as a way to search for an end of trauma.

Roser Teresa GERONA RIBAS (España/Spain)
LANDSCAPE_2.0/06' 04"/2012
Humanity views itself depending on how the action of viewing is represented. As in a set of mirrors, we can only see what we have already seen, recognise what we already know. Landscape_1 sets out the origin and evolution of our 'way of seeing' as a cultural construction within the concept of landscape. Landscape_2.0 puts forward a new concept for the information age.

Danny WINKLER - Emilia LOSEVA (Reino Unido/U.K.)
GENGHIS KHAN'S DREAMS/12' 44"/2009
The film was made with of footage shot in the museum of legendary Soviet director Sergey Parajanov in Yerevan, Armenia, with their co-operation, and completed in our studio in London. Sculptured as a poetic movement, Genghis Khan's Dreams is short and interrupted like a dream itself. Images float and transform, reaching a livid flicker by the end. On the borderline of imaginable and possible scenarios, the camera transcends the unpredictable cadences of eroded texture, fragile frames and vibrating colours.
The lace of a tablecloth falls down onto the chasm of the interior like snow at night; the sleeping Genghis Khan is just an incorporeal shining outline; cards are shuffled as is their purpose; fans float like angels; flowers fall apart into petals; photographs become yellow with time and the images of the dearest -loved also fade; the gods at their Golgothas become de-personified into clear luminescence, shroud and crêpe.

INTERACTIVE INSTALATIONS OF NEW MEDIA ART
CENTROCENTRO'S EXHIBITION HALLS
FROM 10th TO 16th OF DECEMBER
Monday 10th to Saturday 15th
10 am - 2 pm
5 pm - 8 pm
Sunday 16th
11 am - 3 pm
JORGE BERLANGA FOYER
MATÍAS MONTARCÉ
HOLOSCULPTURES_video installation

Holosculptures is a series of 10 computer-generated moving figures, back-projected onto a transparent screen in dimly-lit surroundings, which generate an optical effect similar to a hologram.

The project is born of the relationship between imagination and memory; of the basic and primitive urge to perpetuate that virtual, three-dimensional image created in our mind by producing a new version through the act of communicating. An image at the same time similar to yet distant from the option of forgetting.

In this work, the need to completely materialise an idea, to transform it into something tangible, is not present. Fundamental values - based on the perdurability of the imagination - are maintained, to some extent, by using a kind of symbolic interactionism, where the Holoscuplture also enables us to transcend the realm of sensory stimuli or the immediate, encouraging imagination and fantasy. The virtual sculptures appear before the viewer as three-dimensional figures floating in a vacuum, slowly turning clockwise around a 360º axis, waiting for an imaginary place to rest.

At a conceptual level, each of the Holosculptures, offers a critical reflection on our manipulated and capriciously materialistic society; a theme which is also underlined by the intangibility of the work itself.

Matías Montarcé (Madrid 1978) currently lives and works in Madrid. Characteristically, his pieces connect empirical processes with conceptually abstract elements using visually-poetic means, and are often linked to anthropology or social concerns.
POLYVALENT ROOM 1
NUNO SERRAO
PAPERCLIP_photography exhibition with real-time soundscapes

Project Paperclip is the first photographic exhibit to use real-time processed soundscapes. The concept tries to transport visitors to a state that gives them a different interpretation of the 16 photographs present at the exhibit.

In Project Paperclip, Nuno Serrão has not only caught the moment exhibited in the photo, he was also responsible for co-creating the interactive ambient soundscapes that accompany them, allowing the channel of communication with the public to be more than just the optic nerve by including the auditory canal.

The experience is unique each time it is activated as the app's algorithm utilizes real-time processing of variables from the visitors location, such as: the time of day, the level of noise that exists in the room, your voice, the movement and localization of the user, amongst many others.

The concept of Augmented Reality has it's usually known, utilizes a digital interface
to permit the creation of a bridge between our universe and the digital universe, creating a mixed ambience in real time where the differentiation between these two realities is reduced. In this exhibition, this is brought about by using an iPhone, headsets and the software that is available on the Apple app store.

To make full use of this exhibition, visitors that have an iPhone 3 or above need to download Project Paperclip application, at the Apple AppStore. When equipped with headphones (the better the quality, the more immersive the simulation will be), switch on the app and follow instructions to activate the reactive soundscapes. The process is simple, point the iPhone's camera to the photograph's QR Code and after it has been scanned, you will unlock the soundscape created for the photograph in question.
In Project Paperclip, the Cold War is the common thread between the photographs and the reactive soundscapes. It may seem strange, bizarre even, that the most dangerous military conflict mankind has ever witnessed is a source of inspiration, however, if it is true that at no other time in our history we were as close to selfextinction, it is also true that we have never has so few limits placed on our imagination. Amongst the landscape and conceptual photographs and the soundscapes located throughout, a freedom to wonder is transmitted, where for moments we are immersed in a parallel reality, greatly inspired by science and curiosity. www.discloseprojectpaperclip.com

Nuno Serrão is young Portuguese designer and photographer. His present, namely his first exhibit (this one), reflects his multidisciplinary past. He started as a programmer in the 90's, got introduced to graphic and web design by the mid 90's, and in early 2000's was a Macromedia Flash evangelist. Currently he's pursuing interactive arts and cinema, while maintaining his day job has a CEO, designer, producer and art director in his own creative agency, urbanistas.
POLYVALENT ROOM 2
MARIO BASTIAN
BODY HACK_interactive video nstallation and monochannel video art exhibition

Body Hack is an installation developed with interactive devices through which the audience/observer finds themselves in constant dialogue with a software system specifically designed for the piece. This sparks visual and sound reactions based on the body's positioning, gestures and movements. Using an image capture system together with motion tracking, a whole series of parameters such as speed, position, grouping or size are gathered by an IT programme which then transforms them into acoustic or visual values.

The piece explores hybrid territories in the representation of a contaminated, transgender body. A canvass, a second skin, in which the body is dealt with as a mass in continual process of transformation. Acting as a mirror or doorway to the invisible, the piece creates an environment for interaction and feedback. The observer thus becomes a performer - a participant in an interactive system - and creates the work itself. This project forms part of a research process related to the representation and re-invention of the human form. In terms of audio, gestures take on a special relevance, along with the way in which body movements are turned into sounds. The body as a visual mass is transformed into a sound mass through granular synthesis; this varies randomly over time via a mutation process linked to the behaviour of whoever interacts with the piece. The body of the observer as a host to invisible technology, mapped by surveillance and analysis tools, evolves into a paradigm for the instrumentalised and recoded form.

Mario Bastian (Leon, 1968) with a background in theatre and dance, since 1992 has also been involved in projects related to experimental music, design, performance and video art. In 1996 he began working in electronic art, creating interactive projects with real time audio and video processing; that same year, he also started to collaborate with Silicon Artists Inc. on the concept and design of interactive projects for virtual reality and 3D virtual worlds.

In 2001, Mario Bastian created the 'Unicoder' live cinema project together with Nico Arianoutsos (Resonic), which was presented at festivals such as Territorio Eléctrico (Casa Encendida, Madrid) or FIB (at the experimental music marquee). His video-creations were also screened as festivals including Experimenta Club 05 and 07, Magma Meeting. Founder of the web platform hybridaRT.net and the netlabel, hybridaRT_label (2011), he is currently working to promote experimental art and bring it to a wider audience. His cross-disciplinary work is difficult to classify within one particular artistic area; in his creations, special relevance is given to processes in which hybrid or cross-disciplinary approaches give rise to areas of coexistence and contamination between philosophy, politics, science and art. Since 2011, he has worked with Estudio 3 (Madrid School for the Performing Arts) teaching improvised dance and contributing his own systems of motion tracking and interactive dance.
JORGE BERLANGA HALL
EDUARDO VALDERREY
OUTBORDERS_kinetic sculpture

OutBorders is a project based on the conflicts between architecture and identity, a journey through different suburban spaces of cities undergoing a process of transformation.

The direct relationship between the continuous redefinitions and readings of a city's limits creates a series of changes in its structure and urban-development, revealing spaces and territories whose principal characteristic is a lack of defined identity.

Transport infrastructures (motorways, overpasses, ring-roads...) and rapid urban growth generate a series of conflicts between the natural space and this development, accelerated by speculation and social change.

The appearance and characteristics of these non-places coincide in most of the cities where the malpais project has been carried out (Barcelona, Paris, New York, Rome, El Paso, Denver, Brooklyn, Dublin...), locations where continuous transformation has created new focus-points of conflict between nature and urban development.

OutBorders is a site-specific installation composed of wooden structures which act as containers for projected images. Elements that articulate space, as architectures within other architectures. Pieces that defragment in the context of the installation itself, enabling multiple readings of the same image.

Created especially for a location inside the former Post Office building in Madrid, the work combines video projection with 'space-occupying' architecture, based on the routes which surround and connect the city of New York. www.malpais.org

Eduardo Valderrey (Barcelona, 1963) is a visual artist whose work is based on the interconnections between architecture, identity and the relationships between urban spaces and the land. His projects are hybrid pieces, combining photography, video and sculpture in synthesis with the exhibition space.

Recently, his work has been shown internationally at venues including La Chambre Blanche Gallery de Québec, Lucca Digital PHOTO Fest, Italy, the International Art Fair de Toronto, as well as the ISCP and Triangle Programs in New York.

Inside Spain, Valderrey has shown a number of solo exhibitions; Galería Astarté y Rafael Pérez Hernando in Madrid, the Museo de Arte Moderno, Tarragona and the Colleges of Architects and Quantity Surveyors in Leon and Barcelona.

He has been recognised by the Pollock-Krasner Foundation in New York and awarded the CAM scholarship for visual arts as well as receiving prizes such as the Julio Antonio Sculpture Award and the Guasch-Coranty de Valls. Among the numerous artists' programmes he has attended are: Triangle Artists, the International Studio Program and ArtOMI in New York; the Tyrone Guthrie Programme, Ireland; the Spanish

Academy Scholarship in Roma and the Spanish College in Paris.

Various institutions, museums and collections hold work by Eduardo Valderrey, including Museo Nacional Centro de Arte Reina Sofía, Madrid; the Museo de Arte Moderno, Tarragona and Museo de Valls; the Greenburger Collection, ArtOmi and the Triangle Collection in Nueva York; Fundación Suñol, the CAM Collection of Contemporary Art and ARSFUNDUM.
JORGE BERLANGA CINEMA HALL
LECH MAJEWSKI
BRUEGEL SUITE: Triptych, video installation

A work inspired by the paintings of Peter Bruegel.

MONOGRAPHS SECTION VIDEO ART IN FINLAND
The Monographs section will encompass works by festivals, specially-comissioned programmes put together by curators from countries which have a representative media arts production, pieces from private collections, cultural institutions and independent labels.
AUDITORIUM CENTROCENTRO
Programme recommended for over 18s
TUESDAY 11th, DECEMBER
6 pm – 8 pm
Flirting Flowing Ripping Roaring
The Finnish Video Art Programme includes twelve Finnish artists and their experimental works: non-narrative, poetically intuitive, even raw, but at the same time ironic and analytical. The most recent videos to be screened here were finished just this autumn. Diversity is the focus point: both of the Finnish media artists and their works.
This program invites the viewer into a mysterious, dark, yet witty and playful voyage through the Finnish mindscape of pain and beauty with real women, half-beasts and other complex characters. It is a journey covering inner universes and outer vistas, love, identity and human behaviour.
The presentation also looks into the originality of expression and the factors behind the international success of Finnish video and media art.
CURATOR
Helsinki Finland based media artist KirsiMarja Metsähuone works with film, video and photography. Her experimental short films are without a traditional narrative and the structure is often times cyclical relying on repetition, close-ups and semi-abstract ambiguity.
Metsähuone holds a B.F.A. degree in experimental film from San Francisco Art Institute in United States. Her M.F.A. degree in media arts is from the Finnish Academy of Fine Arts.
Metsähuone's films and photographs have been shown in numerous festivals and exbitions e.g. in United States, Finland, Italy, Sweden, UK, China, Spain and Canada. Upcoming and most recent video shows and festivals include Buenos Aires IV International Videopoetry Festival 2012 Argentina, TR1-Kunsthalle, Photographic Centre Nykyaika 30th Anniversary Exhibition 2012 Tampere Finland, BBC's LiveLive Media Art Project 2012 England, Sardinia Film Festival's Official International Selection 2012 Italy, Cinesonika International Film and Video Festival of Sound Design 2012 Vancouver Canada, Madatac03 Video Art Festival's Competitive Official International Section 2011 Madrid Spain, Helsinki Short Film Festival 2011 Finland, Spazi Aperti 2011 Rome Italy.
Maria Duncker/The Holy Road/2:19 min/2009/Original: Super 8 mm film
Hymns came out when I was teaching myself to play the harmonium in a freely improvisational way some ten years ago. And they still come. Other things that I've done for a long time are sewing "multi-national costumes" out of plastic bags and experimenting with camera obscura."

Helinä Hukkataival/Milk/3:00 min/2009
A mechanical toy cow and an enigmatic woman walk together for a while.

Henna Inkinen/Adaption/4:10 min/2009/Original: 16 mm film
Adaption is a frighteningly beautiful depiction of the workings of a suicidal mind. It deals with the maladjustment faced in the surrounding reality. The main character is a young woman who is making the decision of her life. She is one of those many burnt out performers of the modern day, of whom the society expects more and more unrealistic results. The movie takes place in a Finnish landscape of the mind: the wintery period of darkness.

Nina Lassila/5 am/1:05 min/2011
We see a woman sitting on a chair in a lit room. Letters on the floor start flying around her and vanishing from the frame as carried away by wind. We hear a voice repeating the words "It is 5 AM in a European capital. There is a woman awake in her bed" , the volume escalates towards the end.

Nina Lassila/Woman Pacing/1:23 min/2010
We see a pair of feet moving rapidly back and forth over a floor. It looks a bit like dancing. A voiceover talks about an artist woman who is pacing on a bar floor and has issues with her artistic work.

Nina Lassila/Woman/0:58 min/2009
Declaration of the real woman. Supposedly a wish to be a "fucking" real woman, in the most beautiful city of the world, Paris.

Arttu Merimaa/Nonchalant 2-Fireplace/ 2:33 min/2009
The video represents the classic "lovers in front of a fireplace" scene in which a man and a woman lie relaxed in front of a blazing fire. A young man lies on his side on a blanket reading a magazine while a woman behind him in a furry beast outfit is crouching and rubbing herself to the indifferent-seeming man. In the end the man turn on his stomach and reveals his ripped and bloody back and the beast woman gently licks the back of the neck of the man. The concept of "the beauty and the beast" has been constructed and reconstructed countless times so that the flipping of the gender roles in this context has itself turned into a convention of some sort. However, in a relationship one or the other has to occasionally play the part of the monster. It is just a question of which one can play the part better.

KirsiMarja Metsähuone/The Eternal Summer/5:59 min/(2009/2012)
Summer as a metaphor for self-portrait and identity and search of happiness. "The viewing experience feels like being in the middle of Scandinavian Midsummer nature producing an almost tactile memory without actually having been there".

Juha Mäki-Jussila/Night Train/2:21 min/2010
In the semi-abstract, experimental animation, something unusual happens on a train journey through a dark landscape.

Juha Mäki-Jussila/The Kiss/1:45 min/2007
"The Kiss" is a love story. It deals with the isolation of love and the power of unification.

Elena Näsänen/The Mountain/4:12 min/(2007/2012)
Fog slowly covers the mountain. There is a sound of wind blowing. The sounds of wind are replaced by loud voices of Chinese people. No one is seen. Then the wind sounds again cover the human voices.

Anssi Pulkkinen/Decay/1:00 min/2005
Decay is a stop-motion animation shot in the deserted tuberculosis hospital buildings in Beelitz, Germany. It discovers, records and plays with the multiple textures and layers of decorative papers of the walls of the decaying halls and corridors. With the tactile act of ripping and tearing apart, and the fast pace of the changing textures, it brings the process of decay visible in a tangible and playful manner.

Kai Rennes/Andromeda/4:10 min/2012/Original: photographs
Andromeda video is made of self-portraits of men, which men themselves have posted on the internet. However, as they took the photos standing in front of a mirror, the flashlight hides their faces, the most evident and common markers – or features (as of a face) – in one's identification. This paradoxical situation can be seen as ironical or tragic, depending on your actual state of mind or predisposition. Rennes' subject of inquiry is the individual here, the identification through action, the body, gender, sex, through belonging to a particular part of the universe. The images follow one another in a fierce tempo composing a strange dance of halos and bodies. Do you gain or lose your identity in a community like the ones in the digital reality of the internet – in this constellation of flashlight-stars? Are you visible or lost in Andromeda – whose name means, among others, "mindful of men", "ruling over men"?

Kai Rennes/Brain Drain/2:57 min/2012/Original: drawings
Brain is still a kind of unknown planet of our inner universe. Brain scientist publish frequently new studies about the human brain and there are a lot of illustrations attached in scientific and medical journals. In this video there are some 150 illustration images of human brain placed on top of each other. The images disappear one by one. In the beginning the image with 150 transparent illustrations together seem like a weird map of 'accumulated knowledge'. The colours mix randomly. In the end there is only a simple sketch left.

Miia Rinne/Sea/5:43 min/2012/Original: 35 mm film
Sea (Helsinki-Stockholm) is a hand painted 35 mm film. It shows a wildly moving sea at night. At times the scenery disperses into abstraction. The work is about being on the shores. The premiere of the film is in Autumn 2012 at the same time in Helsinki, Finland, and Stockholm, Sweden.

Minna Suoniemi/Little Red Riding Hood and Wolf/1:30 min/2012
Little girl dressed in black stands in the forest and howls.The slowed down sound resembles the voice of some large animal.The little red riding hood and the big bad wolf meet in the same character.

Minna Suoniemi/Lullaby/3:30 min
Lullaby is a version of the many mother and child -motives throughout the history of art. The mother lies on a bed while the child is playing with her face. The mother growls and shows her fangs, but the child has no fear of her beast mother.

MONOGRAPHS SECTION VIDEOFORMES FESTIVAL
The Monographs section will encompass works by festivals, specially-comissioned programmes put together by curators from countries which have a representative media arts production, pieces from private collections, cultural institutions and independent labels.
AUDITORIUM CENTROCENTRO
Programme recommended for over 18s
SATURDAY 15th, DECEMBER
6 pm – 7 pm
VIDEOFORMES @ Madatac 2012
VIDEOFORMES presents the highlights of the International Video Art scene. VIDEOFORMES 2012 selection curated by Gabriel Soucheyre /VIDEOFORMES
VIDEOFORMES is a cultural non-profit organisation for the dissemination of video and multimedia-based art works. It acts as a permanent observatory of the evolution of video and digital culture in the contemporary art world. It is a space for presentation, production, reflection and debate.
Every year, in Clermont-Ferrand (France), VIDEOFORMES International Video art and digital culture Festival presents the latest trends in installations, videos, lectures, performances, digital, virtual world and interactive art.
VIDEOFORMES supports emerging artists and projects and develops proposals for audiences in local, national and international networks.
The organisation also publishes a quarterly online magazine (Turbulences Video), runs a gallery (Art du Temps), art residencies and an online video art digital archive. It is engaged in the development of Digital Video Archives, one of the most important video and electronic art collections that has been put together in the past twenty years. VIDEOFORMES is a founding member of the video art archive:
www.24-25.fr
www.videoformes.com
Mihai Grecu/Francia-Rumanía/We'll become oil/2011/8' 00''
Dry landscapes are filled with the traces of a meta-conflict, beyond any visible political or ideological issue. A continuous and unexplainable state of crisis takes over the spaces and the view, transforming pure mineral geography into a theater of war. The story of oil taking over history.

Olivier Campagne & Vivien Balzi/Francia/5:46 am/2011/3'45
A selection of different public spaces in Paris, 1 metre underwater, offering a surrealist and serene view of the city.

Petrina Hicks/Australia/Gloss/2011/6'48
Filmed on high-speed Phantom video camera at 800 frames per second in HD, a teenage girl appears in extreme slow motion and high resolution. The setting is a studio-created artificial garden with a fake blue sky background. A symbiotic relationship between the girl, creatures and nature is suggested, yet the artificial, manipulated, controlled and hyper-real look of this environment is incompatible with this notion of symbiosis.

Sasha Huber/Finlandia/Louis's who ?/2011/3'50
In 'Louis Who? What you should know about Louis Agassiz' the viewer is confronted by the history of colonialism and oppression as created by Louis Agassiz. Like a messenger from times past, Sasha Huber enters the picture on a gleaming black horse, telling the passers by of Praça Agassiz, in the suburbs of Rio, and about the person who gave the square its name: "Scientist, naturalist, glaciologist, influential racist, pioneering thinker of apartheid, proposed racial segregation in the US…"

Jérôme Laniau/Francia/Casablanca/2011/1'20
"Humphrey Bogart and Ingrid Bergman are, in Casablanca, a timeless couple who offer us ones of the most beautiful scenes in cinema history," you read on the back cover of the DVD. This time, they are looking at you right in the eyes. The immortality of legend is not so evident any more.

Michel Pavlou/Grecia-Noruega/Shadowlands/2011/7'41
The indirect clash between a group of demonstrators and the riot police in a twilight urban landscape. Shadowlands explores the notion of power's visibility by constructing its imaging on the analogy between historic and cinematic processes.

Johan Rijpma/Países Bajos/Tape generation/2011/2'39
Large groups of tape rolls go through a long process of development and degeneration.
The extremely slow-paced life of theses objects is revealed within an isolated space where everything starts from a balanced symmetric structure. From this orderly state,
deviations and differences in behaviour slowly become visible, resulting in unpredictable shapes and movements that somehow feel familiar.

Eder Santos/Brasil/Cinema/2010/13'
In the countryside of Minas Gerais (an inland state of Brazil) things have their own particular time. A street lamp, the rain, the boy who plays football in the streets, a barbed wire fence. Their motion, like moving images: "CINEMA".

Valerio Murat & Antonio Poce/Italia/Habeas Corpus/2011/6'20
"Habeas Corpus" is a flash-opera: voice, music and image merged in a single vision, in a unique creative process. Scattered fragments of the spirit, a language that explores new forms of writing.

UNEXPLORED TERRITORIES SECTION: VIDEO ART IN TAIWAN
Unexplored Territories will present creations from countries with little-known audiovisual production.
AUDITORIUM CENTROCENTRO
Programme recommended for over 18s
WEDNESDAY 12th
DECEMBER 6 pm – 8 pm
INTRODUCTION
PAUSE IN TIME AND SPACE
"Space" and "time" modify each other. In contemporary video art, perception of "space" is established by the chronological sequence of scenes. "Time", meanwhile, is enriched by cramming it with spatial experience. In modern society, however, perception of time, as part of any video‐viewing experience, can be accelerated or decelerated, reversed or dwelt upon, vaulted in each direction. The juxtaposition of scenes produces associative visual images in the mind of the viewers. Likewise, several sequences of time may be compressed into a single visual text. As a result, different emotional sensations are attached to spatial positions ‐‐ moving upward, downward, frontward or backward. Undoubtedly, as demonstrated by Paul Virilio, the sense of speed created by modern video technology is a symbol of power. Conquest promises outright supersession; speed secures commanding power. Such command of power, obtained by speed, is what Virilio called dromocratie. Put simply, dromocratie sweeps away everything (scene). It also erases the social connections between people. Against a "speed‐is‐all" backdrop, perception of temporal and spatial distance is re‐measured by digital media technology. Virilio considered "acceleration" as the core of technological advancement. On temporal dimensions, transmission of information is shortened to the extreme. On spatial dimensions, almost all physical spaces can be reached via communication technologies. "The other place" easily becomes "another place". That is to say, modern media technology has decisively altered our perception of time and space, which has fallen victim to destructive obliteration. Consequently, our sense of time/space is no longer the same. Titled Pause in Time and Space, this exhibition explores "pause" as a temporary suspension of a narrative process. After each transition, every narrative, scene and position becomes somewhat different. What awaits us at the crossroads ahead? Adopting various "fragmentary narrative" strategies, all artworks distort the entirety of the visual rhetoric and narrative context, forming peculiar pauses or durées in different directions. Through the creation of "flowing poetry," made possible in these artworks with moving images, viewers are able to read the distinct syntactic and semantic relations so as to feel the discontinuity in time and space.
CURATOR
Chih-Yung Aaron CHIU is Associate Professor at the Department of Mass Communication, Providence University. He is also works with the Digital Art Foundation and directs the Research Institute for Media Technology and Creative Industries. He has a PhD from the School of Interdisciplinary Arts at Ohio University, U.S.A. and specialises in new media art and aesthetics, which he now combines with work as an exhibition curator. His articles entitled (2007) and Inter/face: A Reconsideration of Myth of Transparency (2008) have been nominated for Digital Art Awards Taipei (DAA Taipei). Recent publications include 'Fill in the Blank: On the Position of Spectatorship in the New Media Arts,' 'Textual Blank and Creative Participation: On the Dialectics Relationship between the Creator, Artwork, and Participant on the Interactive New Media Art,' 'The Intervention of History toward Contemporary Era: On Appropriations and Re-creation of Visual Archive Images,' 'City Spectacle and Imagescape: The Multiple Carrier of Contemporary Visual Images,' 'The Work of Art in the Age of Digitized Culture,' and 'Aesthetic Perception of Digitized Art Image in Cyberspace: Toward A Phenomenological Experience'
Jun‐Jieh WANG/Project David III : David's Paradise/HD Video, color,
sound/19'32"/2008
The Project David film installations form a series of works created by artist Jun_Jieh Wang in memory of his friend who passed away. Previously, he showed Untitled 200256 (two-screen synchronous installation, 2004) and Condition Project II (three-screen interactive installation, 2005). David's Paradise is the last work of the project. Featuring non-narrative moving images projected on five screens, it seeks to reveal the indescribable, abstract and subtle feelings deep within people's hearts. The setting is an ordinary living space that unfolds continuously, from exterior to interior, through the doorway, study, living room, bathroom, bedroom, and back to the exterior again. The film moves slowly from realistic to surrealistic scenes. In a series of real and illusory everyday settings, it attempts to convey the ambiguity and uncertainty of the coexistence of spirit, soul and body in the environment, space and time.

Goang‐Ming YUAN/Disappearing Landscape‐Scotland/Single Channel
Video/06'28"/2008
In the 2007 solo exhibition, Disappearing Landscape, I made a concerted effort to change my creative direction by recording "moments in daily life" from home, the environment and nature. In the summer of 2008, I was chosen as a resident artist at the Glenfiddich refinery in Dufftown, with a population of around 2000. It was this experience that first made me aware of the care, attention and time it takes to distil whisky. Although the work patterns at the distillery were ordinary, the surrounding environment was very much nature at its magnificent best. It was there that I met Andy Fairgrieve. He was in charge of the artist's village, but looked like a punk rocker and, as I later discovered, also played rums in a band. He instantly struck me as a key character suitably detached from the stable structure that surrounded us. The video work flies over different scenes at the distillery; Andy playing drums, the forest behind the dormitory area, me cleaning dishes in the kitchen, local youths dancing a highland fling, a musician playing the traditional bagpipes. In my mind, these people and events were naturally connected to the idea of "daily things," growth and decline used in my last solo exhibition.

Ya‐Hui WANG/Visitor/Video, color, sound/07'11"/2007
What makes a daily-life story? I am always attracted by the way daily items are transformed into a story. This is an old apartment where I lived as a baby. Located in the historical district of Taipei, the building was built in a long rectangular shape and an open-air atrium. Scenes on the outside changed rapidly while the scent of daily life inside grew ever thicker. As a cloud slowly passed by, time and memory, under the light of the day, became dreamlike.

Po‐Chih HUANG/Self‐Portrait No.2(RED)/Single‐channel video/07' 17"/2007
As my body clinched to the glass of the scanner, I could not help but ponder upon the meaning of distance. "What is the implication of the fleshly distance between the glass and I in spite of our closeness?" "Does any imagery that is beyond senses exist in this obscure space?" Something exists betwixt the skin and the self, I believe. I was frightened by the detailed imperfections that surfaced by means of the scanner. They engendered panic toward the absence of my fleshly senses; my anxiety was aroused by the notion of displacement as well. I could not visualize the reflection of my figure produced by the radiation of the scanner, nor could I envision the self-image born of absence, displacement, and the fall from reality. However, I did not minimize or plaster the fissures produced by this distance between the glass and myself. Instead, I integrated myself into the fissures by applying crimson, tangible materials to create the effect of alienation. Such effect soothed my panic and anxiety toward those detailed imperfections.

Chin‐Chung DIN/Vacant Room 3/Digital Audio‐VIsual/02'00"/2012
The Vacant Room series concerns the relationships between structure, rotation and space. In the video, the rotating light is treated as a sculpture of space, which can be shaped by the malleability and variability of light itself. The rays of light form a rotating circle, captured by a revolving camera. The repetitive activity created by rotation matters not in terms of the rays themselves but in the disrupted stability and emotions of both the creator and observers as time goes by. The Vacant Room attempts to investigate the possibilities between structure and light by resetting the device to simulate the corresponding relationship between moving clock hands i.e. the relationship between the light and the camera. The video shows the transformation of space and light into a sensorial stimulation of uncertainty. The strings of light circles create imbalance against gravity, challenging our common understanding of time and space.

Wen‐Chi CHEN/FACE 2/10'00"/2011
The shadow of the model participates in a secret ritual, as a micro experience of death. It is neither subjective nor objective but an adventure based on the awakening of self-consciousness. The conflict between image and perception exposes different types of 'recognising' over time. We live in a world of now; it would be impossible for us to detain every second that passes. Our recognition is like a video camera, recording the silent moment before our eyes, but it could not understand real change. We experience every moment and we also trigger every disturbance in our heart. The real world in our mind is like a frozen image. Even if we believe in what we see, we still do not have any supporting evidence. Our gaze is a black hole in our mind, impossible to understand, absorbing everything that we once had.

Chih‐Chien CHEN/Flowing Pride II/Video, color, silent/07'05"/2009
By looking at "time" only, Flowing Pride II speaks of a neglected period of time in a city. Weather condition: hazy. "Space" is depicted as docking at a deserted rooftop. Seen from a vertical angle, "space" is drifting alongside "time space". It maintains a "disengaged" status and a "disengaged" way of looking at its surroundings. A piece of canvas is attached to an antenna; it flutters endlessly, portraying dwindling life and depleting time.

Yi HUANG/Spin/08'00"/2010
Dancer Yi Huang is a choreographer at Cloud Gate Dance Theater 2 and his work Spin is a four-year experimental project combining technology with dance, focusing on the interrelationship between technology, dance and art to create a unique work. For the latest version of Spin, the human element was eliminated to provide a performance dominated by machines and technology and to minimize the involvement of emotions and personal life experiences. Such a display of artificial limbs combined with special visual effects created a more conceptual design for a totally new visual experience.

Guan‐Ming LIN/In the Memories of …/Single channel video, slient/07'20"/2008
Today, information draws a clear line for the known world. It dictates, as if it proclaimed, "believe, and you shall gain eternity." You may opt for "escape", which is not seen as an act of cowardice or betrayal, but a desire for freedom between decrees. For me, the unanticipated appeals greater than the expected. One day, near the county borders between Yunlin and Jiayi (southern Taiwan), and beyond the river's embankment, a fishing net floating above the sea caught my attention. It swept the tranquil surface, hovered mid-air for some time, and eventually plunged into the sea. My heart palpitated, solely for that fishing net. After bouts of floating and the final dive, there was no sign of the net, only a silent ocean left behind. Fresh was the moment of the encounter just passed. I asked myself repeatedly, what state of mind this is? Apparently, the fishing net appeared not as a "fishing net." I chose to escape the proclamation. Freedom, it is merely so.

Jui‐Ming WANG/Twins/03'05"/2006
The creative framework of Twins contains three layers: concept, system and application. It probes the triangular relationship between time, speed and space. The twin sisters filmed standing in corresponding positions are projected on dual screens, between which viewers are guided by an airplane. This artwork is an attempt to reveal lesser-known facts about twins. Meanwhile, it proposes a point of view between simulation and reality, perhaps quite fitting for a heavily fabricated and fake world. Using two projectors, two videos of the same frame size are displayed on opposing walls, showing twin sisters on a lawn while capturing the change of light during the day. The sisters are both standing still, eyes closed, merged peacefully with nature. As viewers draw near, a plane descends, and glides through the two corresponding screens; it connects the two videos, including their backgrounds, and the twins' shared memories, showing how the two are inseparable and interdependent.

Hui‐Yu SU/A Horror Day/HD video, color, sound/06'00"/2010
Since its inception, horror has been a classic film genre and continued to affect people's worldview and life for generations. Delicately made images are delivered to every household's TV via broadcast. Oe night, after taking medicine, which had blunted my senses, I finished watching a re-run horror, un-scared. It was the next morning that I felt consumed by fear. Life could be a horror film itself, I found. Horrifying sounds, camera moves, editing techniques and the viewer's own imaginations have all invaded our life. Nothing more horrifying can occur, as if horror had become a habit, or a standard procedure.

UNEXPLORED TERRITORIES SECTION: VIDEO ART IN IRAN
Unexplored Territories will present creations from countries with little-known audiovisual production.
AUDITORIUM CENTROCENTRO
Programme recommended for over 18s
THURSDAY 13th, DECEMBER
5 am – 6 am
INTRODUCTION
With media art and video in particular – one of the most significant channels of contemporary artistic expression – boundaries are blurred and artists' voices can be heard in a global context.
Iranian artists are making increasing use of video art, a versatile medium that enables them to express their viewpoints, convey their messages and raise social concerns.
This selection of work by Iranian artists, mostly the younger generation living inside Iran, offers viewers an insight on differences in cultural contexts and the country's social reality, as well as common global concepts.
The pieces are not selected under a special theme but there is a common denominator: to some extent, they all reflect the experience of having lived through critical situations.
CURATOR
Mona Mohagheghi was born in Tehran, Iran in 1981 and is now based in Florence. She moved there after graduating in Mathematics from Tehran University, and attended The Florence Academy of Fine Arts, where she graduated in Visual Arts (specialising in painting) before going on to receive an MA in Visual Arts and New Media. During the past few years she has participated in numerous solo and group exhibitions and festivals. As an artist she portrays her work and ideas through different languages, in particular through installation and videoart. Her artistic research involves issues like memory and the space-time relationship. The situations that she studies and explores through her artistic work combine her experience as an Iranian young woman with ideas whose roots lie in global cultural values.
Mehrdad Afsari/There is no news in Iran/06:18
There is no news in Iran! There is no news in Iran! There is no news in Iran! There is!

Amin Davaie/Here, is a maximum of two thousand meters above sea
level/06:36
The title of the video refers to Tehran. Every location can provide different settings according to environmental conditions. 'Jumping' is a word related to an experience involving some element of choice but sometimes we are thrown and this is not necessarily related to a specific location. Throwing is a compulsive act and it is the thrower's mistake to assume that he is giving a sense of meaning to the location. Ultimately, the one who is thrown changes the concept of location in favour of his/her own idea.

Shahram Entekhabi/Mimra/05:34
Mimra is a clear commentary on the ideas of suspicion and terror, where the presence of terrorist insurgents is creating a state of emergency not just in the West but within the Middle East itself. In this climate, everyone is a suspect but the perpetrators are assumed to be largely men. In Mimra, a scenario that is entirely feminine challenges stereotypes concerning masculinity and Islam. Questions about mobility and constraint, particularly in the domain of urban space, are readily identifiable within the video.

Samira Eskandarfar/I'm not here/06:18
The swings I used to play with, the slides I used to slither down, the ladders I used to climb. They were very high. From up there, I used to wave to my city. The park I grew up with, where I return after 23 years. It has changed a lot. Kids are playing on the swings and slides but there is no ladder to climb anymore. I've been there before. This place had stayed in mind, intact, and now I see that it has changed. Had I been there before or not? I am here now, I am not here now.

Arash Fayez/Untitled 209/0:55
This video is made around the ideas of failure and despair. The absence of a specific place or date connects it to any worldwide story. A narration related to the truth that we are just observing the oppression, nothing more.

Farid Jafari Samargahndi/Trilogy/06:11
Their eyes await sleep,
they may swirl around each other
Becoming hangover, slowly, because of intensity of sleep
Maybe some peace and quiet for a while,
They twist and swirl and go far apart, they caress
They get caressed,
They might have become one in these bodies,
No other three can ever get closer than this
while they are intertwined like an ivy,
Their thoughts are so far apart that makes them sleepless

Behnam Kamrani/Gallery/05:12
A wind-up doll floating in water, inside a glass bulb. The slow movements of the doll, its buoyancy and the ambiguous writings behind it are symbols for contemporary life. The peculiar toy brings to mind traditions distanced from or imposed on us as well as innocence, artificiality and other connotations.

Simin Keramati/School Diary/05:57
The work is about the terrors related to schools or school children; it could be a diary of someone at my age. All the films are documents from real events downloaded from "youtube", which criticise in some way what we are doing to our school children in our time...

Khosro Khosravi/Fifth grade/04:54
In this work, the artist looks into the educational structure for 10-11 year-old girls in Iran. The work carefully explores the effect of the governing patterns of education on the children at that vulnerable age, when their childish characteristics mingle with adolescence. While the video directly addresses religious and pedagogical issues, deep inside it deals with broader cultural contradictions; literature and politics, life and death. The paradoxical dialogues read by schoolgirls are chosen from the fifth-grade reading book (Farsi). We observe a blurred image, gradually transforming to sharpen in on a close up frame of a girl's school uniform and hijab, the clothing that must be worn by all women in Iran. In this video, the artist tries to show the contradictions existing in a simple cultural process.

Arah Khakpour-Arash Radkia/Tehran Zoo/10:30
Concentrating on the concept of slavery, this film portrays the wildlife zoo in Tehran.

Sepanta Ghasemkhani/Latheral Inversion/04:48
The first time I confronted a mirror, I discovered my independent existence ...a little while after birth and this mirror is still nearby so I can wear my identity before it everyday, adorn myself and be adorned. I am talking about identity, a wearable identity, a made up identity, a pretended identity, a deceptive pretension, an inverted pretension. I, in front of the flat mirror, am a lateral inversion.

Ronak Ghoseiri/Sweet girl/03:36
A woman struggles & suffers from so many obstacles and discrimination in a country like mine. She does not know how to cope, how to overcome all the hurdles and prohibitions that come from her father, brother, husband and Iran's fanatical, masculine society.

Shadi Noyani/Harmonica/04:05
The piece borrows its name and starting point from Amir Naderi's film The Harmonica (1973). It narrates a story of a boy called Amirou who is fascinated by this instrument, owned by another boy. He is willing to accept anything just to play it. The Harmonica is a symbolic tale of colonialism in the thrid world. After Iran's revolution, this film - in line with idealistic, revolutionary and heroic slogans - was broadcast time and again from state-run TV. At the time, Noyani was 4-5 years old and became possessed by Amirou's character in the film, were he is being humiliated by the other boy in front of others by being asked to dance like a monkey in exchange for few moments blowing on the harmonica … In rare found footage from her family archive, Noyani, in her childish world, is playing the harmonica and dances like a Amirou with a stick. Without having the slightest idea of what colonialism means, she adds "maybe being affected by colonialism is a consequence of our wide spread immaturity and childish behaviour in 3rd-World countries".

Hamed Noori/Generalized Anxiety Disorder/01:30
Generalized Anxiety Disorder (GAD) is characterized by chronic anxiousness, exaggerated worry and tension that disturb the person's everyday life.
People with GAD constantly worry about the future and feel that their anxiety is out of control because something bad is about to happen.

UNEXPLORED TERRITORIES SECTION: VIDEO ART IN COREA
Unexplored Territories will present creations from countries with little-known audiovisual production.
AUDITORIUM CENTROCENTRO
Programme recommended for over 18s
FRIDAY 14th, DECEMBER
5 am – 8 am
INTRODUCTION
KOREAN EXPERIMENTAL FILM
1. Experimental film in Korea – the beginnings
Experimental films in Korea started in the 1960s. Director Yoo Hyun-mok made Chun-mong (Spring Dream) in 1961 and, led by this director, poetic films rather than dramas started to be produced at this time under the umbrella term 'CinePoem.'. Chun-mong took dreams as a motif. Given the name of the film and the following 'CinePoem' movement, we can assume that these works were rooted in surrealism. The term 'CinePoem,' which appears in the first scene of Man Ray's 'Emak Bakia,'supports this assumption. However, as those films are not available nowadays, nor we can find any documents about them, there is no way to find out what was made and how these works were screened. It seems that the outcome did not pass on to the next generation.
Once again in the 1970s, a movement for experimental film arose. Image Society and Kaidu were two leading groups working on experimental films at that time. Although there is no record of their activities, it is known that director Han Ok-hee and painter Kim Jum-sun organized Kaidu. According to Han Ok-hee's memoirs, a few professors, affected by New American Cinema while studying overseas, began to speak about producing a new kind of film after coming back to Korea. Image Society was also organized under their influence. They held an experimental film festival several times, renting the rooftop of Shinsaegae Department Store as a venue, but these activities stayed within their own group and were not well-organized enough to stand the test of time. Besides, these films had a certain level of background narrative. Mujae (Untitled) and Sakdong (Colorful) by Han Ok-hee still remain but Kim Jum-sun's abstract animations 75-A and 75-B are nowhere to be found.
There was no visible experimental film movement in the 1980s due to the circumstances of the times. Of course, it seems there was a minor movement, mainly by university film studies undergraduates, but not outstanding enough to be noticed. The 1990s is when experimental films began to take shape and the starting point was an experimental film workshop at the Goethe Institut in Korea and the Experimental Film Center. Kim Yoon-tae's experimental film, Wet Dream, was one outcome of the Goethe Institut workshop in 1992, while the Experimental Film Center, which started out as the New Image Group, produced two films in 1993: Industrial by Bae Hyo-ryong and I don't know you directed by Hwang In-yong. After numerous trials and errors, both were finally completed in 1994. Another film produced in 1994 was Org by Im Chang-jae. These three films were screened at a festival held at Dongsung Art Center from 26th April - 6th May, 1994, along with other Korean and international works including Wetdream, Scorpio Rising by Kenneth Anger, T.Z. by Robert Breer, The Tie that Binds by Su Friedrich, Jane Campion's A Girls's Own Story and Through the Room by Doug Hall. This festival was probably the first official event to introduce foreign experimental films to Korea. There was the second screening in winter that same year at Minum-sa, a publishing firm. Here, Mu (Nought) by Choi Bo-gun, and August by Hwang In-tae were introduced as new works, and a newly-edited version of Industry was shown. Org was re-screened and Print Generation by J.J Murphy, together with Spacy by Ito Takashi, were selected films. After these two events, the Experimental Film Center focused more on learning while re-organizing, rather than producing. Around that time, two books (Image Aesthetics of New Media and World of Avant-garde Pictures) were translated and published with the help of a leading figure, Kwon Byung-sun, providing an aesthetic framework to filmmakers of the time. Among them, only Im Chang-jae continued to produce films, such as Over Me and Aqua Requiem. The third festival, held in 1997, was opened up to contributors from outside the Center. Due to a number of internal and external reasons, the festival could not continue after that and the center fell apart after Kwon died. Subsequently, however, the filmmaking population who took interest in experimental pictures slowly started to grow in Korea.
2. Development
Over the last 15 years, numerous film festivals have come into being. Starting with two very different film festivals, PIFF and Indie Forum in 1996, PIFAN, JIFF, SIDoF, BASFF, and others have sprung up in Seoul and in other cities. Now we have film festivals almost throughout the year. In the past, filmmaking in Korea had been dominated by the rule of money. However, these festivals provided official space to screen films that distanced themselves from commercially-produced pictures. Of course, most of the films showing at the festival were commercial, but at least some non-commercial films were selected along with them. Non-commercial films from other countries impacted on domestic filmmakers, helping them to diversify both in terms of form and content.
Digital actually gave experimental filmmaking a boost. Like in other countries, digital made a significant contribution to developing new area of film creation in Korea, just like 16mm in the 50s and 60s. Especially-rapid economic development gave ordinary citizens the financial opportunity to access filmmaking. As a result, a 'film mania' group emerged, who tried to produce films themselves.
Various media centres were another factor which fostered potential filmmakers. Before then, workshops were held at a various levels but, in most cases, continuous filmmaking rarely happened after the workshops. Media centres offered an opportunity for any willing person to hire production equipment at a reasonable price. To broaden public access, these centres provided education and equipment (film as well as video) to non-professionals and students who wanted to make films.
Along with these changes, an experimental film community started to emerge. As a result, Seoul Experimental Film Festival was set up in 2004 as the first domestic experimental film festival, becoming an international event from 2005, under a new name: Exis. SpaceCell – the first hand-processing lab- was also established in 2004.
3. ExiS
EXiS started with me and a group of experimental filmmakers. In 2002, experimental films were occasionally introduced through a few galleries, and one gallery even introduced several dozen films. Among those screened was Touching by Paul Sharits, which was shown upside down; we couldn't overlook such a mistake.
We reached the conclusion that we had to introduce better-made foreign experimental films and we also needed a space to screen our own work, so we prepared regular screening events. However, it was hard to find a venue and even harder to expect funding. So, we came up with an idea of having a festival, since government officials or politicians preferred a yearly event so that they could be seen in public. We raised some limited funds and held the first festival in 2004.
4. Current situation
After EXiS, experimental films in Korea grew in volume as well as quality. During the first year, about 100 Korean pictures were registered and, among them, 32 pictures were shown in competition. The number gradually increased, reaching about 180 last year. What should be noted is that the films registered in the first year were made during the previous 3 years, but in later years, the films were produced within one year. This means that a genre-specific film festival can stimulate growth; at the same, time it shows that people long to create films. A channel through which films can be consumed definitely provides the opportunity for many potential filmmakers to take the plunge and experiment.
In the past, most works grouped as experimental films opted to add literature-especially epic poetry - to film, and this approach still exists. The outcome is that some entries feel like a failed or unsuccessful narrative. This is perhaps because many Korean filmgoers or artists misunderstand experimental films as difficult narratives. It might also be that most of the contributors involved started out as a narrative filmmakers.
However, as the years have gone by, the diversity of films submitted to ExiS has increased. Of course, just like other film festivals, EXiS is slightly different from international competitions; that difference mostly comes from 'self portrait'. Recently, political movies have begun to grow due to conservative government policies to stop funding cultural diversity. Besides, media art-based artists have also submitted their works, which means that the boundary between media art and experimental films has now blurred.
Last year, EXiS held the Asia forum for the first time. It hasn't yet been decided specifically what can or will be done but, through the forum, we were able to communicate what is happening in Asian countries. This year, I have a plan to hold a forum in Taiwan right after ExiS. Circumstances permitting, I hope to host an event in each Asian country. From next year, EXiS will have the Asia forum as an independent program, a place for continuously screening recent trends in Asian experimental films, rather than a space for discussion like last year.
From this year, EXiS will divide international competition and domestic competition because, by accepting more domestic works, we can foster a larger group of filmmakers. Domestic work is also expected to attract bigger audiences.
5. SpaceCell
SpaceCell, a hand-processing film lab, started in the same year as EXiS. Lee Jang-wook - a friend of mine who studied in Chicago with me - opened this place with his own money, his equipment, my equipment, and a few more bolex cameras that he bought. For the first two years, it was an exhibition space and also a workshop in an alternative gallery, but now it only has co-op style work space.
Now, the equipment it has includes 5 bolexes, 2 JK optical printers, 1 darkroom for hand processing, various lights, and steenbeck.
An average of 6 to 9 people currently work there and 4 workshops are held each year. After completing a workshop, that person is given official membership and, with limited fees, one can use equipment.
In 6 to 7 years, over 100 have people participated in workshops, and many working for EXiS are ex workshop students.
The film works made in the cell are shown at home and abroad including Rotterdam, and among those, a couple of them are screened in EXiS under the Lab program.
6. Future direction and outlook
Korea's experimental filmmakers are divided into those who come from film and those whose background is in art (single channel video and media art). These two groups have different perspectives. Those from film tend towards narrative, pay more attention to poetic symbolism and prefer film. Those from art are more conceptual, their works are simpler, and they are more inclined toward installation or performance. Of course these characteristics do not fit in every case, but they seem broadly accurate for the time being.
As I mentioned before, Korea never carried out research on film. The void of experience might be a barrier to studying video or digital as a media. This approach is certainly hard to take, but it is definitely needed. The aesthetic search for media is why experimental film exists.
Unfortunately, in Korea there are still few filmmakers who continuously produce work more than 10 years. I myself couldn't work on filmmaking either, since I focused more on establishing the foundation for filmmaking. I have just finished an experimental documentary but it is the only work I have made in the past 10 years. The reason for discontinued production is economic. It certainly takes financial effort to keep making experimental films which draw limited audiences. Making a living is not only an issue for experimental filmmakers but for all artists. However, in experimental film, we haven't found any exemplary case to overcome this burden due to our short history. As I mentioned earlier, experimental film in Korea has grown in volume and quality; in that sense, the future for experimental film is certainly bright. The thing is that we can remain positive only with continuous attention and policy support.
CURATOR
Donghyun Park received an MFA in Filmmaking at the School of the Art Institute of Chicago, and completed doctoral courses at the Graduate School of Advanced Imaging Science at Chung-Ang University. His last film, <Kimu; the Strange Dance>, was screened at several film festivals including Jeonju International Film Festival, Vancouver International Film Festival. He has also screened several other short films internationally. Founders and Festival Director of ExiS, he is also a professor at Myongji University.
Programme 1




Remembering / Jae-Kyu Byun/ 2012/ 2min 39sec/ HD

The reality of our world is covered with tonnes of photos. As such, we tend to perceive our reality not by itself but only through photos. The imaginary not only substitutes the real, but also exceeds it. So my sure memory of facts goes through a process of destruction, recession and wear-out. This work is mainly about the discrepancy and consequent fissures between the image reconstructed by photos and the memory of the place in the past. The relationship between the imaginary and the real creates a certain significance but also erases any sure meaning by breaking memories into floating pieces.

The place in the photo was my playground, the spot where I used to wait for my mother to come back from work. An old, solid-concrete floor with no colour or stains upon it, which has gazed upon the labor of life devoid of facial expression. A worthless alleyway, weathered with the passage of time. Now there remains but a trace, the certainty of something disappeared.

Jae-Kyu Byun is a visual sculptor. His works start out from fundamental reflections on the identity of visual art. In particular, they focus on the panoramic re-interpretation of space and the transmission of scenic experience into a variety of media. His current work looks to structure urban space-time experiences in both material and immaterial forms.

February / In-Han Cho/ 2011/ 4min 20sec/ HD

Ball, wind and tree. Light, shadow and surface.

In-Han Cho holds an MA in Media Studies from the New School, New York. He currently lives and works in Korea.

INTERFERE / June-Hyuck Jeon/ 2011 / Colour / Stereo / 7m 15s / HD

Interfere, one of the eight films from eight different directors made as part of the 'Across the Bridges' project, shot at Seogang Bridge. I tried to focus my eyes on the river flow and the bridge, rather than filming the structure of the bridge itself; the spot where artificial meets nature and the phenomenon that occurred.

Emptiness, Shadow / Hwang, Sun-Sook/ 2012/ 8min 40sec/ mini dv

You and I, separated from the group. Someone passes under the shade, crosses the threshold of a distant building; strolling, beyond the boundaries of time.





App Self-Portrait / 2012 v.1.0/ Jong-Han Choi/ 2012/ 5min 40sec/ HD

A self-portrait, photographed with iPad2 8-Bit Cam App, shows frame by frame the repetitive and mechanical ballet-dance of the artist's own objectified and materialized facial images.

San Francisco Art Institute / New Genre / MFA Class 2006
Semyung Univ. / Assistant Professor / Department of Media art and Entertainment





Mask-Reversal of Men / Ji-Hyun Ha/ 2012/ 12min 36sec/ HD

Mask deals with men's internal conflict and struggle as social beings under the complex operation of social inclusion and exclusion. The story tries to convey subjects of morality, power, judgment and prejudice in human relationships. It exposes the absurdity of collective violence, abuse, and oppression caused by their differences within a distorted social system.

Ji-Hyun Ha developed a profound in interest in men as social beings by seeking the meaning of human relationships in the context of our society. He studied Visual art / Media at University of California San Diego and received his MFA in Communication Design and Technology from Parsons the New School for Design, New York. He now works as a graphic designer, animator and filmmaker, expanding his passion as a visual communicator with narrative and creative writings.





Zeboriskie Point/ Byoung-Lae Park/ 2011/ 9min 53sec/ HD

Zeboriskie Point (2011) is a project that was developed while tracing the history of 'Zebo-Sun-Chang', the name of a small marina in Gunsan-Si, Jeolla Province. It was inspired by the unnatural conflict between scenery in the present and past; a past long-deserted since the centre of economic growth moved further away during Korea's modernization process after national liberation. This dissonant landscape or, in other words, the contradictory present scenery of the local community represented as 'Gunsan', was overlapped with the scenes from Zabriskie Point (1970) directed by Michelangelo Antonioni. This is reconfigured through images from the journey of exploration made by 'Zebo', the unknown figure who visited this desolate space.
Byoung-Lae Park plans to continue his research further, expanding the unique perspective obtained from personal experiences and perceptions of the pervading gap between the individual and society.

Filmmaker and visual artist, born in 1974. Studied Fine Art at the Kunsthochschule Kassel with Prof. Bjoern Melhus, and graduated (M.F.A.) in 2007. Lives and works in Seoul. His work has been exhibited at a number of galleries and festivals.





Dandong Travelog / Min-Ha Park/ 2012/ 12min 41sec/ HD

For this video essay, Min-Ha Park filmed three North Koreans encountered during her trip to the borderline between North Korea and China. The total time captured on camera was 1min 52sec. From the very last frame of each footage, she developed a story about their personal lives. Ironically, however, these speculations serve to emphasize a 'reality' irremediably bound by the visual framework of a South Korean and tourist.

Min-ha Park is a media artist and filmmaker who lives works in Los Angeles and Seoul. Her recent interest is in how cultural, social, and political contexts affects one's way of 'seeing'. For her, filmmaking is a meaningful gesture: a micro resistance against the macro visual frame that surrounds us.
Programme 2




Expansion of Anxiety / Jae-Hun Heo/ 2011/ 13min/ HDV

Expansion of Anxiety consists of footage which is "normal, nothing special occurred". The director makes the graininess even more noticeable by blowing up the images and superimposing a layer of musical sound. These techniques amplify an air of anxiety. Simple scenes daily scenes give completely different impression through a little bit of retouching by the author. Similarly, listing the series of oridnary scenes makes it feel like we are being shown footage from surveillance cameras. Recently, in a TV news item, it was revealed that the average Seoul citizen is exposed to surveillance cameras about eighty times a day. Our daily life is always exposed to somebody. The reality is that the individual's every move is recorded in detail. We are anxious about whether 'Big Brother' really exists or not. Expansion of Anxiety is the visual expression of these concerns. (Park Donghyun).

Jae-Hun Heo is a Seoul-based artist. He focuses on the media that influence the public within real and virtual spaces, along with their byproducts. The contemporary media environment, where an excess of images, texts and sounds clash with one another, has now become part of our lives. The artist observes the pressure that new media exerts on people, together with its output, and then moulds the interrelation between them into his works.





Condensation / Mi-Hye Cha/ 2012/ 12min 47sec/HD

There is a moment things begin to congeal. The moment voices encounter each other, the moment a shadow stands up in the fog... Before and after experiencing those moments, one could sense the temperature differences in life. By gently touching the textures created by these changes in temperature, time intervals are being narrowed. If memories are ongoing in the present, how can the ceaseless appearance of nonlinear time be possibly represented? Based on a thirst and a concern for representing past memories, the filmmaker's intention was to create a kind of time-travel through six short stories.

Mi-Hye Cha received an M.A. with Honors in Visual Arts from Ecole National Supérieure des Beaux-arts de Paris(ENSBA), France in 2010, and completed a Post Graduate Diploma from ENSBA in 2011. She works with video and photography, and has participated in group exhibitions (Le vent d'après, Des chemins familiers, Paris), together with other screenings (Illégal cinéma, Aubervilliers) in France.





[ ∫ ]/ Sun-Jha Kim/ 2011 / mix / Stereo / 11m 55s / HDcam

The experimental film [ ∫ ] is about the free interpretation and imagination of the sibilant character [ ∫ ]. In the film, objects are transformed into one another: body - snake - waterfall – stone, accompanied by hissing sounds.

Born in 1983, Sun-Jha Kim lives and works in Cologne, Germany. She was educated in Visual Design and Philosophy at the National University, Seoul and graduated from the Academy of Media Art in Cologne. Her videos and artworks have been shown at numerous exhibitions and festivals around the world, including the International Film Festival, Rotterdam.





Why does wind blow / Hang-Jun Lee/ 2012/ 10min/ HD

Why Does Wind Blow? consists of footage extracted from scientific education films, a cultural film about family planning, anti-communism films and so on. It is a so-called 'found-footage film'. Two films are shown simultaneously on a split-screen. This film portrays how the films work as a form and how they are made. The director visually depicts his own cinematic experience through means such as pendulum movement, intermittent movement, the actions of retinas, persistence of vision, scientific experiments, the thermometer used at a development and even final stage, screening... At the beginning, there is the line, "When the world is distrustful of us, we should stand it and hang in there, so we can give new perception." It is telling us obliquely where experimental filmmaking is, right now, in Korea. (Park Donghyun).

Hang-Jun Lee's works focus on multi-projection performance and improvisation with musicians. He has played with Martin Tetreault, Jerome Noetinger etc. His works have been shown at the South Bank Centre (UK), Cafe OTO (UK), BOZAR Centre for Fine Arts(Belgium), Espace Multimedia Gantner (France). His recent works are distributed by Lightcone in Paris.





Thin Traces / Jang-Wook Lee/ 2012/ 13min 30sec/ 16mm

"I wanted to make a work about other people's memories. But I realized that I was not ready for it when I had the materials for this," says Jang-Wook Lee. The piece brings together traces of personal observation and documentation of other's memories, made from the director's smart phone records.

Jang-Wook Lee received an MFA from SAIC (School of the Art Institute of Chicago). Director of Space Cell Hand-made Film Lab, has kept working with film material from that time onwards. His works mainly focuses on personal memory and history. He is also a Professor at the Department of Film and Theatre, University of Suwon, and is endeavouring to build a creative film community.

OPEN SESSION: LECH MAJEWSKI
AUDITORIUM
THURSDAY 13th, DECEMBER
10 am - 4 pm
The Open Session provides the opportunity to meet certain video and audiovisual artists who will participate in screenings and public forums to discuss their work and creative approach.
SYMBOLIC LANGUAGE IN ART AND CINEMA
Masterclass taught by Lech Majewski. Duration 6/8 hours.

Masterclass presented by the Polish cinema director Lech Majewski, in which he will give, along with a screening, an introduction to the complex production of his last film "The Mill and the Cross"(2011). There will be also a screening of video art work "Glass Lips".

From 6:30 pm to 8:00 pm: Screening of the film "The Mill and The Cross" directed by Lech Majewski.
LECH MAJEWSKI

Working in the U.S., Brazil, England, Poland, Germany, Lithuania, France and Italy, Lech Majewski builds his vision through paintings, films, installations, novels, theatre and opera stagings. He studied at the Academy of Fine Arts and graduated from the National Film School in Łódź. His credits include such films such as: The Knight, Prisoner of Rio, Gospel According to Harry, Basquiat, Wojaczek, Angelus, The Garden of the Earthly Delights, Glass Lips and The Mill & the Cross.

His works have received many prestigious prizes. In 2006, The Museum of Modern Art in New York honored him with an individual retrospective entitled "Lech Majewski: Conjuring the Moving Image". His art work Blood of a Poet/Glass Lips took part in the 52nd Venice Biennale and MoMA Retrospective travelled to museums around the world. His latest videoart cycle, Bruegel Suite, premiered at the Louvre in February 2011 and is now part of the 54th Venice Biennale.

(find more on www.lechmajewski.com)



PERFORMANCE – PUBLIC ACCTION: FOLLOW US
PATIO DE OPERACIONES CENTROCENTRO
MONDAY 10TH, DECEMBER
8 pm – 9 pm
SOLIMÁN LÓPEZ. FOLLOW US. Performance /public action.
With the collaboration of David Montero, interaction designer.

According to Frigyes Karinthy's famous 'six degrees of separation' theory, we are 6 steps away from any other person in the world.

This theory has become more famous, it has gained a place in popular belief and we have all made use of it. Internet-based social networks have played an important role in this process.

To take a historical or epistemological perspective, social networks have been studied since the end of the 18th Century. Without forgetting, of course, that humanity itself is a social network, previously called a clan or group.

From the individual through to the global, today's macro and micro groupings are interconnected, labelled and sorted by tastes, behavioural habits, comments or, simply, preferences.

Social networks have revolutionised the way we communicate, most of all in sharing content, both our own and others'.

Yet like all great inventions in the history of humanity, there are certain issues intrinsic to these networks that run counter to the concept of 'social'.

Privacy, appropriation, control of the masses, alienation, ridicule or campaigning are some of the elements intertwined within our social networks.

This awareness and proof of what we are – social animals – creates an unprecedented feeling of belonging and social responsibility. Professionally and personally, we are caught up in using a means of communication that defines us as humans but carries along with it powerful tools of control, persuasion and consumerism.

The decision is clear and simple: you can be persuaded to participate online or stick to the sidelines.

Both decisions have their pros and cons but, without doubt, these are important decisions in today's world. They mean being on the web or living on the margins. It is not about modernity or tradition; it is a question of the virtual or the physical, global or individual, sharing or being shared.

In antiquity, history was told through huge, high relief friezes where myths and heroes battle it out for a place in history through demanding, complicated postures. Friezes from the classical world spoke of desires, stories and eloquence; of achievements, losses and values which society should contemplate.

In Follow Us, the web offers the content and the body brings this content together to become something it was not.

Bio

Solimán López (BuRgos, 1981) is an artist who draws from visual arts, multimedia, new technologies and performance. Skilled in all of these tools, he employs them at will, in line with the message he is aiming to transmit.

Technically, he makes use of free software to generate content, countering these with the physicality of the tangible or plastic arts. The body's mechanised processes contrasted with the machine appear in pieces such as Human Mistakes or Identity, where images are captured automatically to generate significant photographic records of the performance.

López's move towards new technologies is the result of his discourse around theories of communication and society, an area he has been exploring during a significant part of his career.

Among his most recent projects, it is worth highlighting his participation in I Bienal de Arte Emergente, Venzuela and the Muestra Audiovisual y Live Performance Videolooking. His piece Wanna Be was also selected by curators at TEDx Valladolid for the Laboratorio de las Artes de Valladolid (LAVA).

AUDIOVISUAL PERFORMANCE: incite/
AUDITORIUM CENTROCENTRO
SATURDAY 15TH, DECEMBER
8:30 pm – 10:00 pm
incite/ 'holistic glue - nine audiovisual pieces'

incite/'s fifth major audiovisual live set, adding up greyscale perspectives on their hometown to a sum greater than its parts.

holistic glue, an immersive performance of unorthodox, danceable, glitchy beats in tight sync with remarkable, entirely self-produced HD-visuals treads the line between abstraction and semi-narration. The Hamburg-based electronic duo blends the key elements of their pioneering earlier work, taking them to new, more advanced levels.

Combining the everyday-life quantum-mechanics of mindpiercing (2007-2009), the urban renderings of dualicities (2010) and the macroscopic analysis of zoom studies (2011) with their special view on their hometown, holistic glue (autumn 2012) plays with unconventional perspectives.

A surreal harbour boat-trip, metropolitan animal wildlife, jump-and-run park adventures of the uncontrollable lego-avatars - up and down on staircases, elevators and paternosters, gentrification issues, a shoemaker's dance and the illusion of safety ending up in urban paranoia.

incite/ 's challenging, danceable noises are built upon an extraordinary sub bass foundation, yet that bit more sophisticated. Still rooted somewhere between electro, glitch, idm and industrial, their sound gains a warmth that was but a glimmer in earlier sets.

The duo synaesthetically glue all these parts into a whole: immense information density, presented in their iconic setup, and blended with projections.

With "holistic glue", the award-winning duo once again bridges the gap between the art world and club culture. Unconventional, electrifying and entertaining.

incite/ eye-catching audiovisual art and unorthodox danceable electronics

Founded late 2002 with a clear focus on live performance incite/ have become one of Europe's best known audiovisual live acts, bridging the gap between club culture and the art world. incite/ play seriously weird glitchy danceable grooves in synced conjunction with intense greyscale visuals. Award- wining performers, incite/ have forged their reputation with more than 180 live concerts, many of them at international festivals featuring new media art, video, contemporary music, electro, breakcore, industrial and other genres. The duo's five major audiovisual live sets to date are: iconicity (2004-2006), mindpiercing (2007-2009), dualicities (2009-2010), zoom studies (2010-2011) and holistic glue (premiered in autumn 2012).


LECH MAJEWSKI

Working in the U.S., Brazil, England, Poland, Germany, Lithuania, France and Italy, Lech Majewski builds his visions in his paintings, films, installations, novels, theatre and opera stagings. He studied at Academy of Fine Arts and graduated from the National Film School in Łódź. His credits include such films as: The Knight, Prisoner of Rio, Gospel According to Harry, Basquiat, Wojaczek, Angelus, The Garden of the Earthly Delights, Glass Lips and The Mill & the Cross.

His works has won many prestigious prizes. In 2006, The Museum of Modern Art in New York honored him with an individual retrospective entitled "Lech Majewski: Conjuring the Moving Image". His art work Blood of a Poet/Glass Lips took part in the 52nd Venice Biennale and his Retrospective that originated at MoMA travelled to the museums around the world. His latest videoart cycle Bruegel Suite premiered at the Louvre in February 2011 and is now part of the 54th Venice Biennale.

(find more on www.lechmajewski.com).

MAITE CAJARAVILLE

Over the past ten years, Maite Cajaraville has developed her artistic work and creative-arts career within the field of New Media. She holds an MFA in Theory and Practice in Contemporary Art from Madrid Complutense University, along with a higher education diploma in Computer Science (Madrid, 1991-1993). Cajaraville completed her cross-disciplinary training at Städelschule für Bildende Kunst (Frankfurt, Germany, 1993-1996), in the care of artists and teachers such as Peter Weibel and Thomas Bayrle, specialising in multi-disciplinary art, video creation and digital art.

Her video creations have been screened on leading cultural programes in Spain, such as Metrópolis, La Mandrágora, Antiestático or Miradas.

Lecturer in Audiovisual Performance at the Escuela Universitaria EXITAE (Camilo José Cela University), Cajaraville founded the LaptopsRus collective (together with Shu Lea Cheng and Blanca Regina), conxión.madrid and Peninsulares Video.

CHIH-YUNG AARON CHIU

Chih-Yung Aaron CHIU is associate professor and chairperson in the Department of Mass Communication at Providence University. He is also the inspector of Digital Art Foundation, and the director of Research Institute for Media Technology and Creative Industries. He has his PhD in School of Interdisciplinary Arts at Ohio University, Athens, Ohio, U.S.A., and specialty is on new media art and aesthetics. His articles entitled 'On the Embodied Aesthetics of Digital Arts' (2007) and 'Inter/face: A Reconsideration of Myth of Transparency' (2008) have nominated by Digital Art Awards Taipei (DAA Taipei). Currently, He also participates in the curatorial work. His recent publications include 'Fill in the Blank: On the Position of Spectatorship in the New Media Arts,' 'Textual Blank and Creative Participation: On the Dialectics Relationship between the Creator, Artwork, and Participant on the Interactive New Media Art,' 'The Intervention of History toward Contemporary Era: On Appropriations and Re-creation of Visual Archive Images,' 'City Spectacle and Imagescape: The Multiple Carrier of Contemporary Visual Images,' 'The Work of Art in the Age of Digitized Culture,' and 'Aesthetic Perception of Digitized Art Image in Cyberspace: Toward A Phenomenological Experience' et. al..

SHAHRAM ENTEKHABI

Shahram Entekhabi, born in Beroujerd (Iran), is an artist and architect who lives and works in Berlin. He studied graphic-design at the University of Teheran, Iran, then Architecture, Urbanism and Italian language in Perugia and Reggio Calabria, Italy. His work has been the subject of many exhibitions all over the world.


Prizes will be awarded in three different categories. The winners will be announced at the closing ceremony, to be held at CentroCentro Palacio de Cibeles on Saturday, December 15th 2012, from 7 PM.
MADATAC AWARDS
Five Madatac awards of a cutting-edge work of art by the designer Javier Arcos Pitarque.
Best Video Art Work
Most Innovative Work
Most Promising Video Artist
Best Visual-Aural Interaction
Special Audience Award (granted to the Best Video Art Work as voted for by festival audiences)
Metrópolis Awards
The well-known TV programme, Metrópolis (shown on Channel 2 of Spanish public television) will select works from the Official International Section which will be shown in a special programme dedicated to MADATAC to be broadcast on TVE2 at 00:30 on Sunday, December 23th 2012.
Transfera Awards
MADATAC and the auction house, Subastas Segre will select three of the winning pieces to be sold at a public auction at 18, Calle Segre, Madrid on February 2013. The works will be exhibited from the first week of the same month. The starting price will be fixed by the auction house for editions of 3 copies on DVD. Artists will receive the final sale price less a percentage commission for administration and sale fees.


MADATAC Concept & Director
Iury Lech
Assistant Director
Oscar Rivilla
Production
Haris Hlorou
Comunication
Haris Hlorou
Presenter
Elena Gómez
Edition & Technical Support
Emilio Santiago
Poster Photo
Oscar Rivilla
Poster Design
Oscar Rivilla / Iury Lech
Back Cover Photo
Fernando Casarrubios
Trophy Design
Javier Arcos Pitarque
Publications Design
Daniel Naveira
Translation
Rebekah Rhodes
On-line Media Assistant:
Haris Hlorou
Photographer
Sara Bueno
Rafael Carral


CENTROCENTRO CIBELES DE CULTURA Y CIUDADANÍA. 5Cs
Plaza de Cibeles, 1
28014 Madrid
info@centrocentro.org
Información general
T +34 91 480 00 08
Horario Exposiciones
Martes a domingo: 10.00 - 20.00 h.
Entrada gratuita
Transporte
Metro: Banco de España
Tren: Recoletos
Autobuses: 1, 2, 202, 5, 9, 10, 14, 15, 20, 27, 34, 37, 45, 51, 52, 53, 74, 146, 150, 203, Línea Expres Aeropuerto
Aparcamiento: C/ Montalbán
Aparcamiento para bicicletas: C/ Montalbán 1


EDICIONES ANTERIORES