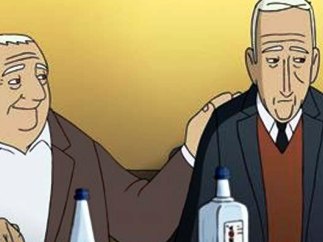 Like a world-famous rock star, the Spanish feature film
Wrinkles (Arrugas)
(2011) has been ?on tour? in Europe and the Americas since September 2011, in which time it has been presented in 26 film festivals to-date. The latest was the
47th Karlovy Vary Festival
in the Czech Republic. The film, directed by Ignacio Ferreras, has been translated to the Seventh Art from the comic of the same name by the illustrator from Valencia
Paco Roca
. The print version of
Wrinkles
won the
Spanish National Comic Award
in 2008.
The big screen version has been keeping pace in terms of awards received. Since being shown at the
San Sebastian International Film Festival
in September 2011,
Wrinkles
has garnered numerous honours at European film festivals. Among them are the
Best Film Award at the Stuttgart Animation Film Festival
and the
People?s Choice Award at the 2012 Anima Festival in Brussels
. At
Spain?s Goya Awards Gala
,
Wrinkles
won
Best Adapted Screenplay and Best Animation Film
. It has also bee shown at the
Palm Springs Film Festival
in the USA and the
Uruguay International Film Festival
.
With regard to European festivals,
Ignacio Ferreras?
film about the retirement home adventures of two elderly gentlemen, Emilio and Miguel, has appeared in
Rome
,
London
, and
Warsaw
, among other cities, and most recently at the Czech Republic?s Karlovy Vary.
Ibero-American presence at this year?s
Karlovy Vary Festival
has been quite ample. In all, seven productions, between fiction feature films and documentaries, were entered in competition. In the section for documentaries were a Brazilian production directed by
Luiz Ferraz
and
Guilherme Aguilar
,
Barbeiros
(2012), the Uruguayan-German co-production
La Bella Vista
(2012), and
the Spanish films The Little Team
(L?Equip Petit)
(2012) and
A Story for the Modlins
(2012).
In terms of fiction feature films in the Official Section, Hispano-American representation has been composed of
Lapidation of Saint Ettiene (La Lapidació de Sant Esteve)
(2012),
Nos Vemos Papá
(2011) and
Hay Road (Estrada de Palha)
(2011).
Out of competition, in addition to
Wrinkles
(2011), there were other titles like
7 Days in Havana (7 Días en La Habana)
(2012),
Camera Obscura
(2011),
Fecha de Caducidad
(2011),
Here and There (Aquí y Allá)
(2012) and
Hemel
(2012).