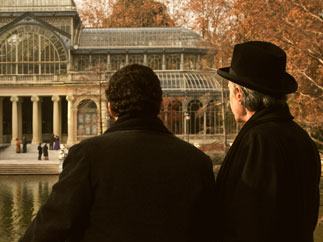 Holmes & Watson: Madrid days
35 years separate
Unfinished Business
(Asignatura Pendiente) (1976) and
Holmes & Watson: Madrid Days
(2012). In this time,
José Luis Garci
has made a total of 18 films from which he has learned that, in his own words,
?To have the guarantees for a hit film, above all you need voice (strong and firm), a good ear and feelings.?
With these qualities and saying jokingly,
?As it?s been over a decade since I had my last check-up, I don?t know anymore if my hearing is any good or if I now jabber on like the performers at the Actor's Studio,?
Garci has filmed a Spanish-style investigation of super sleuth Sherlock Holmes and his assistant Doctor Watson, whose leads bring them to Madrid to hunt down ?Jack the Ripper.? Audiences can enjoy these unique adventures of Sir Arthur Conan Doyle?s most celebrated characters starting on September 7.
In addition to the setting, made up of
?rooms packed with intricately engraved glass display cases, fair raffles on whether a baker can make a ring-shaped rolls almost as big around as a wagon wheel or the mysteries in a newspaper serial,?
where our shrewd detectives are tightening the noose, is the state of mind of our heroes. Garci states,
?I?ve caught Holmes tired and distracted, most unusual for him, and Watson, even in his second marriage, as in love as ever. It?s clear that the two are keeping a deep secret behind the sort of shyness with which they protect themselves. In short, they are two irreplaceable characters.?
These two irreplaceable characters, as the winner of an Oscar for
Starting Over
(Volver a Empezar) (1982) defines them, are played by
Gary Piquer
as Holmes and
José Luis García Pérez
as Watson. In addition, for this film, Garci has rounded out the cast with a group of young actors made up of
Manuela Velasco
,
Macarena Gómez
,
Leticia Dolera
and
Víctor Clavijo
. And, anecdotally, there are cameo appearances by diplomat Inocencio Arias and Spanish Minister of Justice Alberto Ruiz Gallardón, who acts the part of his great-great uncle, composer and pianist Isaac Albéniz.