As well as being conjured up by clairvoyants and charlatans, ghosts have another medium through which to manifest themselves and play their tricks: the cinema screen. Whether mocking, good-natured, loving, evil, vengeful or treacherous, all have participated in their own special way in countless films of different kinds and quality. The release of ¿Estás ahí?, an amusing Spanish comedy in which the distressed hero faces the unexpected problem of his girlfriend turning out to be a ghost, and of O Estranho Caso de Angélica (The Strange Case of Angelica) in which a photographer and a ghost embark on an intense love affair, give us a timely reason to look back on our own particular gallery of supernatural phenomena.
"I see dead people." This is how, clutching the bedclothes and in tears, the little boy in The Sixth Sense reveals his secret to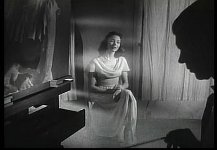 Jennifer Jones, a strange
young girl in Portrait of Jennie
his psychiatrist (Bruce Willis). ?They don't know they're dead?, he explains, innocently. Or they do, but they don't care. The fact is that since the dawn of cinema many of these spirits have materialized in the casts of films and become successful characters the world over.
The earliest examples of the ?ghost? genre tended to feature far more harmless spirits than those which arose in later decades with the development of special effects. So, in classic films we find playful phantoms like the one in David Lean's Blithe Spirit, in which a British gentleman played by the great Rex Harrison is teased by the mischievous spirit of his first wife during his second marriage. In The Ghost and Mrs. Muir, directed by Mankiewicz, it's Harrison's turn to haunt, as the ghost of a sailor inhabiting the mansion of a lonely, beautiful widow. To make The Canterville Ghost, Jules Dassin followed the story of Oscar Wilde's short novel and gave the lead role to the magnificent, larger-than-life Charles Laughton, playing a cowardly 17th century phantom who cannot rest until one of his descendants frees him by committing an act of heroism. Other spirits are sweet and mysterious, like the strange protagonist of Portrait of Jennie with her disturbing song: ?Where I come from nobody knows and where I am going everything goes. The wind blows, the sea flows, nobody knows. And where I am going, nobody knows...?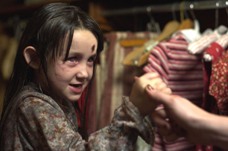 Hit film The Amityville Horror
The fifties preferred less ethereal, more robust manifestations and mostly produced films about monsters, vampires and zombies, but in the sixties the public's appetite for the invisible, the unknown and enchanted returned, and some movies were made which would become cult films for fans of the genre. For example, in William Castle's 13 Ghosts, which spawned a remake of the same name in 2001, a family inherits an old mansion from an uncle, plus an extra present: his collection of ghosts. The Haunting, by Robert Wise, is widely considered to be the best ghost film ever made. Here Julie Harris and Claire Bloom undergo terrible ordeals in a possessed mansion. This is Martin Scorsese's favourite horror film, and an inferior remake of this one also came out a few years ago, starring
Liam Neeson
.
If we're talking about haunted houses, we mustn't forget The Amityville Horror. Directed by Stuart Rosemberg and supposedly based on a true story ? opinion is divided - the film portrays the trials of a family who move to a house on Long Island where, years before, a terrible mass killing occurred. The film inspired a large number of sequels (about eight) and a remake starring Ryan Gosling (Buried) and directed by Michael Bay.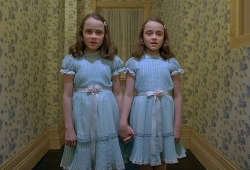 The sinister twins
from The Shining
If you've ever had to go down an interminably long corridor alone, no doubt two terrifying, phantasmagorical little girls dressed in blue came to mind. These are of course the twins from The Shining, the film version of an excellent Stephen King novel, brilliantly directed by Stanley Kubrick and equally well acted by Jack Nicholson. Here he plays a writer who takes his family to spend the winter looking after a huge closed hotel, while he completes his book. Anyone who's seen the poster will have managed to guess the poor man ends up barking mad and trying to massacre his family.
In Poltergeist, produced and written by Steven Spielberg and directed by Tobe Hooper, a specialist in the genre, some unquiet spirits from an old cemetery on which a housing development has been built wreak their revenge on an unfortunate family living quietly in their house.
Also worthy of a mention in this review are those who have made fun of the ghost phenomenon with a fair degree of success. Ghost Busters was a smash hit. Its ironic, laid-back, farcical tone rejuvenated a genre which seemed to have passed its heyday. The adventures of a trio of ?paranormal investigators? who pursue and destroy obstinate, troublesome ghosts in the city of New York are startling and unexpected, and draw spectators in right from the start with their frenetic action.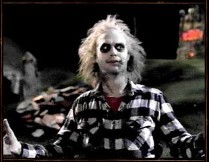 Beetlejuice,
the ghost who amazed us all
In High Spirits, Peter O'Toole has to confront several indignant ghosts after converting his castle into a tourist attraction with bogus spirits included on the menu.
And then He arrived, the ghost who took everyone by surprise. A ?bio-exorcist? who helps the dead throw the living out of their houses. To engage his services, you have to say his name three times ? but think about it carefully first, as his methods are a little unorthodox. So, his name is? Let?s risk it: ?Beetlejuice, Beetlejuice, Beetlejuice!? It's hysterically funny, intelligent, and macabre, like most films directed by Tim Burton.
In 1990, a somewhat sugary but effective human-phantom love story entranced audiences around the world. Of course, that's Patrick Swayze and Demi Moore in Ghost, a blend of fantasy and romance with a hint of thriller, which came together perfectly.
In the late nineties, the genre experienced a revival, still ongoing, thanks to an Indian director called M. Night Shyamalan, and his film The Sixth Sense, a new take on the ghost idea which dazzled millions of people. In its wake, Spanish director Alejandro Amenábar achieved long-lasting international recognition with The Others. Here Nicole Kidman plays a ?Mother Courage? who lives with her children in a lonely mansion where strange phenomena begin to occur. Claustrophobic and disturbing, the film was showered with praise by critics and box-office takings confirmed the public's approval.
El Espinazo del Diablo
(The Devil's Backbone)
by Guillermo del Toro
A few months earlier, Mexican director Guillermo del Toro, a great lover of and specialist in the fantasy genre, had directed El Espinazo del Diablo (The Devil's Backbone), which mixes the spectral genre with the Spanish Civil War quite successfully. The action is set in a post-war orphanage, where the ghost of a child, who has mysteriously disappeared, persuades a new arrival to avenge his murder. Del Toro also produced the big hit El Orfanato (The Orphanage), directed by rising director Juan Antonio Bayona, and set in a similar institution, complete with all the usual supernatural trimmings. This movie made almost 80 million dollars worldwide.
At the age of 102, veteran Portuguese filmmaker Manoel de Oliveira is showing an interest in the esoteric world of ghosts for the first time. The Strange Case of Angelica, due for release on May 27, is a unique combination of comedy and drama featuring an exceptional ghost: Pilar López de Ayala, who uses all her talent and charisma to play the unusual character of a dead woman in love. Angelica dies shortly after her marriage and a photographer immortalizes her in death in a series of shots which portray all her beauty and youth. Through these photographs Angelica returns as a ghost and has a love affair with the photographer, as unreal as it is entrancing.
The Spanish comedy ¿Estás ahí? is now showing in cinemas. In this film Mirem Ibarguren plays a recently deceased spirit who tries to continue her relationship with her boyfriend as though nothing had happened. The release of these films in cinemas proves beyond all doubt that ghost films are still alive and kicking and determined to entertain their faithful followers.
Ghost films available on filmotech.com: