Ships under full sail, cannons firing, duels to the death, wooden legs, assorted eye-patches and, of course, the fearsome Jolly Roger, the black flag with a skull and cross-bones ? these are essential ingredients to any decent pirate film. The fourth part of the Pirates of the Caribbean saga, not to mention the new Spanish series, have given new life to these swashbuckling rogues who rob, raid and win the hearts of beautiful damsels. So, weigh the anchor, hoist the mizzen, and take ship with us to revisit 10 legendary buccaneers and their exploits throughout film history.
Blackbeard and Captain Blood were their names; the Caribbean and the South Seas, their domains; rum, their sustenance; and treasure, their religion. Salgari and Sabatini gave them life and women were their ruin. Whether it's their indomitable rebelliousness, valour in battle, the romanticism of their feats or their love of the bottle is hard to say, but something about pirates fascinates us. This week the
Pirates of the Caribbean
is back on the big screen and here at filmotech.com the wind?s in our sails and we?re embarking on a review of the most famous film pirates. So drink up, me hearties...
DOUGLAS FAIRBANKS, aka the Duke of Arnoldo or the Black Pirate
: Surprisingly, the first film pirates were Italian, successfully directed by Vitale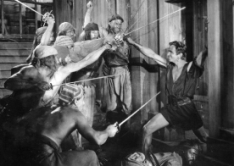 di Stefano. Hollywood waited until 1926 before producing its first corsair and the role went to the brightest star of the time, Douglas Fairbanks. This actor, with his characteristic moustache and charismatic smile, displayed his athleticism on more than one occasion in
The Black Pirate
, by Albert Parker, and of course also played other big-screen heroes such as Zorro, D'Artagnan, Don Juan and even the Thief of Bagdad. While he may have been forgotten by the new 3D generation, he has right us his famous descent from the topsail to the deck, slitting the sail with his cutlass, while directing a roguish grin towards the stalls, for posterity.
ERROL FLYNN, aka Peter Blood:
At around that time a rebellious adventurer from Tasmania began to make his first appearances on the big screen, and soon impressed Warner Bros. with his dashing appearance and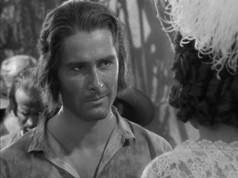 self-assurance in front of the cameras. His name was Errol Flynn. A few elocution classes to iron out his strong Antipodean accent, acting classes ? always useful ? and some gym sessions, and he was ready to play the lead in
Captain Blood
(1939), the story of a tranquil Irish doctor whom the whims of destiny turn into a pirate captain, sailing the waters of the Caribbean and getting into desperate battles against the Spanish and French. Sea battles, boarding enemy vessels, a love story and above all the remarkable omnipresence of Errol Flynn turned Captain Blood into a movie legend which made its mark on the development of the pirate genre permanently. The indomitable Errol, who was quite a buccaneer off-screen too, was perfect for the genre, epitomizing as he did the gallant, seductive pirate with a heart of gold; a role he repeated shortly afterwards with Curtiz in The Sea Hawk, although he
was in fact most famous for playing another historic adventurer, Robin Hood.

TYRONE POWER aka Jamie Waring, ?The Black Swan?: Flynn's great rival of the era was handsome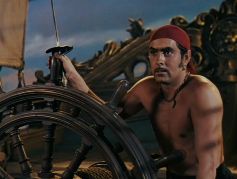 Tyrone Power, then the big star at Fox. Like his Australian counterpart, at that time Power starred in a dozen romantic period pieces, although he also demonstrated his talent and versatility in more dramatic roles. In Henry King's
The Black Swan
(1942) he played a corsair who decides to hang up his black patch and pistols on falling in love with Maureen O'Hara, but is obliged to do battle with another gang of pirates. The film is notable for the action-packed sea battles, on-land skirmishes and political intrigues in which ?The Swan? finds himself mixed up.
YUL BRYNNER, aka Jean Lafitte: If a well-built physique and choreographic ability are indispensable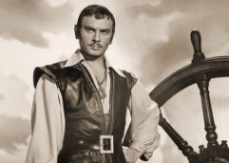 requisites for big-screen piracy, Yul Brynner is an obvious candidate. This former acrobat, musician and photographer first came to Hollywood to play the King of Siam in The King and I, and went on to play another exotic ruler (Pharoah) in The Ten Commandments. Later on he became French pirate Jean Lafitte in
The Buccaneer
(1958), directed by another veteran actor of the genre, Anthony Quinn, and a remake of the film of the same name by genius Cecil B. de Mille, creator of some of the best epic productions in history. He shared the billing once again with Charlton Heston, playing the President of the United States, obliged to form an alliance with a buccaneer to defend New Orleans from the British.
JOHN WAYNE, aka Captain Jack Stuart: Before the advent of Johnny Depp, the real pirate of the Caribbean was the toughest cowboy of Hollywood, John Wayne. In Reap the Wild Wind (1942), also directed by De Mille, he shared the billing with Paulette Goddard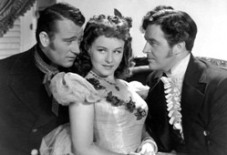 and Ray Milland, in the role of the captain of a vessel shipwrecked on the shoals of Key West, who gets mixed up in various adventures and a remarkable love triangle. This diamond-in-the-rough American icon demonstrates, especially in the famous giant-octopus-wrestling sequence, that he can handle himself just as well at sea as on land.
ORSON WELLES, aka Long John Silver: Many memorable films have been based on Robert Louis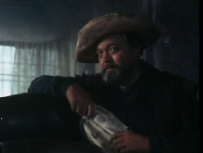 Stevenson's classic novel ?Treasure Island?, and ?Long John Silver?, the irascible pirate determined to recover his lost treasure has been unforgettably played by actors like Wallace Beery, Boris Karloff, Robert Newton and Charlton Heston; but we prefer the masterly
Orson Welles
in the 1972 version directed by John Hough. The director of Citizen Kane, with his formidable physique and ironic humour, couldn't be bettered in this role - one of the most interesting characters in world literature.
BURT LANCASTER, aka Captain Vallo: Burt Lancaster's role in The Crimson Pirate (1952) was tailor-made for him to show off his gymnastic abilities ? in his youth he actually worked as a circus acrobat. It's a film with an amusing,
frenetic plot, in which Mr. Lancaster dazzled audiences with his mocking smile, racy jokes and amazing physical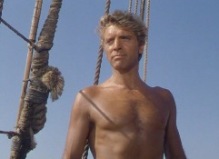 feats. He played a corsair who, together with his companion Cravat ? with whom he starred in various other adventure films ? terrorized all those daring to cross the Mediterranean. This is a gem of the action / slapstick genre.
GEENA DAVIS, aka Morgan: Also sailing on ships flying the Jolly Roger were a few strong, determined women who pillaged, fought and killed with the best. Possibly inspired by Anne of the Indies (1951), by Jacques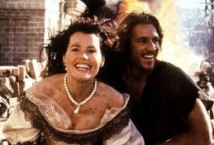 Tourneur, starring Jean Peters, in
Cutthroat Island
(1995) Renny Harlin gave his wife
Geena Davis
a golden opportunity to play the modern woman pirate par excellence. Morgan is a spectacularly built pirate captain, well able to defend herself, who teams up with Mathew Modine to look for treasure, avenge her father?s death and confront her evil buccaneer uncle. We can only hope the critics will be kinder to
Penelope Cruz
and Pilar Rubio than they were to Captain Morgan in her day.
DUSTIN HOFFMAN, aka Captain Hook: After Disney had made their animated version of Peter Pan, the almighty Spielberg dressed Robin Williams in green tights and gave Dustin Hoffman a metal hook. The star of Rain Man was brilliant as the villain of Neverland, who was said to be Blackbeard's boatswain, and the only man that Long John Silver feared. He had lost a hand in combat with Peter Pan, and this had been eaten by crocodiles. His long back wig, aquiline nose and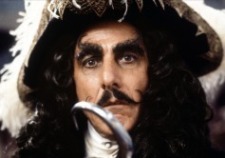 graceful, stealthy movements were the terror of Peter Pan and his friends, but few are aware of how difficult Hoffman?s job really was; they had to install an air conditioning system inside his costume to alleviate the intense heat caused by his 17th century suit and wig.
JOHNNY DEPP, aka Jack Sparrow:
And just when the pirate genre seemed to have hit rock bottom, Pirates of the Caribbean:
The Curse of the Black Pearl
(2003) appeared on the horizon. This was a contemporary take of swashbuckling pirate films, designed to attract young people with a dazzling array of special effects, humour and tributes to classic adventure films. Criticism and praise apart, the Pirates of the Caribbean saga has right, for the annals of piracy, the extraordinary character of Jack Sparrow, half pirate, half rock star, eccentrically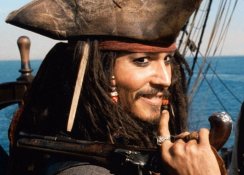 dressed with running makeup, and a possibly rum-induced stagger. This is how
Johnny Depp
plays him: a daring, very particular portrayal which no other actor could have brought off without looking ridiculous. In the fourth part, he shares the billing with our Penelope Cruz - inheriting Geena Davis' role - and he will be seeking the Fountain of Youth and confronting the terrible Blackbeard. If this proves as profitable as the others we're sure to be swamped with pirates, buccaneers, filibusters and corsairs for many years to come.